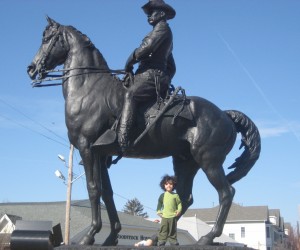 Oyster Bay for Kids and Families
This month we begin spotlighting different neighborhoods around the Island, and we're kicking it off with Oyster Bay. Steeped in history, teeming with activity, and loaded with natural beauty, the small hamlet of Oyster Bay is a true pearl of Long Island. Throughout March, we'll be focusing on all that Oyster Bay has to offer families. Whether you're a resident, or you're looking for something new to do on the Island, you'll find lots to do and see and eat in the neighborhood. Over the course of the month, we'll tell you about the museums; restaurants; shopping; parks, gardens, and nature preserves; and rich waterfront, jam-packed with events and activities to keep families busy. Read on. Later this week: museums.
Take a self-guided history tour through town. Along the way, you'll find an eclectic mix of shopping opportunities, including antiques, specialty chocolates, toys, art supplies, and sports memorabilia. Indulge your appetite with chocolate soup, oysters from Oyster Bay, pizza topped with mac and cheese, and for dessert, gourmet ice cream or a refreshing Italian ice.
SEE
Thanks in part to the Main Street Association, Oyster Bay has maintained a great deal of its historical character. The Oyster Bay History Walk tells the story of important people, places, and events that have helped to shape the hamlet. An interactive map of Oyster Bay, including 30 historical sites, is available at www.oysterbaymainstreet.org, as well as at many of the sites. Audio wands are available to pick up at the Oyster Bay Railroad Museum, open Saturday and Sunday from 11am to 4pm. The walk includes sites relevant to Theodore Roosevelt as well colonial period homes and even a bit of pirate lore.
SHOP
The Spotted Owl is a unique children's consignment shop where you can find great deals on clothing and gear. Funni Business, sells items from infant toys, books, and accessories and tween and teen items to senior brain books and games and specialty toys for those with special needs. The store also offers curbside service, a great perk for moms on the go. The gift shop at Not Just Art carries art materials in every variety for all ages, as well as creative toys. Across the street, Think Long Island First sells books, clothing, accessories, and crafts handmade exclusively by Long Island artists. Sports memorabilia and other collectibles are on display at the Coin Galleries of Oyster Bay. Finally, the Attic Door is a treasure selling secondhand furniture and household items.
EAT
Canterbury Ale's Grill and Oyster Bar serves between three and six different types of oysters each day, some as local as from Oyster Bay. While there is no children's menu, the eatery does serve a few child-friendly entrees. Taby's Burger House is a favorite among the locals and truly has something for everyone. It has an extensive menu that includes burgers, gyros, souvlaki, and breakfast all day. If you like Italian, you simply cannot go wrong with Cafe Al Dente. The sauces are delicious and the dishes are huge. There is no children's menu, so be prepared to leave with takeout containers, or order family style.
For a sweet treat, The Choocolate Lady serves up a hot cup of chocolate soup, topped with nuts and served with bread for dipping. The shop does not have seating. but you can find benches across the street near town hall. Gooseberry Grove serves more traditional soups in the winter months, and hot coffee and homemade ice cream all year long. Bonanza's has served Italian ices since 1889. It has an extensive menu of flavors, but lemon is still their best.
Just south of the hamlet on Route 25A, a newly opened gourmet pizza shop is worth the trip. Red Tomato Artisanal Pizza is typical of what is served in Napoli, where every meal is a work of art. San Marzano tomatoes, buffalo mozzarella, fresh basil, hand-kneaded dough, all fired in a wood oven, are what set this pizza apart from the standard pizza place. A special menu for bambinos includes macaroni and cheese pizza, pizza margherita, and ball park pizza with hot dogs.