A Healthier Option for Halloween Treats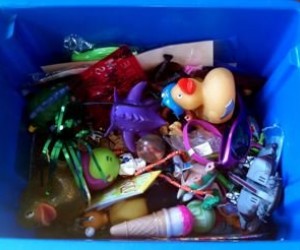 Last year I took the time to count how many calories were in my daughter's Halloween candy haul. It was eye opening and mind-blowing. So this year I'm looking for alternatives to candy that don't suck. That is something to give away for trick or treaters besides apples or pencils and other things that kids don't want and don't make them want to toilet paper your face.
Since I've been doing some Spring cleaning around the house (yeah I'm a little behind) I had a symbiotic dilemma of what to do with all the little plastic goodie bag toys we seem to collect all year long. Bingo.
This year I'm killing two birds with one stone. I've collected all the little plastic toys my kids have accumulated from the last year. There's goodie bag loot, gumball machine toys, bouncy balls, pinata filler leftover from a party, and even a few Pokemon figures and other toys that need a new home. Voila, a healthy, fun, Halloween trick or treat alternative that' s as good for the earth as it is for your kids. Yeah, recycling!