Meaningful Ways to Celebrate Ramadan with Kids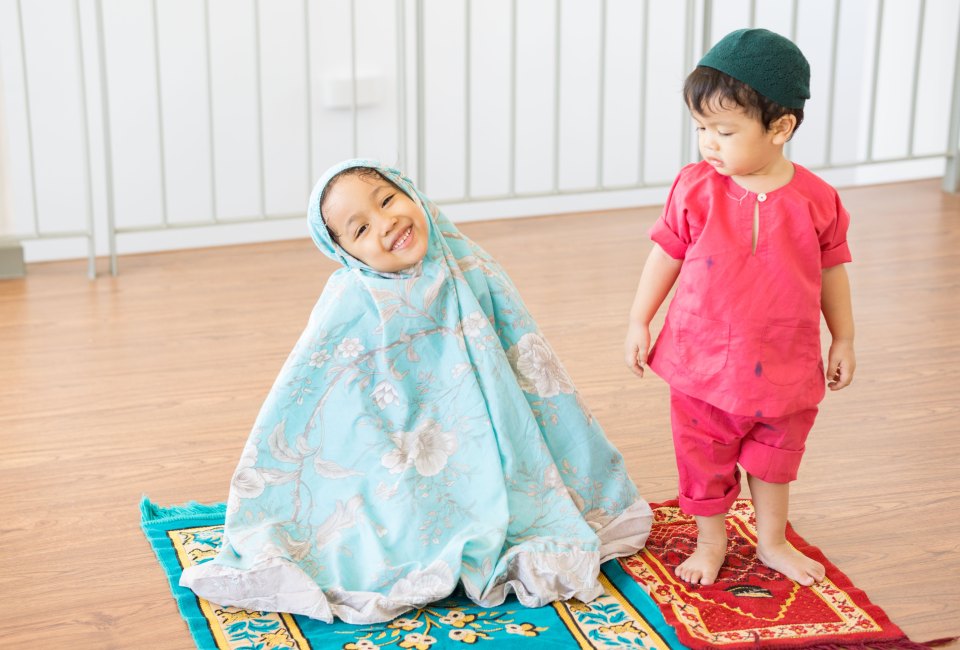 3/9/23
- By
Mersiha Mujovic
The month of Ramadan is fast approaching and we have some festive and meaningful ways to make Ramadan traditions something your family can learn about, celebrate, and look forward to each year!
For my family, Ramadan is more than a holiday season, it's about having honor and pride in our Islamic identity. Filled with lights, decorations, and incredible food, the month of Ramadan is a time to focus on faith and perform generous acts as we try to better ourselves in all aspects of life.
I want to share some of my family's favorite traditions and celebrations with you. With books, crafts, decor, and food, here are 10 inspiring ways to make your Ramadan festive and memorable! For more ways to celebrate any and every holiday, check out your local Holidays Guide.
Subscribe to our newsletters to get stories like this delivered directly to your inbox.
What is Ramadan?
Ramadan is the holiest month of the year for Muslims around the world. Ramadan is the month in which the Quran (Islamic holy book) was revealed. During Ramadan, Muslims fast the entire month from sunrise to sunset (not even water is consumed). It's a month of fasting (sawm), prayer, worship, reflection, community, charity, good deeds, and helping those in need.
After the month of Ramadan is over, the festival/ holiday of breaking the fast is Eid al Fitr. It is the Islamic holiday celebrated where friends and family come together to perform a special prayer and give thanks for a successful month of fasting. This festival is celebrated for three days of food, decorations, gift giving, charity, and visiting friends and family.
When is Ramadan 2023?
Ramadan is the 9th month of the Islamic lunar calendar. Dates are based on the lunar calendar; start and end dates are subject to the sighting of the crescent moon. Ramadan 2023 begins on March 22 and ends on April 21.
There's nothing like curling up with a great book...
10 Meaningful Ways to Celebrate Ramadan with Kids
1. Read and Learn About Ramadan
Ramadan is the holiest month of the year for Muslims because of a book, the Holy Quran. Reading and gaining knowledge is a big part of the faith. So, teaching kids the meaning and importance of Ramadan through books is a great place to start.
Check out your local library or school to see what they have in stock. You can always ask a librarian to add some of these books to the library's collection if you don't find any Ramadan books on the shelves!
These books are my family's tried and true favorites:
RELATED: Our Guide To the Best Books for Kids

Have a cozy nook for reading and resting, and put your 30 day countdown calendar there!
2. Decorate Your Home for Ramadan
Decorating makes everything extra fun and festive. Lights, lanterns, balloons, a countdown calendar, and a Happy Ramadan sign make kids feel like it's a special and joyous time.
These are some of my favorite shops and ideas for decorating your home for Ramadan:
3. 30 Day Ramadan Countdown Calendar
A 30 day Ramadan countdown calendar is a great way to keep track of the days. Each day you can encourage kids to do an act of kindness, or give them a small treat or activity that relates to the holiday.
Some simple things you can do each day to celebrate:
Read the Quran or Ramadan-related books
Write down things you are grateful for
Make and hand out care bags to unhoused neighbors
Write thank you letters to community workers (mail carriers, teachers, bus drivers, and nurses)
Pick up trash around your local park
Recycle (and make recycled crafts!)
My kids' favorite is a little treat or small gift each day!
Be creative; it's always the little things that create the best memories.
RELATED: Random Acts of Kindness for Kids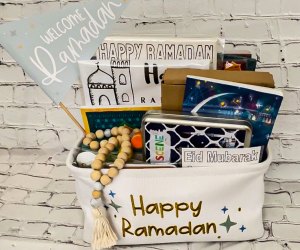 Fill a Ramadan basket with treats, activities, books, and more fun surprises.
4. Ramadan Baskets
Ramadan baskets are the key to a smooth month in my house. I like to add in some surprises and extras to go with the essential items. Throughout the month they can go through the basket and get inspired and motivated.
Some of our basket fillers include:
Quran
Prayer rug
Prayer beads
Hijab (girls' headwear) / kufi (boys' headwear)
Abaya (girls' clothing) / thobe (boys' clothing)
Zam Zam water
Box of dates
Ramadan books
Crafts/ coloring pages
Gratitude journal
Charity jar
Islamic board games
Themed pajamas
Islamic-themed toys (mosque wooden blocks, star & moon pop-its, hijab dolls, dua pillows)
5. Charity & Good Deeds
The month of Ramadan is all about giving back, sharing, and being generous. Donating money to a good cause or volunteering your time in a soup kitchen are great ways to give back. For kids, having a jar for charity (sadaqah) is a fun idea.
You can also have your whole family participate in 30 days of kindness. We've got 25 ideas for acts of kindness that kids can perform to get you started. Remind kids that kindness can be as simple as smiling at people or saying please and thank you!
6. Spread the Ramadan Joy
Ramadan is an important time for Muslims around the world. But other people in the community may not be aware it's the month of Ramadan, or know what that means. Spreading the Ramadan joy and awareness helps build bridges and awareness to support the diverse Muslim population. It's important to expose adults and kids to cultures and customs outside of their own.
If you celebrate Ramadan, a simple way to spread the joy to neighbors is by dropping off some treats with a short explanation of what Ramadan is. You can also connect with the community by going to your local library and hosting a Ramadan story time or asking to display Ramadan decor and books. Another great opportunity is to volunteer at your kids' school and present Ramadan to the class.
If you don't celebrate Ramadan, but you know people who do, you can ask them to share their faith and celebrations with you! Ask them for a short explanation, suggestions for Ramadan-related books, or ideas for crafts and recipes you can make with your kids.
This edible mosque is incredible, impressive, and fun to make!
7. Get crafty with my favorite Ramadan crafts for kids
Holidays provide a great excuse to tap into your inner artist. From sparkly lanterns to edible mosques, here are my picks for making your Ramadan a crafty one with your kids.
8. Host an Iftar
Iftar is a big deal. I spend a good deal of time making and preparing this multiple-course meal that breaks our fast. Beyond hosting an Iftar for family or friends, consider hosting an Iftar for your local homeless shelter and getting kids and the community involved. You can get volunteers and package meals to give out.
You can also host an Iftar just for kids. Include foods like mac & cheese, burgers, fries, donuts, and juice. Decorate and make it feel special!
RELATED: Mommy Poppins Guide To Easy Recipes for Kids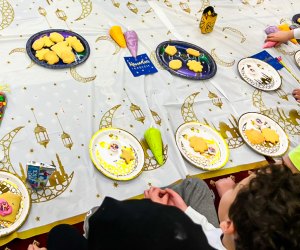 Making and decorating cookies is a great way to get kids involved in the kitchen.
9. Ramadan Recipes
What is Ramadan without food? When a person is fasting for most of the day, they start daydreaming about food and all the things that are coming at Iftar (breaking fast)!! Ramadan food hits different (literally). The amazing spread of food with family and friends is such a joyous feeling, breaking your fast at the same time together and feeling that first sip of water after a whole day without food or drink brings relief, comfort, and gratitude.
Breaking fast usually starts with water and a date—then you feast! Traditional food is always on the menu, and don't forget the sweets. Get little hands in the kitchen to help prepare Iftar, picking a recipe and then cooking together. Our favorite tradition is baking and decorating Islamic shapes cookies.
Check out these amazing sites for mouthwatering recipes and some cookie inspiration!
10. Presents!
Ramadan is 30 days of concentration and spiritual connection with our faith. Keeping it fun and interactive for kids that whole month (kids are not required to fast) is no easy task. Gifts help! It can be something as simple as a special candy treat, small gift, special coin, or anything! But little gifts each day definitely help keep kids interested and engaged in the lead up to Eid.

All photos courtesy of the author, unless otherwise indicated.
Click Here to Sign Up!
i