25 Random Acts of Kindness Ideas for Kids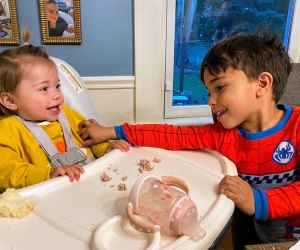 2/21/23
- By
Kelly Patino
"Random acts of kindness"... this phrase has been used a lot since the mid 90s, when the Random Acts of Kindness Foundation was formed. Random acts of kindness are all about doing nice things for friends, family, and strangers—from simple acts like sharing a smile to larger endeavors such as volunteering at a charity—just for the sake of doing them. The idea is that spreading kindness brightens the day of both the giver and the receiver and encourages the receiver to perform their own random acts of kindness, creating a contagious wave of good deeds.
Of course, adults aren't the only ones who can benefit from random acts of kindness. Teaching kids kindness from a young age helps them learn good manners and respect, increases their own happiness and self-esteem, and helps them grow up to be kind adults.
Need some inspiration? Here are 25 random acts of kindness ideas to share with your children. The list includes random acts of kindness that kids of all ages can do at home, in the community, and at school. For more ways kids can show kindness to their loved ones and to the Earth, check out our list of 101 questions to ask grandparents about their lives and our ideas for how kids can help fight climate change.

Go ahead and give your younger sibling a turn with a beloved toy.
Random Acts of Kindness Ideas for Kids at Home
1. Share a Toy, Game, or Book with a Friend or Sibling
Do you have a toy, game, or book that a friend or sibling wants to play with? Go ahead and give them a turn with it, or even let them borrow it for a few days.
2. Call or FaceTime a Friend or Relative
In the age of texting, old-fashioned phone calls (and their modern equivalent, FaceTime calls) are becoming more rare. But words on a screen just can't take the place of hearing someone's voice or seeing their face. So, take a few minutes to call or FaceTime a friend or family member. It's a great way to connect with someone you love and to show them how much you care.
3. Mail Someone a Card or Letter
Similarly, the rise of email has made old-fashioned letter-writing a thing of the past. Brighten the mailboxes of friends, relatives, nursing-home residents, or deployed troops (find addresses at websites like A Million Thanks or Any Soldier) by mailing them handmade cards, letters, or pictures.
RELATED: How to Compost: A Guide for Kids and Families

Chores are easier and more fun when you do them together!
4. Do a Chore Without Being Asked
Washing the dishes, taking out the trash, or cleaning your room means so much more to your parents when you do them without being asked (or nagged). Plus, you will feel super proud when you successfully complete a chore on your own!
5. Leave out Treats for Delivery Workers
Leave out a basket with packaged snacks and drinks for mail carriers, delivery drivers, and food delivery workers to indulge in. Write a kind note to leave next to the basket so they know the treats are for them. Most of these workers do not get a true lunch break, so this will help their tummies and their hearts.
RELATED: 100 Kids' Books Every Child Should Read Before They Grow Up

Share a favorite book with a younger child who cannot yet read.
6. Read a Book to a Younger Child
If you have a younger sibling or cousin who can't yet read, volunteer to read them their favorite book (or yours). It will be so much cooler to them than when a grown-up reads it, and they will be so happy just to have your attention for a bit.
RELATED: Hot Chocolate Recipes Kids Adore

Random acts of kindness can be as simple as spending quality, screen-free time with a loved one.
7. Declare a Screen-Free Evening
If you really want to make your parents happy, suggest a screen-free evening, during which everyone in the family—even the grown-ups—has to put away their phones, tablets, and computers and just enjoy each other's company. You can play board games, go for a walk, toss a ball in the yard, or just talk and catch up without any distractions.
8. Take Care of Your Pets
Your pets need love, too! Don't forget to feed them, walk them, play with them, and give them plenty of cuddles and attention.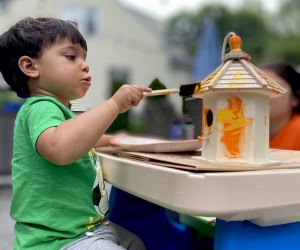 Making a colorful bird feeder is a fun way to leave treats out for the birds.
Random Acts of Kindness Ideas for Kids in the Community
9. Feed the Birds
Why should humans be the only recipients of random acts of kindness? Leave out birdseed, old bread crumbs, or cereal for the birds to enjoy in your backyard or at a park or lake.
10. Smile, Wave, High-five, or Say Hello
The simple act of smiling, waving at, greeting, or even high-fiving someone can positively lift their mood. My 5-year-old once doled out high-fives to workers and kids in strollers at Disney World. While everyone was a little thrown off at first, they all smiled or high-fived him back. That made him happy as well, bringing the kindness full circle!
11. Deliver Homemade Treats to Neighbors
Do you love to bake? Whip up a batch of cookies or brownies (with a grown-up's help, if you need it) to help welcome a new neighbor, or to sweeten the day of some neighbors you already know.
12. Pick up Litter
Participating in a formal park or beach cleanup with your family would be wonderful, but you can also clean your neighborhood by simply picking up any trash you see while you're out and about—while playing at the playground, building sandcastles at the beach, or just taking a walk around your neighborhood.
RELATED: 30 Outdoor Activities in Nature for Kids for Hands-on Outdoor Learning

Pick some pretty wildflowers for friends and neighbors.
13. Leave Flowers on Neighbors' Doorsteps
Delight and surprise your neighbors by picking flowers from your yard, arranging them into small bouquets, and leaving them on their doorsteps.
14. Donate Books, Toys, or Clothes
There are children out there who would really love your outgrown toys, clothes, or books. You can put your old books in Little Free Libraries, have your parents give toys to neighbors in your local Buy Nothing group, and donate clothes to local charities. You'll be happy knowing that you're not only helping other children, you're also helping the Earth by keeping your old stuff out of landfills.
15. Make Bookmarks and Leave Them in Library Books
Make bookmarks with positive messages like, "You chose a good book!" or "You're a great reader!" Then leave them in random books at the library. In addition to brightening another reader's day, this random act of kindness just may save some library books from having dog-eared pages or bent spines.
RELATED: 50 Fun Activities for Grandparents to Do with Kids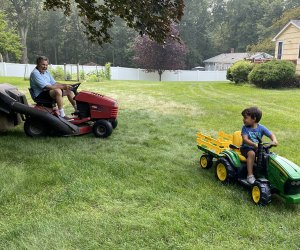 One day you'll be big enough to really help mow the lawn!
16. Help a Neighbor
There are all kinds of ways to help your neighbors, especially elderly ones or those who can't move around easily. You can rake a neighbor's yard, shovel snow from their driveway, drag their garbage can from the curb after trash pickup, or offer to bring in their packages or look after their pets while they're traveling. The possibilities are endless!
17. Volunteer
Although many food banks, animal shelters, and other non-profits require volunteers to be over a certain age (often 14), there are many organizations that welcome younger volunteers. Try searching online for local places to volunteer as a family that fit your interests. Kids That Do Good and Volunteer Match are two great sites for finding volunteer opportunities.
18. Paint Kindness Rocks
Paint some rocks with uplifting pictures and/or messages, then place them in various places throughout your neighborhood or local park for others to find. It's an art project and a random act of kindness all rolled into one!
RELATED: 40 Classic Outdoor Games for Kids: Backyard Games, Playground Games, and More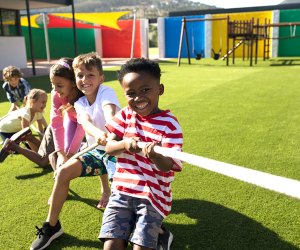 Make sure no one plays alone at recess. Photo by Mommy Poppins
Random Acts of Kindness Ideas for Kids at School
19. Invite Someone New to Play
If you see someone playing alone at recess, ask them to play. It will make the other child feel less lonely, and you just may make a new friend!
20. Sit With Someone in the Cafeteria or on the School Bus
Similarly, if you spot someone sitting by themselves at lunch or on the bus, sit next to them and be kind.
21. Thank A Teacher
Teachers work hard. Show your appreciation to your favorite teachers by writing them a note, telling them what you love about their class, or simply saying thank you for everything they do.
22. Help a Classmate with Schoolwork
If you have a classmate that's struggling with an assignment or with studying for a test, offer to help that student during a free period, a study break, or even during class if your teacher allows it.
23. Leave Uplifting Notes for Classmates
Write words of encouragement like, "You are so smart!" and "You're a great student!" on Post-it notes, then sneakily leave them on classmates' desks or lockers.
24. Assist a Teacher
Volunteer to sharpen pencils, deliver things to the front office, tidy up the reading corner... any task that will help your teacher!
25. Greet Janitors, School-Bus Drivers, and Other School Workers
There are many people other than teachers that are so important to schools, but don't often get attention from students. Be sure to smile at, say hello to, or even chat with janitors, school-bus drivers, office staff, and other workers you see at school. It will make them feel good to know that they are noticed and recognized!
"To kindness and love, the things we need most!" - The Grinch.
Unless noted, photos by the author