How to Celebrate Passover as a Family (and Make it Fun for Kids)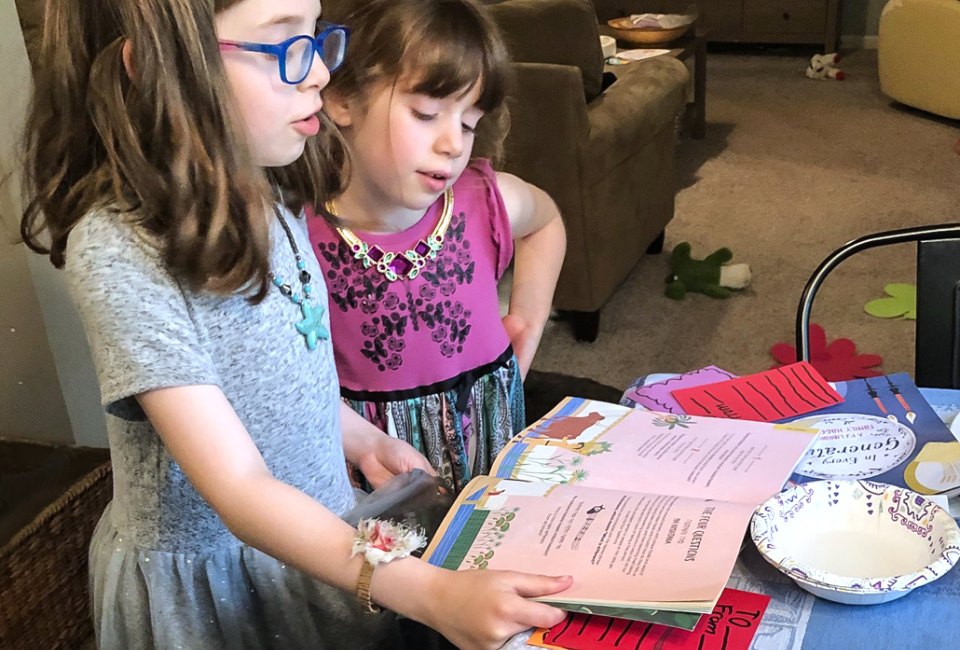 3/23/23
- By
Melanie Preis
Passover 2023 is almost here—time to add some crunchy matzah to your shopping list of tasty spring treats. We're going into detail about the when, what, why, and more of this Jewish holiday, including its hallmark delicacy: matzah! Whether you're Jewish or not, you've probably seen boxes of these large, flat "crackers" lining the aisles of your local grocery store each spring. Read on to learn more about matzah, as well as how to celebrate Passover (also known as Pesach) as a family and make it fun for kids of all ages.
For more tips on celebrating Passover with children, check out our list of 10 ways to make Seders more fun for little kids.
When is Passover 2023?
Passover 2023 starts on Wednesday, April 5 and continues until Thursday, April 13. Like all Jewish holidays, Passover starts and ends at sundown, and it isn't tied to a specific date of the solar calendar. The Seder nights (when you eat the Passover Meal and retell the story of the Jewish exodus) happen the first two nights of the holiday; this year the Seder nights are Wednesday, April 5 and Thursday, April 6, 2023.
The Story of Passover
Just like the Jewish people had to escape Egypt in a hurry, we don't have a ton of time to detail the story of Passover. Basically, after decades of slavery in Egypt and under the strict control of the Egyptian pharaohs, G-d sent a message to the pharaoh, through Moses, about letting His people go free. The cruel king, who had forced the Jewish people to work and live under the harshest conditions, would not listen to Moses and ignored G-d's commands.
As punishment, G-d sent 10 plagues against Pharaoh and his people, including the last: killing all the firstborns in Egypt. G-d spared the Israelites by "passing over" their homes (thus the holiday's name) since the doorways were marked with lambs' blood. After this devastation, the pharaoh finally gave in and ordered the Jews to leave his land. The now-freed slaves did not hesitate to leave and rushed out of Egypt—so quickly, in fact, that the bread they baked for supplies didn't even have time to rise. It became unleavened bread, or matzah. Moses led the group, eventually crossing the waters of the Red Sea in a miraculous fashion, with the Egyptian troops at their backs. The Jewish people roamed the desert for 40 years until they finally reached Israel.
A Matzah Made in (Unleavened) Heaven
The reason you see Jewish people chomping away on matzah during Passover is to commemorate their ancestors rushing out of Egypt with this cracker-type sustenance. In fact, no chametz ("leaven") is eaten (or left in the house) during the holiday; that's any food made of grain and water that's allowed to rise (i.e. bread, cake, cookies, pizza, pasta, etc.). We learn about matzah, the Passover story, and more as we read the Haggadah (think of it as a holiday instruction manual) during the Seder, the first two nights.
Kid-Friendly Passover Vibes
The story of Passover can be somber and a bit dark (just take a look at those 10 plagues!), but there are fun ways to help kids enjoy the Seder, learn about the holiday, and let loose. After all, this night is definitely different from all other nights!
RELATED: 10 Ways to Make Seders More Fun for Little Kids

A kid-friendly Seder table keeps little ones engaged and eating.
1. Set the Seder Table
Depending on family customs and ages at the table, the Passover Seder can stretch quite a bit until the main course (anywhere from 15 minutes to two or more hours, depending on the family). Liven things up for young children and keep them engaged at the table with kid-friendly Passover decor, activities, and fidget toys.
At each child's place setting, include 10 plagues face masks or finger puppets to keep them entertained during what could be a scary moment in the Seder. You can also line the table with plastic or squishy frogs; add Passover-themed coloring sheets and crayons; use a kid-friendly, illustrated Haggadah (even a magical one); and decorate pillowcases for kids to sit on during the Seder (leaning or sitting on a pillow signifies comfort of the freedom we now have).

A slime Seder plate is a fun addition to the Passover table. Photo courtesy of Sloomoo Institute
Take the Passover fidget game up a notch by adding slime to the Seder table. But this isn't any kind of slime... it's official Sloomoo Institute matzah ball soup-themed slime! Not feeling squishy soup? How about stretchy chocolate matzah bark slime? Or go all out and order the Sloomoo slime Seder plate!
2. Let's Get Cooking
Many kids love spending time in the kitchen, and because the Seder and Passover have such a big focus on foods, it only makes sense to let your children help with the preparations. One of the most important elements of the table setting (and without going into too much detail) is the Seder plate, consisting of foods symbolizing the holiday. One such item is charoset, a sweet mix of apples, wine or honey, and nuts that represents the mortar used by the slaves. This tasty spread is always a hit with kids, and because the recipe is super simple, children love to help prepare it.
RELATED: 100 Top Easy Recipes for Kids: Kid-Friendly Recipes for Every Meal

Enlist the kids to help make the charoset.
There are lots of yummy recipes for charoset, but here is one of our faves:
Traditional Charoset
4 medium apples, grated
½ cup raisins
½ cup Passover wine (sweet)
1 tsp. cinnamon
1-2 tbsp. honey
½ cup chopped pecans or walnuts
Mix the ingredients well and refrigerate one day before serving. The amounts of ingredients can vary according to family taste preferences. For a non-alcoholic version, substitute grape juice.
After Passover begins (and the chametz goes out the window), some kids may have a harder time finding breakfast foods they enjoy since cereal, toast, waffles, etc. are gone. However, one of my favorite Passover breakfasts is the easy and very delicious matzah brei—think of it as Moses-approved bread pudding in pancake form (at least that's the way my mom made it). Kids will love breaking apart the matzah and helping with this super easy dish!
Matzah Brei
1 box of matzah sheets
2 tbsp. unsalted butter and/or non-stick cooking spray
4 large eggs, beaten with 1 tbsp. water
Salt to taste
2 pinches black pepper (optional)
For preferred toppings: jam, jelly, syrup, agave nectar
Break sheets of matzah into large chunks. Place broken matzah in a bowl and rinse under cool running water until they are soaked. Drain. Add eggs, salt, and pepper (optional) and press palm-sized patties together. Heat a large, nonstick skillet over medium heat and add butter or cooking spray. Place the patties in the skillet and let them sit for about two to three minutes (depending on the size and width of the patties), then flip and cook them for another two minutes until they're golden-brown on both sides. Serve with jam, jelly, syrup, sugar, agave nectar, or any preferred topping.
RELATED: 100 Kids' Books Every Child Should Read Before They Grow Up

Score a variety of Jewish children's books from PJ Library. Photo courtesy of Kar-Ben Publishing
PJ Library offers wonderful Jewish books that are perfect for all ages, and the publisher has a huge amount of Passover storybooks available. PJ Library sends free Jewish children's books to families across the world every month, based on household ages, seasonal subjects and themes, and more. In addition to cute Passover books, PJ Library has even created its own Haggadah, available free to download!
Some of our favorites include The Littlest Levine, And Then Another Sheep Showed Up, and Meet the Matzah. Up your Passover game with even more resources by downloading the PJ Library podcast "Have I Got a Story for You!" and hearing the Passover story and other creative tales explained in kid terms. PJ Library also has its very own Spotify "Seder Songs" playlist that hosts can play before or after the Seder.
4. Invite a Friend
Inviting friends, both Jewish and not, for a Passover Seder is important for many families. Sharing our Passover traditions in a cozy home is an easy way to connect with others and build even stronger friendships. Allow your kids to invite friends to share this special tradition with them.
All photos by the author unless otherwise indicated
Enter to Win!