SPONSORED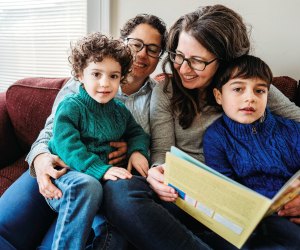 Free Children's Books Delivered to Your Door, Plus Virtual Storytimes and More from PJ Library
Considering how much time families are spending quarantined at home right now, our bookshelves couldn't be full enough! These days, reading together feels like the perfect way to connect, learn, and pass the time, which is why it's that much more awesome that PJ Library keeps the stories coming with monthly deliveries of free Jewish children's books for kids as young as 6 months old. Oh, and speaking of passing the time, when your kiddos aren't buried in PJ's professionally-curated award-winning books, the program also offers access to virtual activities, podcasts, and playlists that'll fill the long days and weeks ahead with fun, laughter, and meaningful lessons.
So, how does PJ Library work? Made possible through the Harold Grinspoon Foundation in partnership with philanthropists and local Jewish organizations, the free program was created for families of all levels of Jewish observance or knowledge. Sign up is quick and easy—it'll take you under three minutes—and you're able to indicate the age of each participating child to make sure they receive books that are just right for their comprehension and reading level. Kids as young as 6 months old and up to 8 years are eligible, while the 9- to 12-year-old crowd can join the next chapter of PJ Library and choose their own middle readers and graphic novels through PJ Our Way. With the option to sign up grandchildren, nieces, and nephews in addition to your own kids, the subscription also makes a really great gift.
Once you've signed up a lucky kiddo, they can expect to find a book in their mailbox each month. In fact, the PJ Library Book Selection Committee—mostly made up of early-childhood educators and children's literature experts—works year-round to find the best of Jewish children's literature to send out to subscribers. With the help of authors, agents, publishers, and editors, the committee seeks out books with compelling stories, beautiful illustrations, and important values that truly represent the broad spectrum of today's Jewish families. You'll find everything from alphabet books and counting books to holiday stories and Jewish folklores, new and old. You'll even spot some Caldecott Medal winners like Joseph Had a Little Overcoat by Simms Taback and A Sick Day for Amos McGee by Erin E. Stead, and Sydney Taylor Book Award recipients including Emily Jenkins's All-of-a-Kind Family Hanukkah and Debbie Levy's I Dissent: Ruth Bader Ginsburg Makes Her Mark.
The books are sure to keep kids busy, but there's plenty more to do on PJ Library while you're stuck at home. PJ's website features an audio library filled with timely playlists like Sedar Songs, for example, and Passover videos like Sesame Street's Les Matzarables. They offer a podcast called "Have I Got a Story for You!," which takes classic Jewish folktales and gives them a modern twist. Meanwhile, their Facebook page is packed with virtual author visits, craft along art projects, and live concerts for the whole family.
Ready to sign-up to start receiving your free Jewish children's books? Head here to subscribe! And for loads more activities and resources, make sure to visit PJ Library's website.
Photos provided by PJ Library