Online Robotics Camp
Young Gates - Kids Online Personalized Classes

Artificial Intelligence with Scratch Online Camp
Young Gates - Kids Online Personalized Classes

Spark Math: Free Trial Class
Virtual
Sign up for our free newsletters.
This Week: What's Open in NYC Thursday & Friday, How to Help Local Hurricane Sandy Victims, The Grinch's Holiday Workshop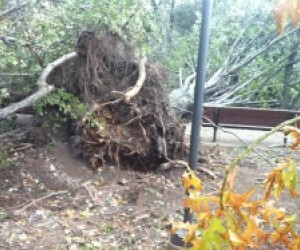 11/1/12
- By
Raven Snook
All week, everything we've posted on our site and on our Facebook page has had something to do with Hurricane Sandy. What to do at home during the storm, what's open after the storm and how to help local victims. It's been exhausting and frustrating and devastating for everyone, to varying degrees. So many people are still in such dire need, and some are members of the Mommy Poppins family.

Our regional sites have been very quiet due to the hurricane. Most of our bloggers in New Jersey, on Long Island and in Connecticut are still without power, and some aren't even able to return to their homes. As the extent of the damage sinks in, we find ourselves with no words, so we're going to quote Shari, one of our New Jersey peeps: "Our thoughts and prayers are with you... I am writing this from a friend's home in Weehawken after having evacuated our home in Hoboken. I know that many of you are in a similar position and some, much worse. All the Mommy Poppins family send their thoughts and prayers to our readers and our entire state." To everyone affected by Hurricane Sandy in NYC and beyond, we are constantly thinking of you.

Here's what else we covered on our NYC site this week:
The Children's Museum of Manhattan, which has reopened after the storm, has a brand-new exhibit, The Grinch's Holiday Workshop, where kids can make art projects inspired by Dr. Seuss' classic book.
Our biweekly news roundup includes info on a new kid-friendlly bookstore in Park Slope, a new Bronx ice-skating rink and the new Houdini Museum.
On Wednesday, we did our best to confirm which Halloween events were still happening despite the storm. We hope we helped you find some way to celebrate. If you're as overwhelmed with candy as we are, here are creative ways to get rid of it, and no, eating is not one of them.
Once public school was officially canceled through Friday, we rounded up things to do on Wednesday and Thursday and Friday, so stir crazy families in unaffected areas could get out and about again.
With the victims of the storm so much on our minds, we came up with five ways to help locally. No kid-friendly volunteering opportunities as of yet, but we'll certainly list any that come up in the future.
In the midst of everyone giving to the victims of the storm, we want to make sure our readers also thinking about donating to NYC's legendary Books of Wonder children's bookstore, which is in danger of closing due to financial woes.
Our best bets for the weekend are, as you can imagine, limited, but there are a handful of fun activities, including the Kids Food Festival in Bryant Park, the big Day of the Dead celebration downtown and a free family show about Louis Armstrong.
Finally, there have been countless articles written about the storm since it blew through our community, but we wanted to highlight this piece in The New York Times, which has resources and talking points for teachers and parents who want to discuss Hurricane Sandy in terms of science, math, media, literacy, and even politics and psychology. If you have school-age kids it's worth a read.