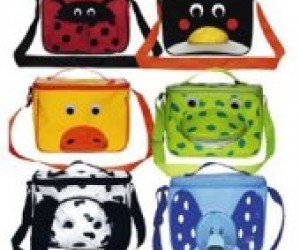 'Green' Lunch Containers Can Save You Money
There is a staggering statistic being bandied around on tree hugger websites lately, that each school aged kid throws out 67 pounds of garbage a year with their home packed lunch. Multiply that by the number of school kids on your block and that is a lot of plastic wrap and juice boxes going into landfills every year. It doesn't have to be that way. When my son started full day school last year I made an effort to pack a "waste free lunch". To my surprise it was easy. Cutting back on all that trash even saved me money. Now if I could just figure out how to get him to eat what I pack!

Read on for our tips on how to build a greener and cheaper lunch.
Ditch the plastic baggie:
In the first month of packing lunches and two snacks daily I went through and entire box of plastic snack sized bags and began to look for alternatives. I had read about the Laptop Lunch Boxes and really loved the concept but he already had a lunchbox and I didn't want to buy a second. So, instead I bought a 17 piece food storage set at Ikea.


This set had a ton of little square and rectangle shaped boxes. Perfect! The rectangles fit a half sandwich and carrot or celery sticks. The squares fit cookies, goldfish and other little snacks. They were easy for my son to open and close and his food never got crushed in his lunchbox. I know these are plastic but they are a better use of plastic than one time use bags or plastic wrap. I pop them in the dishwasher and have used them daily for over a year and they are still in great condition. All for less than $5 - good use of plastic in my opinion.


No more plastic wrap:
If you have a bigger kid who wants a full sized sandwich that won't fit into the tiny plastic container instead of sticking it in a plastic bag or wrapping it in plastic wrap buy (or make) a reusable wrap.

For the 2010 school year I purchased lunch skins. These are colorful, lined fabric pouches with a velcro closure that come in three different sizes - perfect for sandwiches and snacks. Plus they can be cleaned in the dishwasher. We have also tried wrap n mat which is a sandwich wrap and placemat in one. The whole thing wraps around the sandwich and closes with velcro. Both options are easy to use and clean. And you will never need to buy plastic wrap or baggies again.


Sayonara Juice Boxes:
Juice boxes can't be recycled so they literally just go into landfill. For twenty bucks you can get a metal beverage bottle that fits perfectly into a lunch box. If you are worried about spills you can choose a sports top instead of an open mouth. I know $20 bucks is a lot to shell out for a bottle but think of how many bottles of water or boxes of juice you buy in a month and it will seem like a bargain.

The bottles are indestructible, ours have been banged, bumped and dropped a million times over the years and are still in perfect condition. Mine is about 5 years old and my son has been using his for 3 years on a daily basis. Once you get one of these you will wonder how you lived without them. Plus you can fill them with your own juice, which is less expensive when you buy a large jug, or water – which is basically free.

Forks and Spoons, no problem:
I know you are wondering what they are supposed to eat their yogurt, pasta or applesauce with. I send my son to school with a piece of our flatware when needed. If you don't trust your child to bring it home you can invest in high quality reusable plastic or better yet bamboo tableware.

Make your own "single serving" items:
Unless it is absolutely necessary I never buy anything in an individual serving package. All that extra packaging is wasteful and you get more product in a big container so it is less expensive. Sliced apples, baby carrots, yogurt and applesauce can all easily be packed at home. Even chips or pirates booty can be bought in full sized containers and portioned out.

Remember those little plastic bowls that you bought when your baby was eating purees?
Well, I saved mine and they are perfect for all these things and even homemade muffins or left over mac and cheese. Another good use of plastic – mine have been in regular use for over five years. If you don't have yours anymore another cool idea is to head over to your Indian Market or Chinatown and buy one of those multi layered stainless steel lunch carriers for packing messy, crushable or wet items.

-Apples can be cored and sliced and if you pack them tightly in the plastic cup (or squirt with a bit of lemon). They don't brown because air can't get in.

-Grapes can be plucked off the vine and put into your own container.

-Buy a big bag of baby carrots and put them in a container or cut your own carrots into sticks.

-Combine plain yogurt and a drop of jam, fruit, honey or maple syrup to make your own single serve yogurts. A 32 ounce container of yogurt is much less expensive and has less sugar than the small single serve containers.

-Make a big bowl of jello or pudding (it takes minutes and costs pennies) and when it is gelled portion into reusable containers instead of buying single serve jello.

- Those little tiny plastic cups that the pizza places gives you for the crushed red pepper are perfect for a bit of hummus, cream cheese dip, salsa or whatever they like to dip with. They can be used a couple of times before they get too crummy. Another idea is to put the dip into a reusable silicone cupcake wrapper or a little tin foil 'bowl' and nestle it in with the vegetables or crackers.

-If you kid likes Lunchables you can use easily pack your own "make your own cracker sandwiches" my son loves them. I use a square plastic container with square crackers and deli ham and cheese that I cut into squares.


Will they bring it all back home?
Yes.
My son started to carry all this stuff to school at the age of 4.5 years and it all came back home every day. My husband? Well he is not so good at remembering his lunch gear so we have duplicates.



For more school lunch ideas, check out School Lunch and Snack Tips and Ideas for Back to School.