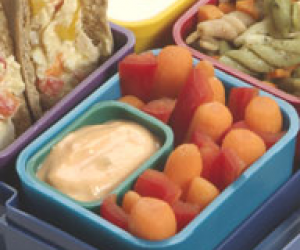 School Lunch and Snack Tips and Ideas for Back to School
It's back to school time and so we are thinking about all those little details of preparing for the school year. Making healthy school lunches and snacks is a big one. We asked the moms of Mommy Poppins what their best tips for easy healthy snack options and school lunch recipes were and they came up with a bunch of really original school lunch box ideas, as well as some old standbys.
Read on to find out what we're putting in our kids' lunch boxes for school lunch and snacks:
To avoid the morning rush try to pack your child's lunch the night before, put it in the fridge in a small container for easy packing in the morning. You can also put non perishables like snack packs and juice boxes in their lunch bag as well.
Take your child shopping for their lunch food. At the store you can look at labels, and prices to help them decide what they would like to eat. This serves a double purpose of teaching your child to make healthy food choices and avoids you buying food that your child will refuse to eat.

Do not discount the value of a good lunch note. Buy a few small cards and treats to stick in your kids lunch bag. They will look forward to them and be able to keep a little bit of you with them while they are at school. This works well for little ones who are afraid of going off to school for the first time. —Leni

My tip is hiding unexpected items in packages. For example, in individual raisin boxes I throw in some cashews. —Bess

I keep a "treat bowl" in the kitchen, filled with healthy snacks--fruit snacks, granola bars, dried fruits, etc---then I pack their lunches, but leave them open lined up by the bowl. They can grab the 2 snacks they want and drop them in, zip it up and rock out the door. It gives them a feeling of control over what they're going to eat, so I don't have to hear it about getting yet another ham and cheese sandwich for lunch : ) —Teresa

We are a big fan of leftover cold ravioli for school lunch. They hold up well in all weather, can be eaten by hand if needed (we have them with butter), you can put in Tupperware or a ziplock with a small paper plate. And they always disappear! (works for tortolinni too) —Desiree

To keep my kids eating healthy veggies without me chopping like a maniac every morning, I cut up a bunch of carrots and celery at the beginning of the week and put them upright in a container half filled with water--this keeps them fresh for the whole week, so I can just grab a a handful and put them and some hummus in a tupperware and, boom, healthy snack.—Shari
I pack two wipes in a zip lock bag so he can wipe his hands before and after since once they get to elementary school they never seem to be asked to wash their hands. Another trick is when packing a banana to put it in a paper bag and then blow it up so that it cushions the banana and keeps it from bruising. —xoxo Judy

We home school but we are always on the go taking lunch and snacks with us. The kids' occassional and much-enjoyed indulgence, perfect for school lunches as a dessert or side dish, is Mash Ups (organic berry flavored apple sauce in a squeeze tube). Larabars (and Jocolat bars) make really healthy portable desserts or snacks. My kids are also big fans of garlicky tzatziki (Greek Yogurt Dip) which is great for dipping carrots, celery, cucumber sticks, chicken strips, and more and won't "turn" if it's not refrigerated for a few hours. —Marcy

Cut up apple fruit snacks from Fresh Direct. I love these to throw in the lunch box for snacks. They come all cut up in a five pack for the week.—Fran
An ordinary sandwich can be spruced up by cutting it into shapes with cookie cutters. Even the most boring sandwich combos take on a new twist when they are cut into hearts and diamonds. You can go seasonal with pumpkin-shaped cutters for Halloween and candy cane cutters in December. My kids always enjoyed doing this with me. —Allison
Fruit Leather. There is no way to crush it, it doesn't melt and it doesn't need refrigeration. It is skinny and flat so it can slide into even the smallest spot in a lunchbox or even the pocket of my jeans. Just be careful to make sure you are actually buying the real deal and not some sugar stuff pressed flat.
Muffins (sweet or savory) are easy to make and a decent snack for a school lunch. I like to make them in a mini muffin pan instead of a full sized one. You can get like 30 or so from a recipe (versus 6 or 12) and they are the perfect size for little hands with no leftovers. You can even freeze some for later use and pull them out when the mood hits. They can defrost in the fridge overnight or even in the lunch box in a pinch. [Try our Pumpkin Chocolate Chip Muffin Recipe]—Stephanie
The one kitchen gadget I think every parent needs is an Apple Corer and Divider. I use this every day to turn whole apples into bite size apple slices perfect for little hands in just a few seconds. Makes serving healthy apples easier than buying prepackaged snacks. —Anna
Check out this previous post with more lunch box ideas.
This post originally published in September 2010.