Little Lions: Best Kids' Books About Winter from The New York Public Library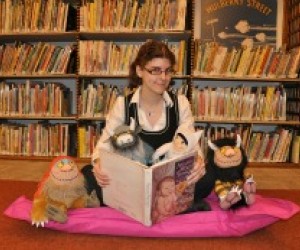 For our December Little Lions post, we're looking beyond the holidays and focusing on nondenominational picture books about winter. (Of course, we also have roundups of wonderful Hanukkah and Christmas books and great books to give as gifts, too.)

Elizabeth Bird, New York Public Library's Youth Collections Materials Specialist, picked these cool children's titles from her collection, featuring feisty snowmen, animals on the cusp of hibernation and many a wintry adventure. They'll make a great ending to your coming snow days.
1. Little Snowman Stan by Guido van Genechten
Ages 3-6

It's nice to meet a snowman other than the ubiquitous Frosty. Stan is a good little guy at first—he doesn't move so much as a jot. After a while, though, he starts to challenge the older snowmen. Why can't he move around once in a while? This lovely Dutch import (a Picture Book of the Year in Holland) will appeal to any kid who's ever been told to stay still. Find it at NYPL or buy it on amazon.


2. Old Bear by Kevin Henkes
Ages 3-6

Author-illustrator Henkes may be best known for books like Lilly's Purple Plastic Purse, but recently he's been creating lovely tales for emergent readers. In this work, a hibernating bear dreams hyper-color sequences about each season of the year, until at long last winter ends and spring arrives. Henkes' watercolors are gorgeous. Find it at NYPL or buy it on amazon.


3. Red Sled by Lita Judge
Ages 3-6

When a child's red sled is left outside at night, a pack of fun-loving winter animals enjoy some crazy downhill antics in this nearly wordless seasonal tale. Find it at NYPL or buy it on amazon.
4. Here Comes Jack Frost by Kazuno Kohara
Ages 3-6

A lonely little kid finds the perfect winter companion: Jack Frost himself. Kohara is one of the finest illustrators out there, and her spiky style is perfect for this icicle-ridden tale of frozen fun. Find it at NYPL or buy it on amazon.


5. Frederick by Leo Lionni
Ages 4-8

Lionni retells the old fable "The Ant and the Grasshopper" from the point of view of a mouse among mice. Frederick dreams all day instead of putting away food for the winter. When the cold winds blow, however, it's Frederick's tales that keep his companions truly warm. Find it at NYPL or buy it on amazon.


6. Waiting for Winter by Sebastian Meschenmoser
Ages 4-8

Best. Winter. Book. Ever. In this German import, a squirrel, hedgehog, and bear skip their usual hibernation so they can stay up and see what snow really looks like. You've never seen sleep deprivation depicted so stunningly. Find it at NYPL or buy it on amazon.


7. Snow Music by Lynne Rae Perkins
Ages 4-8

This onomatopoeic celebration of the season tells the simple story of a boy and his dog, using sweet, gentle words to convey the sounds of winter. Did you know that snowflakes say "peth peth peth" when they fall? Now you do. Find it at NYPL or buy it on amazon.


8. Perfect Snow by Barbara Reid
Ages 5-8

With fantastic illustrations done entirely in clay, this book shows how pristine white can turn into muddy footstep-ridden gray. Find it at NYPL or buy it on amazon.

9. The Busy Little Squirrel by Nancy Tafuri
Ages 3-6

A little squirrel fends off entreaties to play by various animals. He's much more interested in putting away good food for the winter. This tale for the very young also comes in an adorable board book edition. Find it at NYPL or buy it on amazon.


10. Singing Away the Dark by Caroline Woodward, illustrated by Julie Morstad
Ages 4-8

When a young girl must walk a mile in the dark morning to get to her school bus, she uses the power of song to stay brave. An evocative glimpse into another (colder) world. Find it at NYPL or buy it on amazon.

Read about some of our other favorite children's books.

Thanks to The New York Public Library for providing this book list. You can find all of these titles at the library.