Music Classes for Boston Kids Taught by Their Favorite Music Performers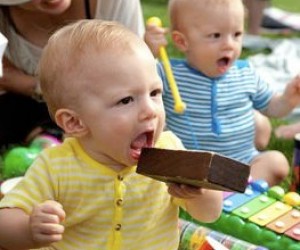 Does your child come home from a kindie concert completely star struck by the performer on the stage? Does he know - and sing - all the words to all of Josh and the Jamtones' or the Jumpin' Monkeys' tunes? Does she want to dress up and perform just like Karen K or Marcie Joy? Would you like to get the award for Best Parent Ever by offering your little musician the opportunity to sing and dance with these stars?
Well, you're in luck, because quite a few of our favorite local musicians are also amazing teachers, sharing their talents with kids lucky enough to live in the Boston area. (Please check out our other music classes post for more local options.) And for information about watching these musicians performing live, check out our Events Calendar.
---
Performer: Jeff Jam
Class information: Jeff Jam leads classes at several locations throughout the Boston area. Visit the individual websites for the current schedule and to sign up.
---
Performer: Josh, of Josh and the Jamtones
Class information: Jammin with You (12B Mica Lane, Wellesley, MA 02481; 781-237-1561)
Jammin' with You offers in-home instruction with cool, young fun music teachers - including Josh - that teach in Boston, the greater Metro area, and the North Shore. Jammin' can help you choose the best teacher, best schedule, and even best instrument if you need guidance.
They also offer group classes at the Wellesley location for babies and children. Choose from beginning instrument classes, a band program, and creative dramatics program.
---
Performer: Karen K, of Karen K and the Jitterbugs
Class information: Karen K teaches a retro-style music class for children ages newborn to five years and their adult. Classes meet once a week in 10-week sessions throughout the school year, and for shorter sessions in the summer. Each class is 45 minutes. Check the website for locations and information on free trial classes. Lexington, Arlington and the North Shore.
---
Performer: Marcie Joy
Class information: Marcie leads classes which include sing-a-longs, creative movement, games and more (parent or caregiver attends. 2013 locations:
---
Performer: Sarah Wheeler
Class information: Baby Wiggle/Little Groove music classes are designed to help infants, toddlers and preschoolers learn and interact through sound, sight and touch in a live music setting. Children use their bodies and voices to sing along to catchy songs that help them build important motor and social skills; use real instruments such as drums, shakers, and tambourines; and interact with puppets, bubbles, balls, pom poms, and building blocks.
You can find classes at multiple locations:
---
Performer: Stacey Peasley
Class information: Stacey offers a parent/caregiver mixed aged music class ages infant through 4, held in Natick. Parents can visit Stacey's website or contact her via email for more information.
---
Performers: Vanessa Trien and Julie Rama Winslow, of Vanessa Trien and the Jumping Monkeys
Class information: Vanessa Trien and band co-leader Julie Rama Winslow both teach Music Together classes through Groovy Baby Music, Vanessa in Brookline and Julie in Cambridge. Consult the website for current class schedule and registration information.
---
If your kids can't get enough of their favorite performers either in concert or in class, there's an App for that! Mibblio is a children's musical book app that allows users to read, listen to music, and jam along to quality "mibblets". For example, a recently released mibblet features Karen K and the Jitterbugs and their song Henry Bear. Visit the Mibblio website to find your child's favorite artist!
---
Originally published September 2013; Updated August 2014 by Tara D