Grand Canyon Railway's Polar Express: All Aboard for a Magical Christmas Adventure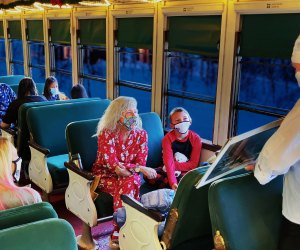 Kids' eyes shine with glee as they climb aboard the Grand Canyon Railway's magical Polar Express holiday train. This 1930s vintage train is a ringer for the one in the Chris Van Allsburg children's book of the same name (yep, the one they turned into a classic holiday movie). Every year families can celebrate the Christmas season with a trip to the North Pole to visit Santa Claus, via the Grand Canyon. That makes two childhood "must-do" outings completed with one amazing holiday trip.
This train sells out fast every year—some families book a year in advance—so the sooner you can get tickets, the better!

All aboard Grand Canyon Railway's Polar Express.
A Christmas Train at the Grand Canyon
"One thing about trains … it doesn't matter where they're going. What matters is deciding to get on."—The Conductor
Deciding to get on this train is committing to take an adventure—yes, to the North Pole (or Arizona, to be more prosaic), but more importantly it is an adventure that draws the whole family right inside a favorite holiday classic book (and movie!). Grand Canyon Railway really helps the fantasy come to life by getting all the details exactly right.
When the train pulls up to the station in Williams, AZ, and the conductor yells, "All aboard," families can get seated; each bench seats two, so it's best to book seats in pairs. As soon as the conductor punches tickets (multiple times, just like in the movie), cocoa (maybe not quite "as thick and rich as melted chocolate bars") and cookies are served. The ride to the North Pole is filled with chef elves, a reading of the book, and plenty of lighting displays to see out the windows.
Christmas pajamas are the fashion for enjoying cookies and cocoa!
And then … the train pulls up at the North Pole and Santa appears. Santa meets everyone on the train, and hands out keepsake gifts. (The gift is a bell, which kids are encouraged to ring. Bringing aspirin is not the worst idea.) On the ride back to the station, everyone gets a songbook for a Christmas carol sing-along. Dancing in the aisles with the elves is highly encouraged.
Trains depart nightly at 5:30pm and 7:30pm. The whole experience lasts about 90 minutes, including getting on and off the train (though we definitely recommend getting in line about half an hour early). The departure times means planning meals carefully to keep kids from getting hangry. Try to eat dinner before getting on the train, because hot chocolate and cookies are the only food available. That means a very early dinner for those with tickets for the 5:30pm departure, so be sure to plan accordingly. It's also fun to come in PJs; definitely for the kids, but if the whole family is in Christmas pajamas, it makes for a festive holiday picture.
The Chef elves read aloud the classic tale that has come to life.
The good news is, this once-in-a-lifetime magical outing is fun for everyone from little ones (it's best for ages 2 and up) to kids who think they're too big (yes, tweens might roll their eyes, but they'll also sing along and have a blast).
The bad news is, it's not cheap (tickets start at $32 for kids ages 2-15 and $67 for adults in 2021, and run more for first class, luxury cars, and on Christmas Eve) and tickets are snapped up months in advance. The train runs twice a day from November 1, 2021 through January 31, 2022. The most popular dates book up well in advance, however, there are usually a few dates and times available even in December, in case you're looking for a last-minute getaway.
In 2021 the train is running with extra health and safety precautions. Masks are required on the train (even Santa wears his), and everyone is asked to refrain from giving hugs to Santa and the elves. Wearing a face mask is required in all buildings in the national park, regardless of vaccination status. Wearing a mask is requested in all buildings and facilities owned or operated by the train company (Xanterra) for those who are vaccinated, and required for those who are unvaccinated. These rules are subject to change at any time, so keep an eye on the current health and safety measures for the train.
Do you hear what I hear?
Alternatively, if you're ready to splash out on an even grander, even more socially distanced version of the ride, there are packages available for booking a private train car for your group. Think Orient Express, with Santa on board. The VIP package is called the Ultimate Polar Express Experience. Since this option is private it is extra safe, but also extra expensive, starting at $7000. The package snags groups a whole train car to themselves, as well as a private conductor reading the story, private elf chef, and a private Santa. Custom catering and a bar are also available for hosting a (small) family holiday party.
More affordable, and very useful, is the hotel and food package. This includes a night at the Grand Canyon Railway Hotel, as well as dinner and breakfast at the Grand Depot Cafe. Most guests have a long trip to get here, and having a hotel to check into on arrival (and to crash at when tired and excited kids get off the train, full of sugar) is critical for making the most of this adventure.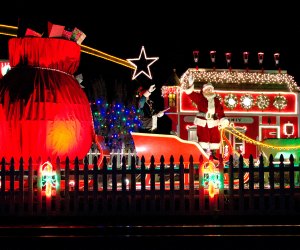 Yes, Virginia, there is a Santa Claus at the Grand Canyon.
What You Need To Know About Grand Canyon Railway
Where is Williams?
Williams, AZ is about 30 minutes west of Flagstaff, and an hour south of the Grand Canyon South Rim, which is the Grand Canyon entrance that typically stays open in the winter. Williams is known as the Gateway to the Grand Canyon, but it should be noted that it is not in the park and does not have a view of the canyon. Doing this train ride as part of a family trip is a wonderful way to celebrate Christmas on a visit to the Grand Canyon, but you won't be seeing the canyon out the train window—just Santa.
Williams is also the home of Bearizona Wildlife Park, a gorgeous drive through the natural habitats of bears, wolves, buffalo, and more. There's also Fort Bearizona, where smaller animals can be seen on a walking tour.
Tips for the Night of the Ride
The train is kept quite warm but waiting in line can be cold, so dressing in layers is ideal. However, there's limited space on the train, so only bring what is truly necessary (there is room to stow diaper bags and backpacks, but with coats and more, those vintage spaces fill up fast). Definitely bring snacks if your crew needs more than cookies, or if one of your party is dairy or gluten intolerant. (There are no gluten-free cookie or dairy-free cocoa options available.) For safety reasons, all cookies are individually packaged, and cocoa is in disposable cups.
Strollers can be parked at the station, and car parking is plentiful and free at the depot and hotel.
Restrooms are available on the train, but this is definitely a "go before you go" situation. (This is another reason that a package deal including a night at the hotel is so attractive; many of the buildings have limited access in 2021, so being able to use a private hotel bathroom right before getting in line is a big plus.)
All in all, Grand Canyon Railway's Polar Express is a magical experience for the whole family.
Photos courtesy of Xanterra Travel Collection