Immersive Van Gogh Exhibit in Boston Could be Year's Hottest Ticket for Families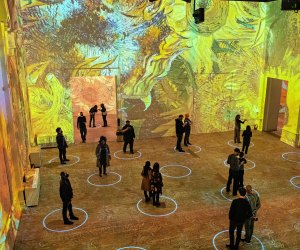 You and your kids might be familiar with some of Van Gogh's most famous works, but can you imagine being "inside' one his vibrant paintings? That's what's promised by the brand-new "Van Gogh: The Immersive Experience," an exhibit touring the world this year and heading to Boston in late September. Tickets are available now, but you have to act fast if you want to score a visit: It's been the hardest ticket to come by in Chicago, San Francisco, and LA, prompting months-long extensions.
Here's everything we know about this hot new art pop-up coming this summer—and a similar Van Gogh exhibit in SoWa later in the year. While you wait to "gogh," keep your artsy kids engaged with summer art camps or a visit to the Museum of Fine Arts.
Editor's note: This post originally ran on March 2, 2021, and was updated with new details on March 3, 2021.

The Immersive Van Gogh Experience transports you into the famed artist's paintings.
Here We Gogh
The Immersive Van Gogh Experience gives you an opportunity to walk through, and be immersed, in some of the most beautiful art in the world.
What exactly is this show? Set in cavernous spaces, there are towering projections animating the works of Vincent Van Gogh. Guests can wander through moving images that bring to life the color and detail, highlighting his brushstrokes and bringing visitors inside the mind of the artist.

Walk around in Van Gogh's The Bedroom.
The works are brought to life with art, light, music, movement, and imagination. Some of his most famous paintings, including Nuit étoilée (Starry Night, 1889), Les Tournesols (Sunflowers, 1888), and La Chambre à coucher (The Bedroom, 1889) are included, as are some lesser-known works. It's a whole new way of looking at and experiencing art, and the immersive nature and grand scale make it far more fun for kids than standing in a quiet gallery and being told not to touch anything.
Is it Good to Gogh With Kids?
Parents who have gone in other cities say this is a great exhibit for kids, but with two caveats. One, is that this is a slightly pricey ticket for what amounts to about an hour-long experience (even shorter for younger children with shorter attention spans). But in a year where getting out of the house has been rare, it's a great opportunity for a little culture and art. The other thing I've heard from several people is the music can be loud, so if you have very young children (or anyone who reacts to loud music), noise-canceling headphones might be a good idea.
Where to Gogh to See the Show
Shhhhhh! It's a secret. We don't really know where the show will be located, but promoters promise a centrally located Boston venue that's indoors. The secret location will be slipped to ticket holders at a later date.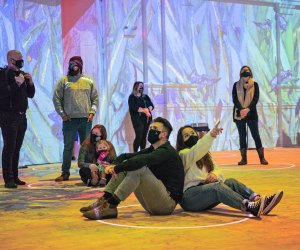 Brushstrokes so big, you'll feel like you're inside the paintings.
Is it Safe to Gogh?
Every person will have to make that determination for their own family. While we don't know the exact location yet, we do know it will be a walk-in experience in a very large space with many safety measures in place, including timed-entry tickets to control crowds, touchless hand sanitizing stations throughout the venue, contactless payment, social distancing, mask wearing required, and more.

Sunflowers bloom everywhere you look.
Where to Gogh to Get Tickets
Tickets to Boston's "Van Gogh: The Immersive Experience runs from September 24, 2021 through January 2, 2022. Tickets start at $36 for adults and $19.90 for kids. If they sell out, there are tickets ($39.99 each) available for a similar Van Gogh experience, "Imagine Van Gogh," happening at the SoWa Power Station a bit later in the year: December 21, 2021 to February 20, 2022.
A version of this story was first published on our LA site. Meghan Rose contributed additional reporting. Photos by Michael Brosilow