10 Great Summer Art Camps for Boston Kids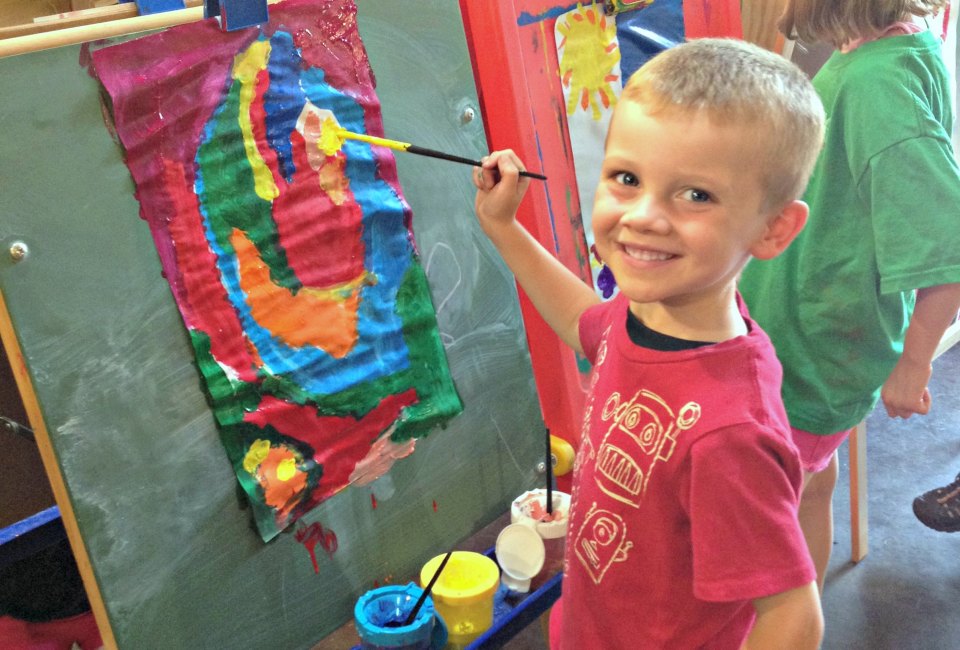 3/30/21
- By
Kelley Heyworth
Sure, kids dabble in art class once a week or so throughout the Massachusetts school year. But if you have a child who really loves to create, a summer art camp might be just the thing to ignite a passion and nurture a talent. These visual art camps happening in or near Boston encourage kids to experiment with creating a variety of media, from Eric-Carle-inspired paper projects to 3-D sculptures to graphic novels.
Be sure to check out our complete Boston Camp Guide for other art-based programs, including theater camps and more.
1. Minni—South End and Beacon Hill
Ages 4-9
Minni is a creative community space run by professional artists and educators who believe deeply that regular art-making promotes joy, creativity, innovation, and critical thinking. The space aims to serve as a place of gathering to support children and families within the local community and offers camp programs during most school breaks. Minni camps include art and design programs throughout the summer.
Ages 6-12
When a 9am-3pm option is best for your family, turn to The Clayroom, which focuses its programs on pottery, sculpture, and other 3-D art. Kids are given lots of room to explore different mediums, and lunch is provided before they head home or to an afternoon program.
Ages 7-15
This art and sports camp is meant for kids ages 7 to 15 years old. "CAAP" allows campers to enjoy a wide range of creative interests, from theater to specialty sports. Their visual arts program is particularly rich (and often whimsical), and students work with professional artists.
Ages 5-17
Another locally renown year-round art school, BAC offers summer-long classes for children ages 5 and under and week-long programs for kids ages 6 to 17. "ArtVentures" allows campers to explore a mix of mediums, while "Intensives" focus on honing skills in one specific area, such as pottery or figurative drawing.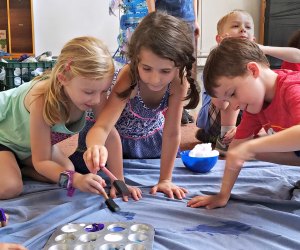 Kids are inspired by famous sculptures surrounding them at summer camp at the deCordova Museum
Ages 5-12
Surrounded by one of the most beautiful sculpture parks in the region, campers buzzing around "the hive" in summertime can't help but be inspired. Five week-long sessions draw themes from current exhibits ("Animal Architecture," "Sky Travel," etc.) and at the end of each week, kids' collaborative projects go up on display.
Grades 1st-6th
As a year-round art school, this gem in Newton, where many young talents get their start, is a great spot for developing a serious art interest. Weekly themes vary by age; first through third graders might choose a week devoted to work inspired by Eric Carle, while older grade-schoolers explore more sophisticated subjects like bookmaking and architecture. They also offer school vacation week programs.
Grades K-8
This hugely popular day camp has something for everyone, and their visual arts camp has a devoted following. Campers have three periods each day to work on projects appropriate for their age and skill level; additional camp time is spent enjoying spirit activities, swim lessons, and other camp-y fun.
Ages 5-11
Art history is a real focus at these Museum of Fine Arts weekly camps, and children are encouraged to translate what they see in the museum into their own creations. The website highlights their instructors who are experienced educators, and art professionals. The MFA also offers school vacation week programs.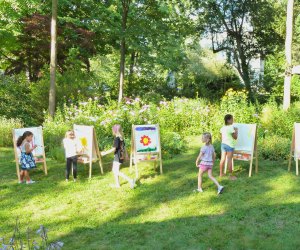 Finding outdoor inspiration at the Art Barn Summer Art Camp
Ages 4-9
Art isn't constrained by the indoors at this fun South Shore camp. Kids are encouraged to "play, explore, and take risks," sketching out things they see in nature and then developing their work in the indoor studio. Camp ends at noon, and snack is provided.
Grades PK-10
Week-long sessions are split between various locations listed on their website, and the newly renovated Arlington Center for the Arts space. Interesting weekly themes run the gamut from "Super Sleuth" to "Young Archaeologists."
All photos courtesy of the summer camps