Summer Theater Camps for Boston Kids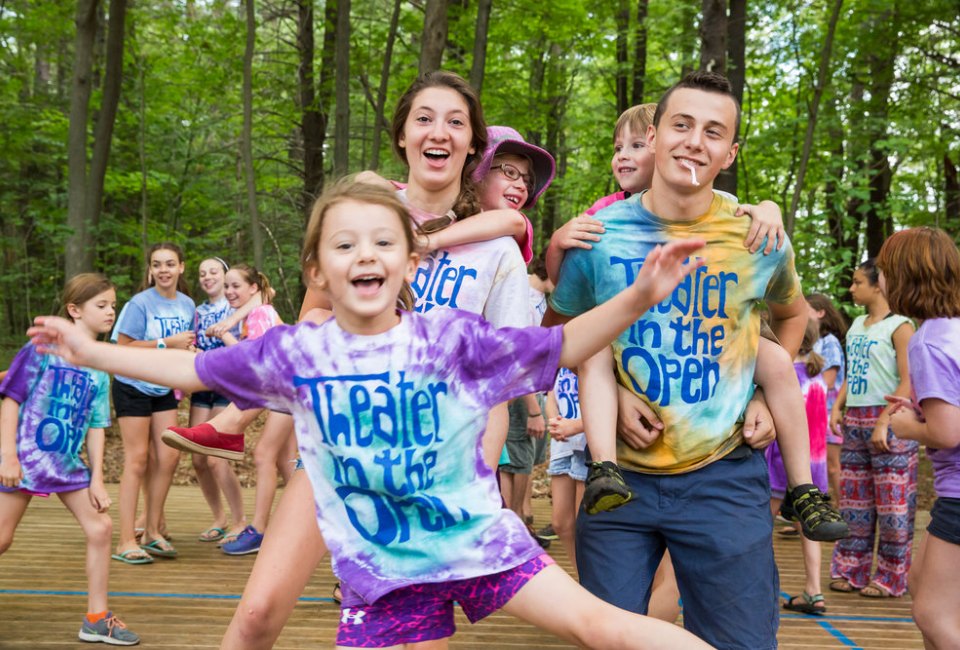 4/20/20
- By
Tara D
Being part of a stage production encourages kids to be creative, gain confidence, and learn the value of teamwork. All over the Boston area and in surrounding Massachusetts towns, there are theater-based summer camps designed to help kids from preschool through high school spend their summer days learning skills of acting, directing, and production.
If you are looking for an overnight camp experience or a different type of day camp, take a look around our Boston Summer Camps Guide.
Note that summer camp information for the 2020 season is changing daily. Please click the links to the individual camps below to see which ones are offering programs this year.
Child development faculty at Wheelock College work with Wheelock Family Theatre artist-educators to create challenging drama and movement games, improvisations, and exercises that help youngsters learn not just the how but also the why of onstage thoughts, feelings, and actions. Their summer camp offerings for ages 5-18 include introductory creative dramatics for the youngest actors, to more specialized workshops and intensives for older and more experienced performers.
During Improv's Summer Comedy Camps for kids, professionally trained improv instructors create a fun and supportive environment for kids to explore, develop, and make connections with others. Veterans to the stage and newbies alike will learn improvisation skills that will make them better performers and that they can apply to everyday life.
You may not think of New School as a place to study theater, but the Kids' Cabaret gives children the opportunity to do exactly that. For three weeks in July, kids take musical theater classes that incorporate singing, acting, and dancing, plus prop and set design. Team building is explored through theater games, script-writing exercises, and improvisation. The session culminates in performances of songs, scenes, and dance from the musical theater repertoire.
Underground Railway Theater provides training for young people ages 7 and up through classes and intensive programs. Aspiring theater artists learn alongside URT Teaching Artists and CST professionals, skills in script analysis, ensemble building, puppetry, mask, and performance. Summer theater offerings include character study, comedy and Shakespeare. A CIT program is available to ages 13 and up.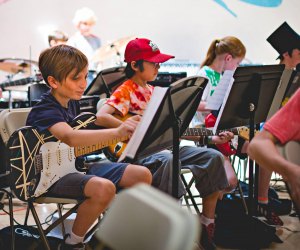 Musical theater is the focus in Brookline. Photo courtesy of Brookline Music School
In addition to summer music camps and classes, Brookline Music School offers kids ages 7 to 12 a comprehensive musical theater program called Curtain Call. Over the course of three weeks, students work from the ground up to bring together a final production. As they work and play, they learn about scriptwriting, prop and set design, singing, acting, dancing, and teamwork.
During each two-week session of Beaver Off-Broadway, campers learn the ins and outs of theater production. They develop skills in acting, costume design, set building, and stage makeup as they produce a musical. At the end of the session, they put on a show for family and friends.
From a Broadway Boot Camp to Shakespeare, Watertown Children's Theater a variety of options for learning about the stage and polishing their talents. They even have a Tiny Triple Threat course designed to introduce the littlest aspiring thespians to the theater. Courses are offered to kids entering Kindergarten through Grade 9.
Children entering grades 3 to 6 spend two weeks together creating original and kid-friendly productions with the help of the instructors at Arlington Center for the Arts. They get to create costumes, scenery, and props in addition to performing, and their days are balanced with plenty of outdoor time.
If your kids love to perform, but you want them to spend the summer outdoors, Theater in the Open just might be the answer. The Summer Arts Workshop is for kids ages 6-16 who want to explore and be creative. The summer camps range from two-week sessions to six-week sessions, all culminating in performances.
LINX's has long highlighted the performance arts on its extensive camp menu, but for little thespians their Broadway Theater Camp option is the perfect fit. For kids entering grades 2 to 8, the camp emphasizes Broadway techniques in designing sets, learning direction, and, of course, performing on the stage (for both parents and other campers). There's also room in their acclaimed general theater camp for children going into kindergarten through 8th grade.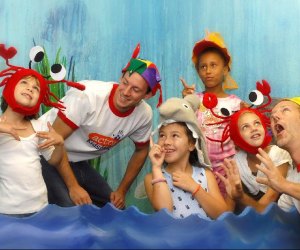 Professional actors work their craft alongside children. Photo courtesy of Kidstock!
Our parent friends' rave about Kidstock's summer theater arts program, which offers students of all ages the chance to create and star in their own stage production. A staff of professional actors, artists and educators guide each age group through a developmentally appropriate experience in theater rehearsal with individual workshop experiences in drama, dance, art and music. A nice bonus is that the theater is air-conditioned and the kids spend lots of time outdoors, too.
12. Boston Ballet — Boston, Newton, and Marblehead
The Boston Ballet offers a range of summer camps for ages 3 and up. Little ballerinas, ages 3 to 7, can learn basic techniques in a weekly summer program that will prepare them for the Fall. Ballerinas age 9-18 can choose from two week long courses to overnight camp options that fully immerse them into the world of ballet.
This popular theater not only puts on kid friendly shows throughout the summer, but it also invites kids to a camp so they can star in a production of their own. A three week long intensive camp, you must audition to join, teaches campers all about the stage while they hone their musical theatre skills and work to stage a production. This year will be The Little Mermaid. There is also a week long option in July for those that may not be ready to take to the stage but would like to dip their toes into the musical theatre waters!
Originally published in 2014