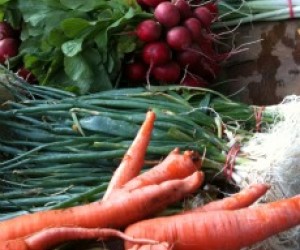 Buying Local Food: CSAs in NYC with Delivery
The locavore movement is expanding in NYC, and there are some great new ways to get fresh, locally grown meats and produce on your table. This year, we've discovered new CSAs that give you more flexibility and convenience, including ones that deliver to your door, or allow you to order à la carte rather than requiring you to purchase a full share.
If you aren't familiar with CSAs—Community Supported Agriculture groups—they are organized arrangements that allow consumers to buy food directly from the farmers. This helps give small farmers the financial support they need to make it through the planting season, and it gets fresher food on your table. Usually you buy a share (or a half share) of a farmer's output, and in return you receive a boxful of vegetables, fruit, eggs, cheese or meat every week throughout the growing season. If you're interested in signing up for a CSA, now is the time since spots fill up fast.
There are drawbacks to traditional CSAs: You have to pick up your food at a central location, you often have to put in volunteer hours and you don't know what will end up in your box ("you get what you get and don't get upset"). Plus, if you travel or go away on weekends during the summer, you'll miss part of your share, which is a drag since CSAs are kind of expensive. But this year, we've found some new, more flexible options.


Holton Farms
is a family-owned farm in Vermont (admittedly, not so local) that is pioneering a new model in CSAs. Rather than purchasing a traditional share, you buy credits to spend anytime throughout the growing season on the products you want, ensuring that you don't end up with a fridge full of kale (sorry, kale). Holton delivers to buildings in Manhattan, the Bronx, Queens and Brooklyn, as well as central pickup spots. I love that they have lots of locations, especially in the Bronx and Queens, which tend not to be as well served. The prices are reasonable, and you can get a nice range of produce, including offbeat items like foraged fiddlehead ferns. Start with a trial for as little as $50.
Local Roots offers shares of organic vegetables, fruit, duck, beef, eggs, bread and grains. Customers can choose shares for any or all of the products, and do summer and/or fall shares. Pickup locations are in Cobble Hill, Carroll Gardens, Williamsburg and Tribeca, but the farm hopes to add other neighborhoods, depending on interest. Organic vegetable half-shares start at $151 for 12 weeks.
Farm Share offers organic vegetable shares, and delivers to doorman buildings in Manhattan and Westchester. You can also add fruit and egg shares. Shares start at $625 for 22 weeks.
This Batch, which plans to launch sometime this spring, will be sending out a weekly email of what's available, and letting customers buy what they want at a discount over retail prices. Orders will be picked up at Rucola Brooklyn restaurant in Boerum Hill. Signing up for the email list is free.
Just Foods has a list of traditional CSAs, which you can search by zip code. You can also find a wealth of information on the website about how to start and manage your own CSA.
If you want to get hyper local, you can buy from one of the markets that sell produce from urban farms around NYC. A few of them start at the end of May, although most don't begin producing until July. There are city farm market locations in the Bronx, Manhattan, Queens and Brooklyn.
Now all you need to do is figure out how to get your kids to actually eat the vegetables that you spend so much time thinking about. To help, check out our post on Five Food Hacks for Getting Your Kids to Eat Vegetables.