41 Things To Do in New Jersey this Summer: Summer Fun Guide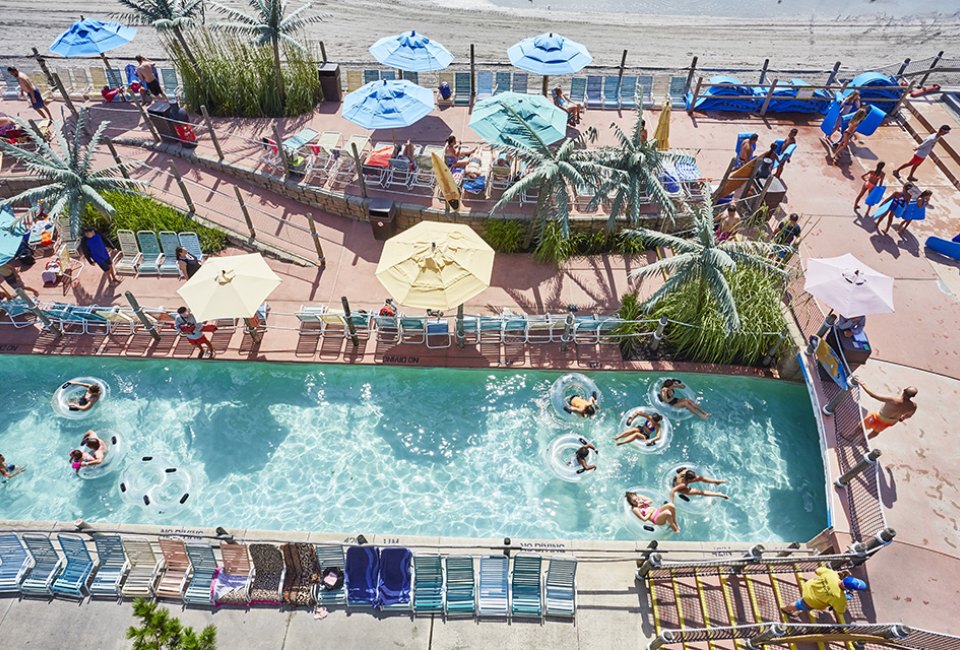 6/4/23
- By
Kaylynn Chiarello Ebner
Subscribe to our newsletters to get stories like this delivered directly to your inbox.
Best Summer Activities on the Jersey Shore
1. Visit a Lighthouse
National Lighthouse Day is celebrated every August. Commemorate the occasion by visiting one of the Jersey Shore's seven great lighthouses.
2. Plan a Beach Day
Soak up the sun at one of the Jersey Shore's beautiful beaches.
3. Go on a Pirate Cruise
Set sail with the Jersey Shore Pirates in Brick! Kids will love dressing up in pirate gear, searching for treasure, and battling rival pirates along with the crew.
4. Take a Ferry Ride
Try a day cruise and enjoy a ferry ride in Cape May. Reservations are required.
5. Spend a Day at Point Pleasant
Head to Point Pleasant and spend the day enjoying the beach, boardwalk, aquarium, mini golf, fun house, and more!
6. Meet Lucy at A.C.
There's so much more to Atlantic City than just casinos. Go outlet shopping, play at the arcade, hang out at Steel Pier, or meet Lucy, the giant elephant.
7. Walk the Ocean City Boardwalk
The lovely 2.5-mile Ocean City boardwalk will keep you busy with food, arcades, mini-golf, shops, and more.
Great Lakes, Parks, and Playgrounds to Visit this Summer in NJ
8. Cool Down at a Water Park
Beat the heat at NJ's awesome action-packed water parks like Hurricane Harbor in Jackson or Morey's Pier in Wildwood.
9. Try a New Spray Park
Splash around at a local spray park. The John Russell Wheeler Park in Linden and Asbury Splash Park in Asbury Park will keep the kids busy for hours.
10. Have a Picnic
Stop by your local farmers' market and purchase some delicious goodies for a picnic in the park.
11. See an Arboretum
Enjoy spending some time in nature at one of NJ's beautiful arboretums. Take a family hike or participate in scavenger hunts and other fun programs.
12. Rent a Paddle Boat
Cool off on a hot day by renting a paddle boat.
13. Go Swimming
Visit a local swimming hole or try a pool that offers day passes.
14. Explore a Nature Center
Bring the kids to a local nature center for a combination of indoor and outdoor fun. They'll have a blast playing, exploring, and participating in fun activities.
15. Go on a Hike
Get outside and enjoy a nature hike. A great way to bond as a family and get some exercise too.
RELATED: New Jersey Beaches, Lakes, Pools, and Water Parks Guide

Watch the sky fill with balloons at the New Jersey Festival of Balloons. Photo courtesy of the festival
Top Annual Summer Events in New Jersey
16. Experience Renaissance Fun
Go back in time and see knights in shining armor at the NJ Renaissance Faire, Saturday, May 20, 2023, through Sunday, June 11, 2023.
17. See Hot Air Balloons
See the skies over Readington come alive with a glorious display of hot air balloons at the annual NJ Festival of Ballooning, July 28-30, 2023.
RELATED: Jersey Shore Travel Guide for Families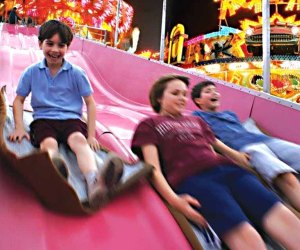 The jam-packed State Fair Meadowlands returns for 18 days with more than 100 rides and attractions. Photo courtesy of the event
18. Spend a Night at the State Fair Meadowlands
It's 18 days of rides, food, shows, and fun at the State Fair, Thursday, June 22, 2023, through Sunday, July 9, 2023.
19. Swing by the Monmouth County Fair
The 48th Annual Monmouth County Fair boasts outdoor entertainment, strolling performers, main stage entertainment, carnival rides, and competitions. The fair takes place Wednesday, July 26, 2023, through Sunday, July 30, 2023.
On-the-Farm Events in New Jersey
20. Pick Berries
Pick your own summer fruits and veggies at one of NJ's wonderful farms. Alstede's is definitely day-trip-worthy, with many fun activities to keep the kids busy.
21. Make a Bouquet
If you've never tried to pick your own, get ready to make some incredible memories and snap some amazing pics at a PYO flower farm!
22. Visit a Living Farm
Check out one of NJ's Living History Farms like Howell Living History Farm in Lambertville for a hands-on day trip that's both fun and educational.
RELATED: 10 Swimming Pools in NJ with Day Passes

Wander the imaginative and mind-bending Grounds for Sculpture. Photo by David Michael Howarth Photography
Outdoor Summer Fun in New Jersey
23. See Animals at the Zoo
Spend the day at Turtle Back Zoo in West Orange. This Essex County gem is perfect for kids of all ages. There's also mini-golf and a treetop adventure course nearby.
24. Have Some Thrills at Six Flags
Whether your family is into white-knuckle coasters or kiddie rides, Jackson's Six Flags Great Adventure theme park has got you covered. Or try another NJ theme park.
25. Visit Grounds for Sculpture
Pack a picnic lunch and see amazing larger-than-life sculptures at Grounds for Sculpture in Hamilton.
26. See Wolves
Go on a tour of Columbia's Lakota Wolf Preserve and see wolves in their natural habitat.
RELATED: 100 Things To Do in New Jersey With Kids Before They Grow Up

Tour the Sterling Hill Mining Museum. Photo courtesy of the museum
27. Tour Underground Mines
On weekends, tour the Sterling Hill Mining Museum in Ogdensberg and see mines from the early 1800s for a unique day trip your kids will love. It's said to be the fluorescent capital of the world.
28. Visit a New Downtown
Play tourist and visit one of NJ's great small towns. Stroll the streets, do some shopping, and grab a bite to eat with the kiddos.
29. Go to Storybook Land
Take little ones to this sweet amusement park that's perfect for toddlers and younger children.
RELATED: Best Sprinkler Parks and Splash Pads in NJ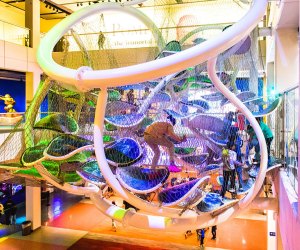 The Infinity Chamber is a classic attraction at the Liberty Science Center. Photo courtesy of LSC
Best Indoor Things To Do in New Jersey this Summer
30. Experience the American Dream
The American Dream Mall has all the makings of the perfect staycation. Fill your agenda with things like the indoor Dreamworks Water Park, Angry Birds Mini Gold, Nickelodeon Universe Amusement Park, and Big SNOW.
31. Have a Science-Filled Adventure
Liberty Science Center is a great way to spend the day at any time of year. Current exhibits include Wobbly World for kids 41 inches and under and the Infinity Chamber—plus an enormous planetarium.
32. Go Bowling
Bring the family to your local bowling alley for some indoor fun!
33. Climb the Walls
A great option for older kids is rock climbing at one of NJ's indoor centers.
34. Do Dinner and a Movie
Summertime is a great time for movie-watching! Indulge in dinner and a movie at one of NJ's dine-in theaters
35. Try a Trampoline Park
Bounce the day away at one of NJ's indoor trampoline parks.
36. Go to the Museum
Head out to a local museum for some hands-on fun with your kids. Visit the creepy crawly creatures at Insectropolis or check out the Montclair Art Museum.
37. See the Aquarium
Adventure Aquarium is a world-class aquarium where you'll see sharks, hippos, penguins, and too many fish to count.
Low-Cost and Free Summer Fun for NJ Kids
38. Do Water Games in the Yard
Stay home and play your own water games.
39. See a Movie Outside
Check out a local outdoor screening.
40. Camp Out
Camp out in your backyard. Make s'mores, tell ghost stories, relax under the stars, and cuddle up next to the kids in sleeping blankets. (If your children are too little, try it out indoors first.)
41. Save Your Pennies with No-Cost Activities
Don't miss the abundance of FREE activities offered throughout NJ this summer. There are no-cost movies, concerts, festivals, and more!
This piece was originally published in 2014 and has since been updated.
Sign up for the Mommy Poppins Newsletter today!
i