Set Sail with Jersey Shore Pirates, NJ's Original Pirate Adventure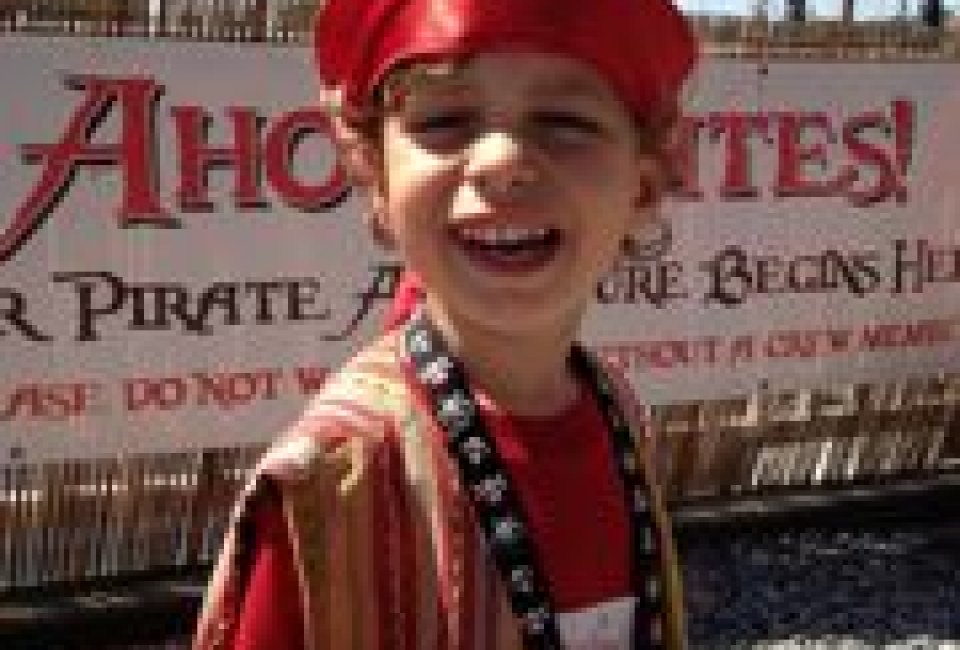 7/19/14
- By
Jennifer Battista
Want an adventure unlike any other? How about an honest-to-buried treasure sailing trip? Captain Kidd once roamed our coast—in fact, legend has it that his treasure still remains to be found in NJ. While you may not be lucky enough to find Kidd's booty, Jersey Shore Pirates makes it possible to go treasure-hunting with daily Pirate Adventures or even have a pirate birthday party—a family-friendly outing that is perfect for a hot summer day. I recently had the chance to check them out myself…read on for the details, if ye dare!
The Jersey Shore Pirates offer seven trips per day during the summer months. My family was scheduled for the 11am excursion but as recommended, we arrived at the Riverfront Marina about 30 minutes early for check-in and preparation. The crew granted each child a pirate nickname—"Rowdy Roman" for my 3-year old—and provided face or body painting in various pirate motifs. Roman opted for the skull and crossbones, which would have been pretty scary had he not requested his in red and pink. A dress-up box of vests and scarves completed the gang's transformation into miniature pirates. After some basic pirate lingo was taught, we were ready to go!
We boarded the Sea Gypsy II, an authentic pirate ship complete with water cannons and a lookout deck, and were introduced to Captain Smee and his first mate Loot. They were extremely enthusiastic, never breaking character, and really engaged the kids right from the start. After hoisting the flags, Loot gathered everyone around to explain the rules before setting sail. The most important to remember was "All hands on deck," which requires an immediate return to your seat. (Amazingly, this would prove fairly successful in keeping the kids in line.) With that, we left the dock and headed out for our adventure on the Metedeconk River.
The first order of business was to search for the treasure map hidden on board. The kids helped Loot to find it and to spot the "X," so we'd know exactly where to locate the sunken treasure chest. We then found a bottle overboard that contained a secret message: Pirate Pete stole the keys to the treasure chest! Naturally our next stop was to go after him and get them back. Once we spotted him, the kids took turns shooting the water cannons at him until he relinquished the keys. This was definitely the highlight of the trip for Roman--he's still talking about it a week later! ("Mama, why did Pirate Pete fall down?").
Keys in hand, we were off to claim our booty. The kids manned the lookout deck and soon enough they spotted the X on a buoy in the water and started cheering. The treasure chest was carefully hoisted out of the water with everyone's help and finally, the loot was in hand! Every little pirate had a turn at the chest to scoop out his or her share of the bounty—alas, not gold or rubies, but still a nice keepsake of the adventure. (Roman clung so mightily to his loot you'd have thought it was in fact gold.) Our final stop was to find Pirate Pete's secret stash before heading back to shore.
I would highly recommend visiting the Jersey Shore Pirates if you're looking for a unique activity this summer. The Pirate Adventures are well organized, very entertaining and will certainly keep your kids busy and engaged. If you want to make it a day trip, there's plenty to do in the nearby area too. Windward Beach Park is adjacent to Riverfront Marina—it's right on the water, has a nice playground and is a great spot for picnicking. There are also many restaurants close by such as Burger 25, Rainbow Diner and Chuck E. Cheese's.
732-899-6100
- 7 trips per day (9:30, 11:00, 12:30, 2:00, 3:30, 5:00, 6:30)
- Open 7 days a week May – Labor Day, Saturdays & Sundays through Oct
- Cost: check website for current pricing.
- Note: Reservations are highly recommended. Trips can sell out fast so be sure to call well in advance of your desired date.
Originally published 2012
Places featured in this article:
Sign up for the Mommy Poppins Newsletter today!