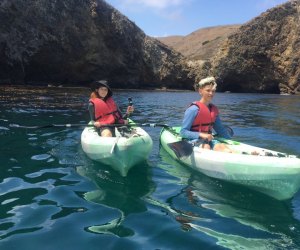 Top Summer Activities in LA: 50 Things To Do with Kids around Los Angeles Summer 2020
Summer 2020 may not be what most LA families had planned, but once we make our peace with staying close to home, it can be a different kind of fun. It can be staycation, love where we live, totally Southern California kind of fun. It can be old-fashioned, making popsicles and sipping homemade cocktails while the kids play backyard water games kind of fun. And we can take a break from stressing about what school will look like in the fall by picking a few of the wonderful things to do that we can still indulge in this summer around Los Angeles. The photos from summer vacation 2020 may all have masks in them, but we can be making wonderful childhood memories all the same! Here are 50 places open now to get you started.
Please keep everyone safe by following local laws regarding social distancing and masks; rules change frequently, so check with individual venues before heading out.

El Dorado Regional Park has two stocked fishing lakes with bass, trout, catfish, and bluegill. Photo courtesy of the park
Grab a pole and whistle an old-fashioned tune enjoying the great outdoors with a slow-paced activity.
Try a different kind of fishing experience—late night when the fish come to you!
Although the indoor exhibits remain closed, a (lower-priced) visit to the aquarium in Long Beach includes sharks, lorikeets, penguins, sea lions, and moon jellies in the open air.
At $1 per ride, the boat that hops around the Marina has always been one of the best summer deals of summer; this year it's made even more enticing by the fact that the boat is outside your house.
Maybe in other years you drive past this giant hill on PCH on the way to some bigger activity; this year, why not make it the activity?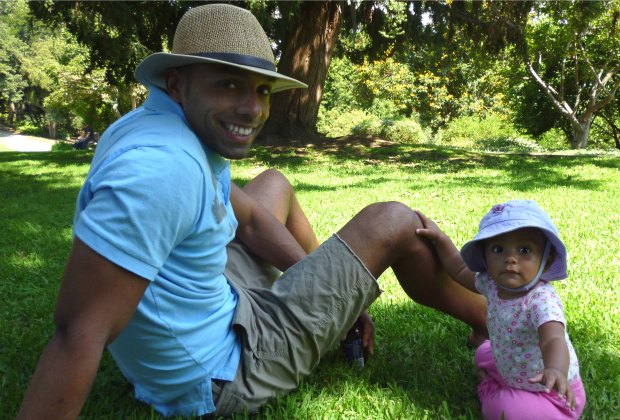 Enjoy the great outdoors at The Huntington. Photo by Ian D. Keating/CC BY 2.0
Whether you're a longtime fan or an always-meant-to-go type, it's great to news that the Huntington has reopened its famously idyllic grounds to visitors.
Sure, all beaches are fairly kid-friendly, but some are better than others. And some are more open than others this year.
Exploring tidepools is endless fun for kids of all ages, and there's no need to socially distance from anemones.
Speaking of iconic, snap some photos in front of some of LA's most famous murals and outdoor art.

Hike up Mt. Lee to see the Hollywood sign up close. Photo by David Fulmer/CC BY 2.0
Just think how memorable those photos will be with the whole family in masks in front of LA's most iconic view.
You don't have to ride a horse to enjoy the Equestrian Center in Burbank; kids who love horses can get their thrills watching them jump, prance, and parade.
12. Go for a walk through the Venice Canals.
So close and yet it feels so far: while away an hour wandering the hidden canals of Venice and pretending you're far, far away from all this.
Even when pools and splash pads are closed, a waterfall can cool a kid off.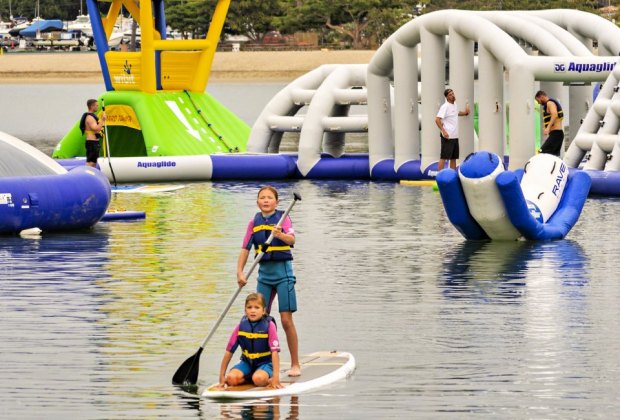 There is one water park open so far... Photo courtesy of Newport Dunes Resort
14. Splash at the water park at Newport Dunes.
All other water play may be canceled, but Newport Dunes has inflated its water park on the beach, along with pedal boats, SUPs, kayaks, and fire rings on the sand. You could even splurge and book a cabin, so you can stay for movie night.
15. Sign kids up for free online Apple Camp.
Kids can make movies about the whole 2020 experience.
It may not be an obvious choice, but the cemetery grounds are beautiful, and the Hollywood history is plentiful.
If you've only been doing quick rides around the neighborhood, why not plan a whole day of bike riding with the whole family?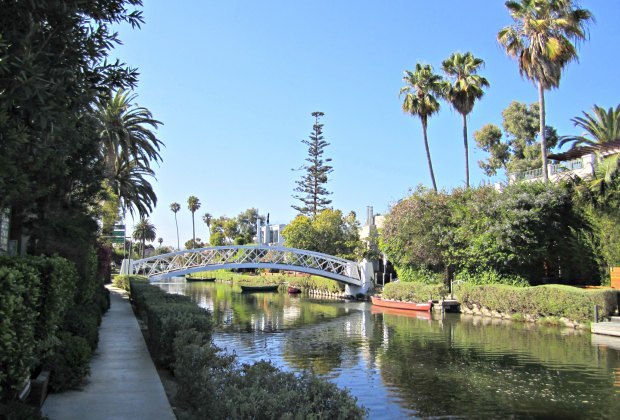 Stroll along the Venice Canals. Photo by La Citta Vita/CC BY 2.0
18. Sling arrows at one of LA's archery ranges.
Archery ranges around greater LA have begun to reopen, and most of them are even free.
There are more drive-in movies this summer than ever before; enjoy one of the best retro silver linings of this socially distanced summer!
Although the playground and swimming pool are closed, the beach has a stroller-friendly boardwalk; and finishing the day with a delicious meal at a table with a view of the sunset is a true summer treat.
Summer is the time to see blue whales, the largest creatures on the planet. Many whale watching companies have summer cruises and have resumed service for 2020.
There may not be street fairs or parades this season, but a wander around Balboa Island still has that old-school summertime feeling that makes you want a popsicle.
There are oodles of ways we Angelenos can enjoy kayaking the waves; one great summer outing is a kayaking tour of one of the nearest Channel Islands.
True, the theme park isn't open, but window shopping, eating outdoors, playing a round of outdoor mini-golf, and maybe taking a run through the light-up fountain still sounds like summer.
Whether or not you planned ahead, it's always possible to camp somewhere this weekend, now that so many campgrounds have reopened.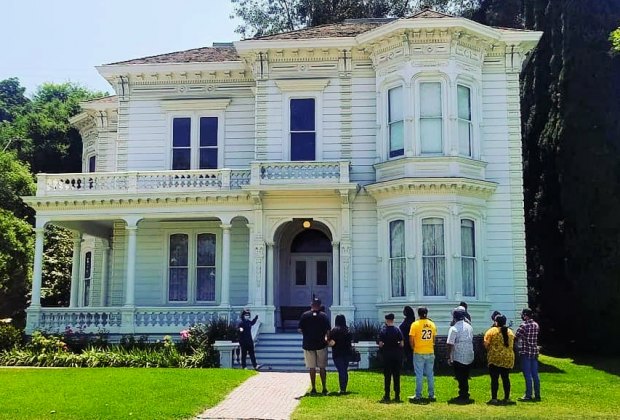 Photo courtesy of Heritage Square Museum/Facebook
The outdoor museum in Downtown LA is open for walking tours of the historic buildings.
The boats to Catalina are running again. And if an island sounds perfect, consider staying the night at the campground, too!
Sometimes called the Grand Canyon of Orange County, Irvine Ranch is a vast protected space of natural beauty in our backyard that surprisingly few Angelenos explore. Some guided hikes are still going on; advance registration is required.
Visiting a ghost town in the Old West with tumbleweeds rolling down the street feels like summer vacation with the Brady Bunch. What better time than now?
Pay a visit to one of our local pick-your-own farms; everyone will get sun and fresh air and then enjoy fresh produce for dinner.
Legoland may not be open yet, but its Sealife Aquarium is, and taking the time to enjoy this gem without feeling rushed to move onto the theme park is a real treat. Enjoy watching the sharks among the Lego divers. Note as of 7/6/20 Legoland has temporarily closed Sealife Aquarium again, to comply with state and county mandates.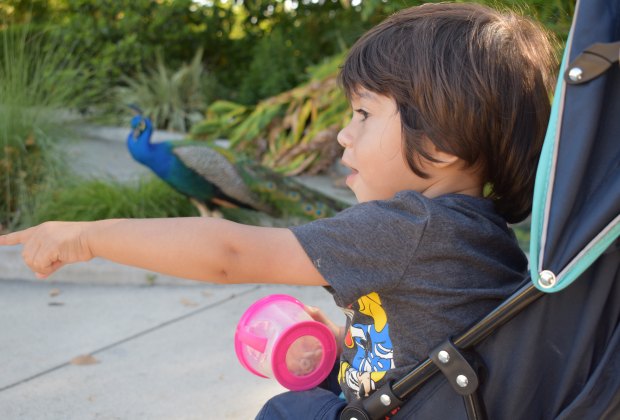 There's plenty to see at the Arboretum. Photo by Ian Brown
We never tire of the peacocks; plan it right and you can go on the monthly free day at the Arboretum. Note that advance reservations are required.
Losing oneself in the grounds of Descanso is a real treat at any time of year, and social distancing is easy. Note that the Enchanted Railroad is closed, and advance reservations are necessary for non-members.
We might not have all of our usual free outdoor movies this summer, but we have a free double feature every two weeks, courtesy of Amazon.
The Sagebrush in Calabasas has a fun twist on a drive-in movie: tables alternate with cars in the parking lot, in front of the big screen. You can eat at a private table, protected by cars, and enjoy a weekly movie night out!
It's always there, so it's easy to take for granted, but Griffith Park is full of trails and adventures and wonderful views. If you've never been to the Bat Cave, that's a great spot to start!
Both of the famous San Diego zoo locations have reopened (being outdoor attractions) at half capacity, with some tours and safaris running as well. Advance ticket purchase before driving down is highly recommended, though walk-ups are accommodated as space allows.
Most summer festivals are canceled, including most of the great annual art events in Laguna Beach—but not the Sawdust Festival! Masks are required, of course, but apart from that the festival could feel like a little dose of normal in this otherwise abnormal summer.
The weekly food truck event in Marina del Rey is a welcome break from cooking on a summer night!
Santa Clarita's gentle animal sanctuary invites visitors on a newly created drive-thru experience to visit the resident critters.
A few county parks have turned the water on for the summer, to help handle the hottest days.
42. Visit rescue kitties at the CatCafe Lounge.
The CatCafe is open on weekends, by appointment only, allowing one family at a time to come in for a cuddle.

Windmills. Photo by Steven Miller/CC BY 2.0
43. Social distance at Coachella -- on a windmill tour.
Say what? Yes, you can take a guided driving tour of those awesome windmills in the Coachella Valley. The photos will be epic.
If you've already walked every patch of green your kids know, take them to one they haven't seen.
Locals know of a few hidden gem beaches that tourists rarely find, from Millionaires' Beach to a life-sized sand castle.
As far to the north as San Diego is to the south for most LA families, this smaller zoo is great for smaller kids. Still plenty of animals, but you can see them all in an afternoon.
Several communities around the Southland have created outdoor restaurant zones by closing or narrowing streets, and a few restaurants have created some unusual outdoor dining opportunities.
Although the theme park still isn't open, limited access is available to the Miniland models of NYC, Las Vegas, New Orleans, and Washington DC for pass holders, hotel guests, and customers at the park's big Lego store.
Feed a giraffe. Touch an armadillo. Meet a sloth. Sylmar's Wildlife Learning Center is offering single-family tours with animal encounters. While not cheap, these tours still cost less than a day at a theme park we can't go to anyway.
Hop in the car and explore must-see places on your not-too-far wish list, from Big Bear to Big Sur.
And don't forget there are always more things to do on our daily events calendar. Stay cool, and have (safe, socially distanced) fun!