The Annenberg PetSpace: LA's Top Spot To Play with Puppies and Kitties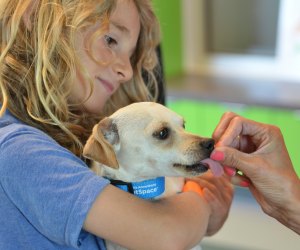 Interested in getting a pet—or just spending time with one? The new Wallis Annenberg PetSpace in Playa Vista is all about building bonds between people and pets. While there are dogs, cats, and rabbits available for adoption, no pressure: this is also a family-friendly space to learn about pets and people, and maybe even get a little cuddle time if a pet isn't possible in your home. And best of all? Admission is free!
Downstairs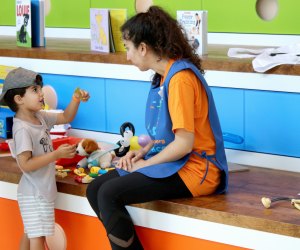 Sometimes, this is just a cool place to play.
Pet Porch and Paws and Pages
Young kids love the Pet Porch, where they can read books to animals and find animal-themed toys for humans to explore. There's even a slide (riders must be between 42 and 60 inches tall). Ask about Paws and Pages if you have young readers in your family. Sometimes visiting authors come by to read from their books, or a staff member or volunteer will read stories before inviting kids to read to adoptable animals. This is a scheduled event, but drop-ins are usually welcome. As several local libraries have discovered, reading to animals is a great way for new readers to get in some practice.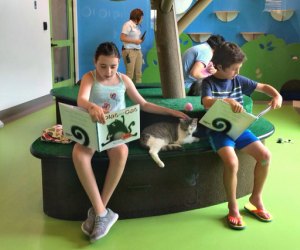 Kids enjoy reading with a furry buddy in the Paws and Pages space
Behind the Scenes Tours
Though you can explore much of PetSpace on your own, a tour is a free and easy way to get a feel for the place; check the PetSpace website for dates and times. Tours include the public areas as well as PetFit, the Groom Room, and the Operating Room, and the guides explain what these different spaces are used for as well as explaining the latest techniques in animal physical therapy. The tours include a peek at the kitchens, where meals are prepped for the animals, as well. You may get lucky and see a dog being exercised or groomed while on your tour. Check in at the front desk for directions. These tours are best for ages 7 and up, but there is no age requirement.
The Wag Shop
The shop sells pet toys and accessories—and items for people too. If your kids are bound to want something, you might want to avoid this room.
Upstairs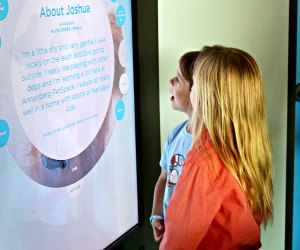 Kind of like Tinder for pets
Adoptable Animals
Upstairs you will find adoptable dogs, cats, and rabbits. Outside the animals' doors, touch screens provide additional information about the ages and personalities of the pet inside. Plan to visit the Scratching Post room, where you can play with and pet the cats, and the staffer in the room can answer your cat-centric questions. If you are interested in adopting an animal, talk to any staff or volunteer. There are Adoption Suites in the back where you can get to know your potential pet in private.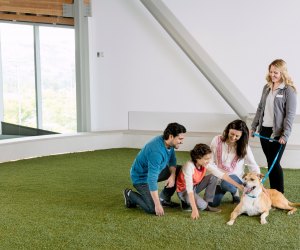 Family meeting a dog at the Fetch Deck
Demonstrations
There are two areas with artificial turf upstairs—the Fetch Deck and Pounce Patio. Staffers or volunteers may be exercising dogs in these areas, so stop by to ask any dog-related questions. If your kids need to learn how to meet a dog, this is a great place to practice and let your kids hear another adult's input. While you're at Fetch Deck, be sure to look out the windows to see if any dogs are outside in the Barks 'N Rec exercise area.
The Human Hamster Wheel
This is a don't-miss feature—for your kids and yourself. If your kids are too small or tall for the slide, the hamster wheel is a fun substitute.
Volunteering
Do you have a high schooler who needs volunteer hours? Ages 15 and up are welcome to volunteer at PetSpace, and children under 15 can still volunteer with an adult.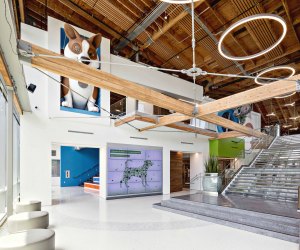 The Welcome Lobby
Additional Info
Wallis Annenberg PetSpace
Hours: Wed-Sun 11am–5pm (closed Mon and Tue)
Admission: Free for most activities (charges for occasional special programs, as indicated)
Parking: Valet available, free street parking
Seating: Upstairs near the Fetch Deck and windows; outside in the courtyard
Nearby: Playa Vista's Central Park is immediately north of PetSpace—no street-crossing required. There's a playground, paths, ponds, turtles, soccer fields, a basketball court, seating, and bocce courts.

All photos courtesy of the Annenberg PetSpace