SPONSORED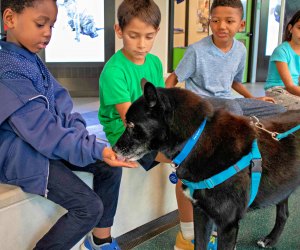 From Parties to Scouts, Why Annenberg PetSpace Is Such a Great Place To Bring Kids
We just got word that Annenberg PetSpace's new summer camp is already full for the season—that didn't take long! But even if you missed it, there are still a whole bunch of wonderful reasons to bring kids to explore this unique, critter-focused community space, many of which are free. The center has educational programs and play opportunities that include story hours, classes, scavenger hunts, birthday parties, and more—all created to strengthen the bond between pets and people. If you thought Annenberg PetSpace was just an adoption center, get ready to take a closer look.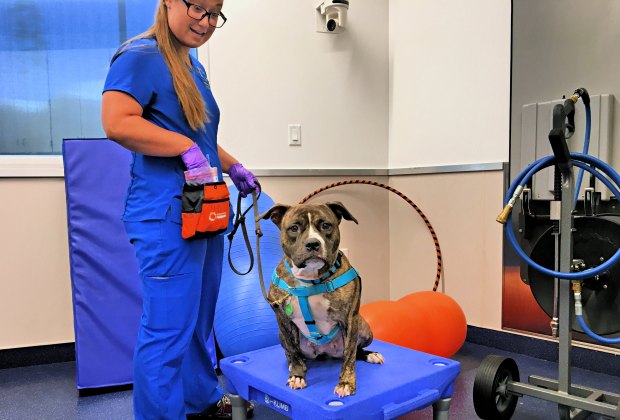 This sweet pooch is getting her exercise in the doggie gym.
I was recently treated to a behind-the-scenes tour of this remarkable facility, but don't think I'm so special; free tours are offered three times a week, and they're included in many of the educational programs offered. The tours include opportunities to watch veterinarians at work, pet groomers doing their thing, and doggie fitness training sessions—all through big windows with intercoms that allow for questions about whatever is going on. The care these rescue animals get at PetSpace is clearly top notch; I met several dogs and cats along the way, and they all seemed healthy, happy, and immensely loved while waiting for their forever home.
The tour and accompanying digital activities and pet encounters form the backbone of a program that the center's staff are particularly proud of: the Scout Badge program. Scouts can work on all the steps for either their Pets or their Animal Helpers badges, working from an educational packet designed just for them. The fee is so nominal that this may be one of the most affordable scout badge group activities in town.

Campers get insight into pet exercise in the Barks & Rec area. Photo courtesy of Annenberg PetSpace
Speaking of affordable, PetSpace also offers its Paws and Pages program every Saturday and Sunday for just $3. This story hour features a great animal story, some quality time with an adoptable pet, a critter craft project, and the option of getting in a little reading practice by reading aloud to the pet visitor—all in a space that is bright, lovely, and inviting.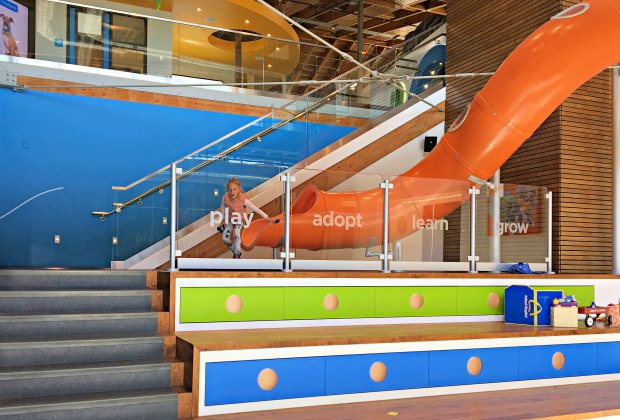 A slide this big is a hit with every age kid!
And on the topic of inviting, it's worth commenting that the entire center is bright, lovely, and inviting. This is a community gathering place above all; while I was visiting I saw neighborhood kids dropping in to play on the slide, to pet cats, to chatter to puppies, or to walk through with their own sociable dog on a leash. Everyone is welcome for as long as they care to linger and enjoy the ambiance.
Another educational opportunity to watch for this summer is one of the pet training classes. Parents and kids can take a four-week course called Mutt Manners with their dogs, or choose one of the one-off sessions called Summer Tricks, for pet owners who would like to just learn a few party tricks with Fido.

How about having a go on the giant hamster wheel?
And did someone say party? Annenberg PetSpace has just rolled out an exciting new option for birthday parties! Many of the activities described above can be incorporated into a fabulous birthday party, where kids get to learn about animal health, spend some time with dogs and cats, play on the slide, do crafts—the works. Goody bags are included, though you could always stop for extra items in the center's shop (look out, though, because some of the ice cream treats in the freezer section are only for dogs!).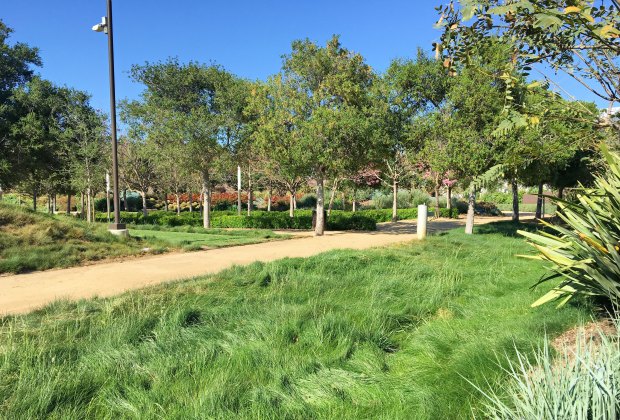 Playa Vista's Central Park is a treat just outside the doors of PetSpace
Parking at PetSpace is free on weekdays (with validation) or just $1 on weekends—and once parked a family can also get in some outdoor time in the adjacent Playa Vista Central Park. Not only is this park beautiful for a wander; its bandshell is also the site of Playa Vista's popular Movies in the Park and Concerts in the Park during the summer months. Starting a day reading with puppies and finishing it on a blanket watching a movie may just be the perfect summer day.
For directions, hours, and more, head to Annenberg PetSpace's website, and plan your own animal-filled visit.
Photos by Mommy Poppins, unless otherwise noted