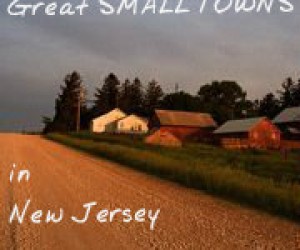 Great Small Towns in NJ: Clinton
There are many old and charming small towns in the great state of New Jersey. With memorable beach towns, historic college towns and sleepy suburbs, the garden state represents small town USA from Sussex to Salem County. Here is another installment in our ongoing series on Mommy Poppins New Jersey, Great Small Towns in NJ. Check out our other posts on Cranford, Millburn, Chester and Sparta. Get out there and explore our great state in one of these wonderful small towns!
If you're interested in a town where everyone knows each other – try Clinton! The town, located in Hunterdon County, is very small with a population of only about 2,700 people. One of the most iconic images of the town, and of New Jersey, is the Red Mill. The original Mill was built in 1810, but the "Tomson Mill", as you see it today, is celebrating its 50th Anniversary in 2013. The south branch of the Raritan River runs right through downtown and right next to the Red Mill. Many a postcard is adorned with the beautiful Red Mill and waterfall. The small town in steeped in history and a rich, active community. With so many town events, there's always something going on in Clinton!
Town Events:
Fall and Winter Events
One of the town's most popular events is called Dickens Days and is coming up November 29 – December 1. The old-fashioned holiday celebration includes everything from carriage rides to live musical performances and happens all over downtown. For Halloween, Clinton has several traditions that are a blast! The Haunted Mill is an annual event that happens weekends in October at the Red Mill. Each year boasts a different scary theme. You can see pictures of 2012's haunted mill events here. Pumpkin Fest is an annual tradition downtown that fills the streets with eerily lit pumpkins! Residents bring their carved pumpkins downtown to compete for prizes and there are also hayrides! You can see pictures of this year's winners here. Plus, students from Clinton Public Schools march through downtown in the annual Halloween Parade. Downtown Clinton is beautifully decorated for the holiday season. It's a great place to walk around for some shopping, lunch and to take in the scenery. Check out the Annual Christmas Parade on December 6. The annual tradition includes music, dancing, theater, magic, floats and so much more! The Festival of Trees, held at the Red Mill, showcases a variety of beautifully decorated holiday trees and is a fundraiser for the museum. This event is going on through December 8, 2013. On December 15 from 6pm – 9:30pm enjoy Candlelight Night! Luminaries line the quaint downtown streets as everyone enjoys late-night shopping at the boutiques and shops, in-store refreshments and horse and carriage rides.
Spring and Summer Events
The Pansy Festival happens in May. Horse and carriage rides, garden displays and a birdhouse-decorating contest are part of the fun! June brings warm breezes into downtown, along with the annual Flag Day Parade. Residents decorate bikes, scooters, strollers and anything with wheels! Refreshments and music follow the parade. In July, the Clinton Sunrise Rotary Club sponsors the annual Rubber Ducky Race. All proceeds support the American Cancer Society. You can sponsor your own duck and come down to the river downtown to see all the ducks compete. There is even a prize for the duck that comes in last place!
Recreation:
Clinton offers many recreational opportunities to get out and have some fun! Kid's programs include soccer league, karate, cooking, football, animal art adventure, t-ball, basketball, computer programs, babysitter class and even a pony club! During the summer, kids can take part in the Summer Rec program weekdays from 9am – noon. Adults aren't left out, with great programs like karate, organic gardening, safety clinics, yoga, pilates, art, volleyball and a Thanksgiving cooking class! From November 25 – December 10 a program called Letters to Santa takes place. The Parks and Rec office will collect letters from children to Santa and each child will receive a letter from Santa in return.
Where to Eat:
Clinton boasts many delicious eating options including everything from a classic high-end restaurant to laid-back riverside dining to a fantastic bakery with fresh-baked artisanal bread.
The Clinton House, located on Main Street, is the classic high-end restaurant in town. The "unique landmark restaurant" offers classic menu options like Beef Wellington and Seafood Newburg. Attached to the restaurant is the Clinton House Bakery offering pies, cakes, cookies and more.
The River View at Clinton Falls Village is the perfect place to get a delicious meal while relaxing riverside. There is a sizeable outdoor patio to eat, as well as an indoor dining room. The restaurant is family-friendly, yet has the ambiance to bring a date. The menu contains everything from steak to sandwich platters and burgers.
Looking for breakfast or lunch? Look no further than The Fine Diner. It is Clinton's highest-rated eatery on Yelp and with good reason! Traditional breakfast items are offered, in addition to a wide-array of pancakes, omelets and unique French toast options (Maple Pecan is superfine!). The lunch menu includes classic sandwiches, salads, burgers and wraps. But its only open until 3pm, so get in while you can!
A wildly popular addition to the food scene in Clinton is Christie's Artisan Bread and Pastry Shop. The warm, fresh loaves are irresistible, but get there early because the bread sells out by afternoon. You can also find a delectable array of pastries including scones (my personal favorite), cakes, bars, cookies, crumb cake, cupcakes, pies and much more! It's hard to walk out of there without a box full of goodies. You can eat and have some coffee at one of the café tables inside. It's a comfortable space and right in downtown.
Enjoy your day in Clinton, NJ!