Best Family Travel of 2018: Great Cities, Beaches, Hotels, and Memories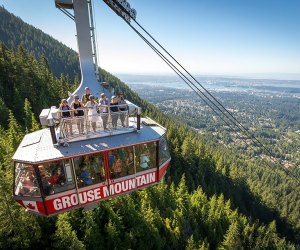 Our Mommy Poppins families really traveled this year! We scoped out some amazing cities with our kids in tow, from New Orleans to Santa Barbara, up to Vancouver and over to Chicago.
There were some epic science museums to explore, Christmas towns to make us cheery, gorgeous beaches, fun at amusement parks, and of course, a slew of entertaining family-friendly resorts, from Mexico and the Caribbean to Los Angeles and New England ski resorts.
So if you're planning your next family vacation, take a look at our favorite destinations from the last year, including these warmer climates for February or spring break. In each profile, we highlight the most kid-friendly activities and events and let you know what to skip with toddlers or what to see with the teens.
Family-friendly Cities
Southern Charm
Our families spent a lot of time exploring the South, from Miami at the very tip of Florida over to New Orleans with its charming French Quarter, swamp tours and incredible eats, and up to Nashville, Tennesse, where the kids enjoyed the zoo, a science center, and both boat and trolley tours. We hit the beach in Charleston, South Carolina, along with more fantastic local grub, museums, and more.
We even launched a new Mommy Poppins site at the Mason-Dixon line in Washington, DC, so we'll be telling you a lot about all those great FREE museums, monuments, and more to see in the nation's capital.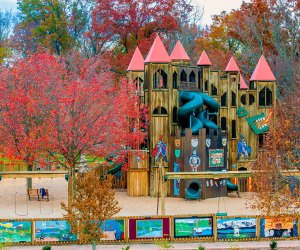 This eight-story, castle-themed playground in Doylestown, Pennsylvania, was a great find on our Bucks County trip. Photo courtesy Kids Castle Park
In Pennsylvania's Bucks County, the kids hit playgrounds, charming downtown streets, festivals, farms, and more.
Midwest and Western Vibes
Austin, Texas, charmed us, of course, while Milwaukee was a surprise hit with its "cosmopolitan feel and Midwestern charm."
Find 100 Best Things to Do with Kids in Chicago on your next trip! We just launched a new Mommy Poppins site in the Windy City and are busy exploring the fabulous museums, free parks and playgrounds, and great restaurants. Meanwhile, Jackson Hole, Wyoming, kept an active family with three boys entertained with loads of outdoor adventures.

An outdoor playground at the Bay Area Museum was a fun excursion for the little ones during our San Francisco stay. Photo courtesy the museum
California Dreaming
California whisked us away to a number of fun family vacation spots, almost all seaside, naturally! We took in the iconic pier and more in Santa Monica, skipped over to Santa Barbara, and then down to San Diego for its legendary zoo, SeaWorld, Legoland, and more outdoor fun. This SoCal city is teeming with family-friendly hotels, too.
A return to the ever-changing San Francisco yielded 25 fun things to do with kids, from a stroll through the Ferry Building for local eats to an amazing outdoor play space at an area children's museum.
We took a turn up to the Pacific Northwest with a jump over the border to Vancouver, a diverse cosmopolitan city filled outdoor activities, including boat tours and treetop adventures, but also all the advantages of a big, modern city, such as an impressive aquarium, science center, and more.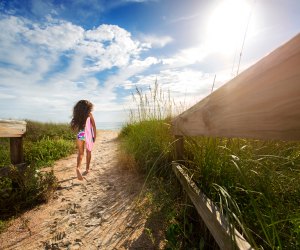 The secluded St. Augustine Beach in Florida is a perfect respite from daily life. Photo courtesy of the St. Augustine Tourism Bureau
Best Beaches
A beach vacation is always my first choice. The sun and salty, ocean air, and days spent relaxing with a book and sandcastle making, ice cream stops and maybe a family bike ride, plus seafood-filled meals, make for a blissful getaway.
We tasked a Florida native with coming up with a list of 9 best Florida beach vacations for families, while another Mommy Poppins editor dished on her 10 favorite North Carolina beaches. Either of these locales would make great spring break, summer, or early fall destinations.
But we also found great beaches along the more northern stretches of the Atlantic Ocean, including a host of Jersey Shore beach towns, such as Long Beach Island, a pretty little slice of a barrier island made up mostly of private homes and rentals, beaches on both sides, flat terrain perfect for beach cruisers, and a small amusement park just right for kids. New Jersey's Island Beach State Park had a similar low-key, outdoorsy vibe, while Ocean City offered the classic Jersey boardwalk experience with fried dough and amusement park rides.
Montauk on Long Island's East End was another winner with its iconic lighthouse, laid-back beach vibe, and waterfront restaurants. Find more family-friendly hotels on Long Island from our local team there.
In Mexico, we explored the stunning Riviera Maya region with sparkling, blue water, loads of family resorts, Mayan ruins, and more cultural fun.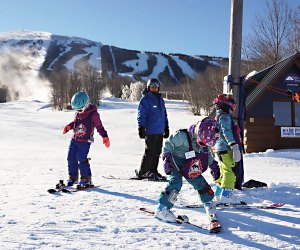 Learn to ski at Sugarloaf in Maine, one of our favorite mountains in the east. Photo courtesy Sugarloaf Resort
Parks and Outdoor Adventures
Some of the best family travel involves immersing our screen-addicted selves and children into the natural world, sometimes even without wi-fi. Check out these 25 easy but gorgeous hikes for kids at some of our favorite national and state parks, including Mt. Rainer National Park, the Badlands, and in New York's Adirondacks.
Our Los Angeles team loves camping, hiking, and bouldering in Joshua Tree National Park and revisited this past year to offer tips for their favorite spots to explore and stay within the desert park. Meanwhile, our New England team made the pitch for why Sugarloaf Mountain in Central Maine is "my family's favorite ski resort." Hint: Largest ski resort east of the Rockies, lots of snow, friendly people, awesome ski school for kids, and even childcare for babies. Looking for more skiing fun? We also rounded up our Boston editor's nine favorite New England ski resorts that cater to families.
Looking for an aquatic adventure? Tweens and up can enjoy kayaking around the nearly deserted Channel Islands National Park off the California coast near Ventura. The islands are accessible only by boat. Keep an eye out for dolphins and more marine life. Pitch your tent when you arrive to turn it into a weekend getaway. It's must for every family travel bucket list, we think!

Ride the AquaDuck water coaster on a Disney cruise ship! Photo courtesy Disney Cruises
Theme and Water Park Fun
While the beach might be my idea of the perfect vacation, the kids would prefer to spend a week at an amusement park or water park. And boy does it keep them entertained and smiling—and frankly, those are always two of my priorities when it comes to planning a family vacation.
These 10 indoor water parks make great long weekend getaway destinations year-round. Most all come attached to family-friendly resorts to enjoy after a day hitting the water slides, surf simulators, and lazy rivers. Little explorers might prefer these mostly outdoor dinosaur theme parks where kids can play paleontologist on mini fossil digs and nature walks, or just hit the dino-themed rides.
We uncovered the best secret fun things to do around Orlando's theme parks, too. Did you know there's a Curious George splash pad at Universal Orlando, or that you can get a haircut on Main Street at the Magic Kingdom?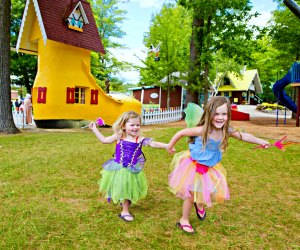 The Story Land theme park in New Hampshire is just right for preschoolers and elementary-school-age kids. Photo courtesy the park
Besides the big parks in Orlando, our kids thrilled to explore the sweet New Hampshire Story Land theme park, and we all enjoyed the treats at Hersheypark and Chocolate World, including the fun at the on-site resorts with pools and mini indoor water parks.
We also hit the thrill rides at Six Flags, New Jersey, and the Texas-size water slides at the mega Schlitterbahn Water Park.
Disney Cruises also kept our brood entertained and pampered in 2018, including a Disney Dream tour with a brand-new, sumptuous Beauty and Beast production on board and a Star Wars-themed Disney Fantasy cruise through the Bahamas. One of our favorite trips, though, was a Disney cruise to Europe that allowed the kids all manner of onboard, theme-park style fun, and the grown-ups, er, grown-up excursions to the mainland.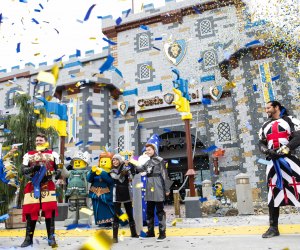 California's Legoland opened a brand-new Castle Hotel last year! Photo courtesy the hotel
Kid-friendly Hotels and Resorts
Now that I travel with a pack, I find myself googling things like "hotel with water park" and "hotel with bunk beds," and "cheap but not gross hotel." The traits that make a particular resort family-friendly for your crew can run the gamut from room layout to great entertainment options to affordability. These are our favorite picks for families from the last year of travel.
On the more luxury end of things, kids are sure to swoon over the brand-new Legoland Castle Hotel in California, a "Hogwarts for preschoolers," our writer said. It has Lego-themed play structures indoors and out, outdoor movies, bunk beds, and pool.
Multiple Mommy Poppins editors enjoyed the new Nickelodeon Hotel and Resort Punta Cana with its stunning beachside (and en-suite) pools, water park, spa, and nonstop family-entertainment. Room layouts offer plenty of options, no matter the size of your family.
Meanwhile, the Grand Velas Los Cabos was the perfect all-inclusive treat for a tween and his mom. Lounge by one of its multiple pools while the attentive staff helps you book more fun at the kids club, spa, or water sports.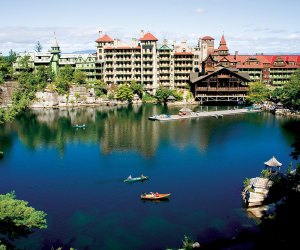 The picturesque Mohonk Mountain House in the Hudson Valley has charmed families for generations. Photo courtesy the hotel
The Mohonk Mountain House in New York's wooded Hudson Valley wins points for its nostalgic charm and endless outdoor and indoor adventures for all ages, from dance lessons to hiking. Not far from Mohonk, families can indulge with another local getaway option at the Crystal Springs Resort in the rural New Jersey mountains. Spend the day at the indoor or outdoor pool complex depending on the season, or try the ski school at the nearby mountain, horseback riding, and more.
My daughter and I loved the brand-new The Grove Resort and Spa Orlando during our last trip to Florida. It's the perfect wallet-friendly alternative to the big Disney resorts with none of the drawbacks. The onsite water park was a hit, as were the pools, and food. The family-friendly suites make it easy to bring everyone.
Of course, most of us love a bargain, so consider these 12 hotels offering "kids stay free" deals throughout the year.
However you travel, we're wishing you a fantastic 2019 with the family! Here's to making more memories.