The Grove Resort Orlando (and Water Park) Is a Worthy Disney Alternative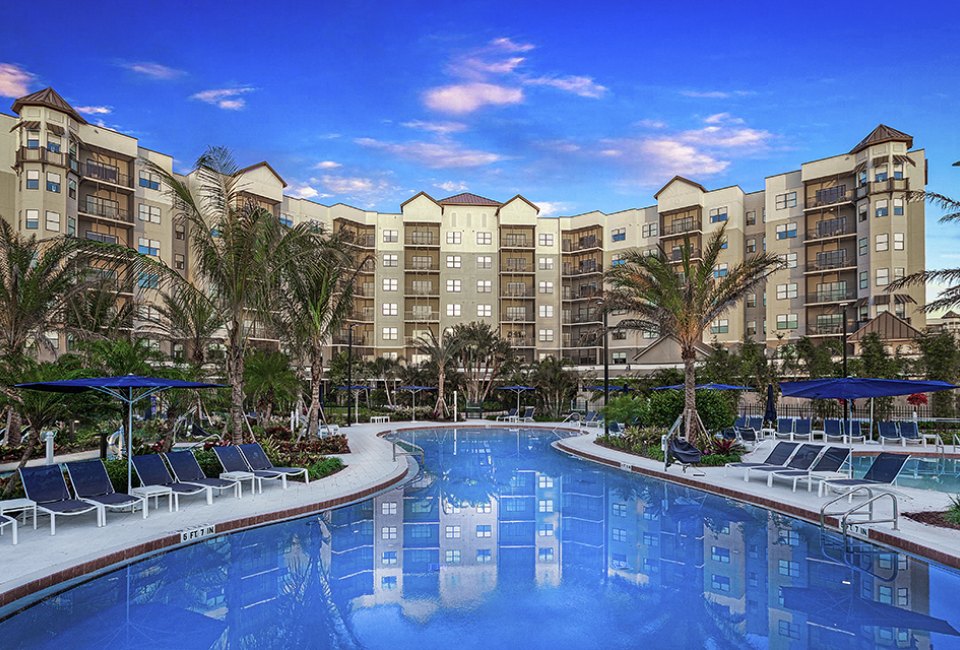 5/19/18
- By
Rose Gordon Sala
When planning a family vacation to Orlando, Florida, you and the kids might have just one destination on the brain: Disney. But actually, as we've pointed out before, there's more to Orlando than theme parks, including plenty of family resorts from which to choose.
If you're looking off-park for a hotel, consider The Grove Resort & Spa Orlando. The 106-acre resort is just a few miles down the road from the entrance to Walt Disney World, but sits on a pretty tract of land set back from the major highways in a natural marsh and wooded landscape. It has all the favorite perks of a great family resort, including suites for housing extended family, pools, on-site restaurants, a spa, activities for kids, and even a water park.
We just returned from a long weekend at the resort and are happy to share our review.

The three-bedroom suites have plenty of space for a family to spread out.
Rooms
Great for multigenerational getaways, the Grove Resort offers one, two, or three-bedroom with layouts that offer everyone a bit of privacy and plenty of beds for all.
The resort opened in March 2017 and while we didn't notice any construction while there, it's actually in the process of adding even more rooms. In fact, one of the things I loved most about the resort was the relative quiet. It lacked the chaos and noise of so many of the big resorts. There were also few lines or wait times at any of the restaurants or attractions. Another perk of staying at a non-Disney resort.
Our three-bedroom suite had three bathrooms, a spacious living room, including a sleeper couch, full kitchen, and even a full-size washer and dryer! There were other little perks like a "Stock my Fridge" program where staff will fill your refrigerator with essentials for your stay like eggs and milk, and in-room pizza delivery from a downstairs restaurant. Actually all the rooms come with the washer/dryer, kitchen, and a screened-in balcony.
One bedroom rates start at $169, two bedrooms at $189, and three bedrooms at $209. There will be nearly 900 rooms when complete.
RELATED: Secret Disney Experiences to Thrill Kids

From the littlest one to the big kids and adults, there's a pool sized for everyone.
Pools and Water Park
Just outside the hotel, you'll find The Springs, an enclosed trio of pools for everyday splashing and relaxing fun. There's a zero-entry pool for the kids with a little twisty slide, small dumping buckets, and other interactive water features. Bring your own floaties if your swimmer still needs a little help, but there are complimentary towels and you can rent inner tubes.
Grown-ups can hang in reclining lounge chairs, under the umbrella, in one of the deeper pools or even the hot tub. You can order drinks, snacks, and meals poolside from the adjacent Springs Bar & Grill.

Little kids can float down the lazy river at the Surfari Water Park, while the older ones take a turn on the giant water slides.
The Surfari Water Park, which just opened in March 2018, was also a huge hit with our family. There are multiple pools, a super gentle lazy river, and two mega, twisty water slides for the big kids and adults. The little ones will love the kids' activity pool, which includes an impressive dumping water wheel feature, plus several smaller slides, and many interactive features, all in a wading pool with water that is below a foot. My daughter also loved just bumping along the lazy river in the provided life jacket, ducking under the various splashing elements, and twirling about in an inner tube in the main pool section. There's even a FlowRider Double surf simulator where big kids can take a lesson on staying upright in the surf!
There were several bathrooms, plenty of towels, chairs, and shade. Nor did we ever feel crowded.
It's easy to stay the whole day at the water park, exploring all your favorite sections, taking part in some of the poolside games, and enjoying a lunch and even dinner with the poolside service from its yummy Longboard Bar & Grill restaurant. Rent a private cabana and you might never leave!
RELATED: 9 Best Florida Beach Vacations for Families

If you need a break from the water, head indoors to the activity center for some arts and crafts. Photo courtesy of the resort
More Attractions for Kids
While there's no drop-off kids club, there are plenty of ways to keep the children entertained even while not in the pool. Drop in to the Activity Center for crafts like sand art and flower pot decorating, or hit the adjacent arcade to zone out with some video games and skee-ball on a rainy morning.
Kids might also enjoy the paddle boats, fishing, and kayaks available on Lake Austin, which is just steps from the pools. Me? I could happily snooze or read at hammock grove while the kids play in the sandy landscape.
There's also a fitness center within the main hotel.

What kid wouldn't be impressed with Mickey Mouse waffles?
Restaurants
There are five on-site dining options, including those already mentioned. We really enjoyed our poolside eats, including pulled-pork tacos ($12), smoothies ($8), and kids hot dog and french fries ($8) from the Longboard Bar & Grill, while dinner and breakfast at the main restaurant, Valencia, was always a treat. It specializes in Southern European food, so we enjoyed great paella ($25), flatbreads ($9), pork chops ($22), fried mac and cheese for the kids ($7), and decadent desserts like chocolate cake and creme brulee at dinner and the breakfast buffet, Mickey-shaped waffles ($8), and omelettes ($12) for breakfast.
Grab coffee and espresso drinks, pastries, egg sandwiches, yogurts, and more to go (or eat at the small tables) at the Alfresco Market near the lobby. We fueled up here before our Disney day.
At night, kick back at the poolside bars or Elements Lounge with a cocktail, snacks, and beer and wine.
The Spa
Every good vacation with your kids deserves a spa break, right? The spa here is not huge, but is well-appointed, relatively affordable, and the services are top-notch. I had a relaxing 50-minute prenatal massage ($135) with some delicious add-ons (starting at $20) like a sugar foot scrub and hot oil scalp massage. Grab a cup of tea and relax in the quiet room or slough off that stress in the steam room.
Want to include your mini me? The spa offers Lil' Bee manicures ($30) and Lil' Bee pedicures ($35) for the under-10 set.

Fly high with Dumbo at Magic Kingdom.
Proximity to the Theme Parks
The resort is just a few miles down the road from the Disney transportation center, aka, the access point and ticket booth to all the myriad parks, including the monorail and ferry to Magic Kingdom, EPCOT, Animal Kingdom, and company. However, depending on traffic, it can still take 15-25 minutes, door to door.
The resort runs free daily shuttles to the transportation center, typically departing from the hotel at 9am, 11am, and 12:15pm, and picking up from Disney at 6pm, 7:35pm, 9:35pm, and 10:35pm.
We didn't make it through a whole day at Magic Kingdom—my 5-year-old was not impressed with Disney (ha!) and begged to return to the hotel pools!—so I called an Uber, which came in about 5 minutes and got us back to the hotel for $13.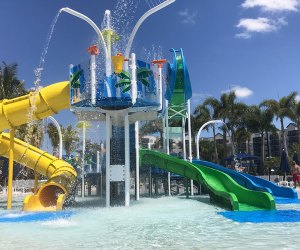 Enjoy the day at the on-site Surfari Water Park, including this two-story "jungle adventure" play area for little kids!
Getting There
The Grove Resort & Spa is located at 14501 Grove Resort Avenue, Orlando, Florida, 34787. Call 1-844-203-0209 or visit GroveResortOrlando.com for more information.
We took the short flight from the NYC metro area (two hours) to Orlando International Airport, and then a 25-minute car service ride to the hotel. My daughter was in the pool by 4pm on the day of our arrival.
If you're looking for a family hotel for your next Disney or Florida trip, I'd certainly recommend The Grove, especially if traveling with kids or a large family. It's more affordable than on-site resorts, quieter, and less crowded. It also has enough activities to keep the whole crew entertained for a full day off from the theme parks, which was a win in this mom's book.
Photos courtesy of the author except where noted
Places featured in this article: