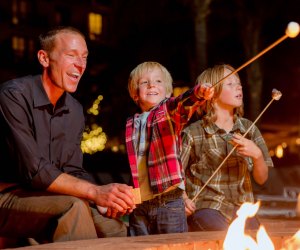 Best Kid-Friendly Hotels for a Los Angeles Family Vacation
Finding bliss and relaxation on vacation is so much easier when the kiddos are happy. Whether you're visiting Los Angeles, housing out-of-town guests, or indulging in a staycation (though we can recommend some kid-friendly hotels all around the world), why not choose a hotel that caters to the smallest guests? These LA resorts offer a little slice of paradise, family-friendly amenities, and unique experiences that might make you want to ditch that faraway destination and spend the weekend in SoCal. The best part is watching the kids have a blast, too.
1.Orlando Hotel
8384 W. 3rd St.
Los Angeles, CA 90048
323.658.6600
The Orlando Hotel's outdoor saltwater pool, fitness center, and full-service boutique spa with red carpet treatments are already scoring high in our chart. But this mid-city hotel wins big with the American Girl package for the little ones. If your daughter is bringing her favorite American Girl doll, at check-in she'll get a picture taken (with complimentary frame), a greeting card, and a $50 dollar gift card to spend at the nearby American Doll store at The Grove. She'll also receive a bathrobe for herself plus a doll-sized robe, slippers, bed with blanket, and pillow for her pal, all to take home after your stay. And you'll definitely take home the "Best Parents" title.
2. The Magic Castle Hotel
7025 Franklin Ave.
Hollywood, CA 90028
323.851.0800
Staying at this Hollywood hotel gains you access to the legendary (and invitation only) Magic Castle. How's that for a spellbinding experience? Just make sure to book a room during the weekend, so the hotel can make a reservation at the exclusive club's family friendly brunch show (kids are only allowed inside the club for Saturday and Sunday brunch). The Magic Castle Hotel itself offers some features that little Houdinis will find otherworldly: a free snack bar stocked with snacks, candy, cookies, crackers, and chips; free ice cream (every day at 2:30pm); and a free popsicle delivered poolside by calling the red "Popsicle Hotline." This budget friendly hotel will also have a pint-sized bathrobe ready in the room and a slice of cake if you happen to stay during a birthday. That's pretty magical!
3. Hilton Los Angeles/Universal City
555 Universal Hollywood Drive
Universal City, CA 91608
818.506.2500
If your little warlocks can't get enough of magic, it doesn't get any better than The Wizarding World of Harry Potter at Universal Studios, where kids have the chance to interact with magicians, test different magic wands, buy Harry's robe and matching scarf, and explore Hogwarts Castle. There's no Hogwarts Castle Hotel, but the Hilton Los Angeles/Universal City is close enough to Universal Studios and offers perks like a 30-minute early admission to select attractions or $20 off the studios' admission ticket. The hotel also features amenities like a pool, a gym, an on-site restaurant and café with a children's menu. If Fido needs a vacation, he can come along, too.
4. Omni Los Angeles Hotel At California Plaza
251 South Olive St.
Los Angeles, CA 90012
213.617.3300
Located in the heart of Downtown LA, the Omni Los Angeles Hotel is the ideal spot to combine leisure time by the pool and cultural visits to the nearby Museum of Contemporary Art and The Broad. Little art buffs will enjoy exploring the museums and using their Omni's welcoming gift, consisting of a backpack with maps, binoculars, activity book, crayons, and snacks. The Omni Kids Crew program also includes free cribs and rollaway beds, free room service delivery of milk and cookies on the first night, children's menus at the on-site restaurants, and a bag with books, games, and toys children can borrow during the duration of their stay. The sweetest part of it all, though, is the hotel's rates, which are below those of other luxury hotels.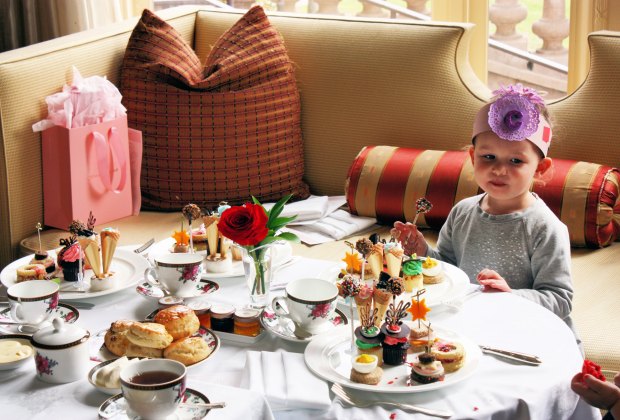 Children's Imagine Tea. Photo courtesy of The Langham Huntington, Pasadena
5. The Langham Huntington Pasadena
1401 S. Oak Knoll Avenue
Pasadena, CA 91106
626.568.3900
Has your princess or prince ever wished to attend a real tea party? Langham's Chocolate Afternoon Tea is a Sunday ritual fit for royalty (seriously, sweet treats and a giant chocolate fountain?), and the Imagine Tea event is even more whimsical. This magic-inspired event happens quarterly (the next one is Sept. 16) and features shows by junior performers from the Magic Castle and a menu filled with tiny delicious sandwiches, desserts, and caffeine-free teas. The event costs $36 per child, and proceeds go to charity. When booking a room at this elegant Pasadena hotel, remember to sign up for the Langham Huntington Kids Program ($30), which allows tea lovers to redeem a teddy bear backpack complete with crayons and coloring book, a complimentary kids' dinner at The Terrace restaurant, and a Langham chocolate bar. Upon arrival, children can also pick up a Kids Passport. If they complete four activities, they earn stickers and receive a special gift. The hotel's Kids Library newly designed by Little Junebugs offers a vast collection of children's books, and there are many lawn games (bocce ball, badminton, croquet, mini-golf, and corn hole) that the whole family can enjoy. Mom and Dad can get traditional Chinese-influenced treatments at the Chuan Spa, take pilates and tai chi classes at the fitness center, or do some yoga in the Japanese garden.
6. Beverly Wilshire, A Four Seasons Hotel
9500 Wilshire Blvd.
Beverly Hills, CA 90212
310.275.5200
With posh pampering and top-notch services, everyone at the Beverly Hills Four Seasons can feel like a star, even your little one. The hotel's spa offers a Princess Facial, a Rock Star Massage, and a Pop Star Polish suitable for a mini diva. This high end luxury hotel provides many other amenities: a variety of treats, an ice cream cart, and water toys await your brood poolside. Free cake pops and s'mores are delivered to the room the first night of stay, and room service has an extensive menu divided into age groups (the one for toddlers features organic teething biscuits). There's a large lending library of children's DVDs and child-size bathrobes. But the best perk of all is the hotel's childcare service, so Mom and Dad can have a date night at the on-site Wolfgang Puck's CUT or go out and about on Rodeo Drive.
7. The Beverly Hills Hotel
9641 Sunset Boulevard
Beverly Hills, CA 90210
310.276.2251
Nothing screams glamour more than the Beverly Hills Hotel, and even with kids in tow, this Hollywood stars' legendary playground delivers. The sprawling 12-acre property, featuring a tennis court and a large pool with underwater music, is a mini-resort with a tropical vibe. While staying here you can completely forget you're in the city. Upon arrival, you can pose for a family photo on the fancy red carpet in front of the hotel's celebrity step. At the check-in desk, traveling tots get a welcome gift of milk and chocolate chip cookies, a teddy bear, and a personal V-VIP credit card they can use to redeem complimentary juices and sodas at The Fountain Coffee Room and The Cabana Cafe (both of which feature a children's menu). Parents can enjoy a bottle of house champagne, get a breakfast credit of $150, and book a babysitter on request.
8. Fairmont Miramar Hotel & Bungalows
101 Wilshire Blvd.
Santa Monica, CA 90401
310.576.7777
During the summer months, there's no more fun than a beach vacation—kiddos can be busy for hours on end building sand castles, splashing, and swimming, while parents sit nearby and relax. Santa Monica's Fairmont Miramar Hotel bends over backwards to enhance the good times. At check-in, children get a stuffed animal, bath sponges, and child-sized robes. In the room, they find a sand pail and shovel loaded with gummy treats and a healthy snack mini bar. The hotel's private Miramar Beach Club provides water and sand toys for the little ones, and lounge chairs, parasol, and towels for grown-ups. Soft drinks and snacks from Perry's Café are served directly to lounge chairs, so you can blissfully enjoy some refreshments with your feet in the sand. For easy access to the beach and back, the hotel offers complimentary Jeep Wrangler rides all day or BMW beach cruiser rentals. If you wish to enjoy a kid-free dinner at the elegant FIG Restaurant and drinks at The Bungalow, childcare services are available at $25 per hour for two children ($30 for three or four).
Photo courtesy of Loews Santa Monica Beach
9. Loews Santa Monica Beach Hotel
1700 Ocean Avenue
Santa Monica, CA 90401
310.458.6700
At just one minute away from the beach and five minutes from the hustle and bustle of Santa Monica Pier, the panoramic Ferris wheel, and the arcade, Loews is super close to fun central. Parents can always count on the hotel's pool and café (featuring a kids' menu with healthy options) with stunning ocean views for a chance to unwind, and on the Loews Loves Kids program for some peace of mind. Children receive a welcome gift, and in the room, they discover a minibar stocked with child-friendly snacks and a "Kids Closet" filled with toys, books, night lights, outlet protectors, baby blankets, baby bathtub, potty seats, car seats, strollers, and DVD players with age-appropriate DVDs. Childcare services are available upon request. Staying with tweens or teens? The hotel has educational activities to keep them busy, and they can get free music download cards and access to a lending library of board games, DVDs, and Gameboys. Even cooler, kids under 18 stay free.
10. The Ritz-Carlton, Marina del Rey
4375 Admiralty Way
Marina Del Rey, CA 90292
310.823.1700
If boats are your little one's thing, consider the Ritz Carlton in Marina del Rey overlooking the harbor and the moorings of myriad crafts and yachts. This waterfront luxury hotel boasts a farm-to-table restaurant (with a kids' menu), two tennis courts, a heated saltwater pool, a 7,000-square-foot spa, bicycle rentals, shuttle rides to the beach, and sailing opportunities aboard a 42-foot yacht. With the Ritz Kids program, little sailors get a bucket with a shovel, a beach ball, a color-changing cup, and a map for a scavenger hunt. Children are encouraged to search and discover clues about the hotel and the environment. Once they finish the scavenger hunt, they receive a special gift.
11. Terranea Resort
100 Terranea Way,
Rancho Palos Verdes, 90275
866.802.8000
Perched on an oceanside bluff in Rancho Palos Verdes, the secluded Terranea has a nine-hole golf course, four pools (including the Resort Pool with a 140-foot waterslide and a Splash Zone), a spa, and eight restaurants. There are year-round activities like kayaking, paddleboarding, snorkeling, horseback riding, nature activities ($55 a day), and family fun nights with s'mores by the fire. If the adults need some time alone, kids (4 to 12 years old) can join seasonal camps such as the Kids Club Workshops, Kids Night Out Camp, and Daytime Adventure Camp, while teens can attend free "Teen Scene" nighttime events. Each camp program is about $75 per child, includes a meal, and features arts and crafts, science experiments, stories, and indoor and outdoor games. Not sure if your kiddos are ready to go to camp? They can try "FUN 45" to participate in unstructured playtime for 45 minutes (daily from 4 to 4:45pm) to see if they like it.
12. The Great Wolf Lodge
12681 Harbor Blvd.
Garden Grove, 92840
888.960.9653
What tot doesn't love a gigantic indoor water park? Located in close proximity to Disneyland and other major attractions, the Great Wolf Lodge is a theme park in its own right. The list of things to do here is nearly endless, so kids may even forget about Mickey and Minnie. Besides the indoor water park with 14 slides and four pools, there's a craft station, a bowling alley, an arcade, glow-in-the-dark mini-golf, and fun activities like a magical interactive treasure hunt game, story time, and nightly PJ dance parties. The hotel boasts several dining and shopping options, a kids' spa, and a fitness center. What's in it for the parents? Endless smiles and a sweet deal: if you stay for two nights, you get one-day tickets to Disneyland Resort and three days of free water park passes.