Father's Day in Connecticut: 10 Fun Things To Do with Dad on Father's Day 2022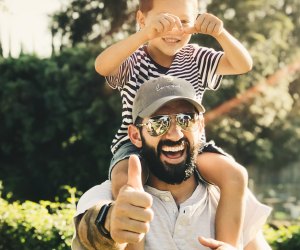 Looking for the perfect Father's Day events and Father's Day activities this year?
It's time to treat dad like the superhero he is on Father's Day! There's a little something on this list of things to do in Connecticut on Father's Day 2022 that should make each and every dad out there feel special. Go on a family adventure in a canoe or on a hike, explore his culinary side with a delicious meal, or cruise across the Long Island Sound taking in the sights. If dad would enjoy a lazy day by the water, take a trip to one of these awesome Connecticut area beaches.
To start dad's day with something sweetly homemade, check out our list of 15 Father's Day Crafts and Gifts That Kids Can Make, then keep him laughing all day with some corny dad jokes!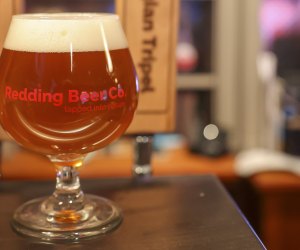 These family-friendly breweries have dad's name all over the frosty glasses. Photo courtesy of the Redding Beer Company
1. Visit a Brewery
Games for the kids and craft brews for dad — what more could a guy want? Connecticut is filled with tons of breweries, but we've rounded up a shortlist that is fun for the whole family. These six Connecticut breweries provide enough entertainment in the form of fun farm tours or giant Jenga to make sure the whole family has a happy Father's Day.
2. Enjoy Shakespeare on the Sound
This summer, Shakespeare on the Sound is back! Pack a picnic dinner with some juice boxes for the kids and wine for the grownups, and enjoy a night under the stars while watching a live performance of A Midsummer Night's Dream.
3. Explore New Haven's Festival of Arts
There is more to New Haven than just its pizza. (Although, I'm sure dad would LOVE to indulge in a slice or two.) Once a year, this city bursts to life for the International Festival of Arts and Ideas. Make sure to check out the full schedule of events including dance workshops, storytelling, and a bee workshop.
4. Take a Hike
Put on those hiking shoes and welcome summer with a hike! From Mount Tom to the Gillette Castle Railroad Trail, pick a family-friendly hike from this list of our favorite tried-and-true best family hikes in Connecticut.
RELATED: Best of June: The Top Family-Friendly Activities in June for Families

Search out some local birds from the confines of your canoe. Photo courtesy of Earthplace
5. Go on a Family Paddle at Earthplace
Earthplace's canoe paddles are a great way to spend an afternoon on the water with family or friends. Travel along the Saugatuck River in search of egrets, osprey, ducks, shorebirds, and much more! Make sure to reserve a space early, as this activity tends to sell out.
6. Spend the Day at an Amusement Park
Give dad a thrill ride on a roller coaster or a ride in a bumper car — both of Connecticut's amusement parks are open for the season! In honor of its 175th year, Lake Compounce is celebrating with the Bites and Pints Food & Drink Festival every weekend of June, including Father's Day.
7. Check out a Museum
Whether dad wants to try his luck at a wigwam escape in Litchfield County, ride a historic trolley in Hartford County, stroll a seaside village in Mystic, or check out some contemporary art in Fairfield County, Connecticut museums have it all. Spanning modern art to ancient history, there is something for everyone at one of these kid-friendly yet dad-pleasing museums.
8. Take a Cruise
There are a variety of ways to explore the Long Island Sound with dad on his big day. The Maritime Aquarium is offering its popular Marine Life Encounter Cruise. Watch onboard naturalists dredge up a variety of fish, crabs, mollusks, and more right before your eyes! Or cruise to Sheffield Island with The Seaport Association to explore the beautiful, historic lighthouses of Norwalk.
9. Plan a Day Trip
Get out of town! Dad deserves a little change of scenery on his special day and we've got dozens of perfect summer day trips for you to pick from all around the state.
RELATED: Best Pizza Places in Connecticut for Families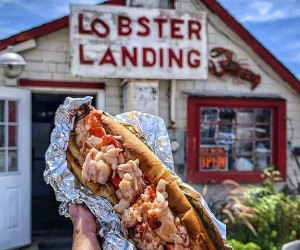 And dad living in New England will love a lobster roll. Photo courtesy of the Lobster Landing
10. Enjoy a Meal Outdoors
Beautiful views and kid-friendly vibes make the outdoor restaurants around Connecticut a perfect choice for family dining. We've rounded up 20 favorite restaurants with outdoor dining in Connecticut that bring the summer dining experience to the next level.
Lead photo by Hannah Nelson, Pexels
This post was originally published on June 13, 2016.