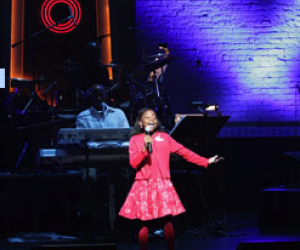 A Night Out at Amateur Night at the Apollo
Before there was American Idol there was Amateur Night at the Apollo, right here in NYC. So instead of watching Simon Cowell in the judge's seat on TV, all you need is $20 and a ride on the A train to become a judge yourself at Harlem's historic talent competition on 125th Street. Amateur Night at the Apollo is a highly entertaining show that's actually pretty kid-friendly if you want to plan a family night out, or it's also a fun choice for a kid-free parents night out with friends. Every Wednesday night at 7:30 the Apollo theater becomes a showcase for wanna-be stars. Singers, dancers, comedians, poets and more put on their best acts and the audience decides who the winner is by applauding for their favorites and booing the others off the stage.
It's a high energy evening that starts with a dance-off hosted by the show's hilarious MC. Then the real talent portion starts with the Stars of Tomorrow competition. This is the category for performers up to 14 years old. There's no booing for the youngsters, everyone gets supportive cheers. Wow, can some of those kids sing! Next it's on to the main adult competition, where things get even more interesting. Here, if the audience doesn't like what they see or hear, they start to boo... LOUDLY. If the boos become louder than those clapping, a tap dancer dubbed Apollo's "executioner" comes out from the wings to stop the act and force the performers off the stage. It sounds harsh, yes, but in the end every performer gets a round of applause for giving it their best. You never know what you're going to see at Amateur Night. But one thing that's held true on my visits is that's all been pretty clean. Starting in the audition process people are told to keep things in good taste and profanity-free. Still, parents could always go once and enjoy it on their own before deciding for themselves whether to bring the kids. The audience is a mix of all ages, including children. The crowd is made up of locals and tourists, as well as friends and families of the performers who come from all over the country. There's also a lot of history to appreciate about Amateur Night, which started at the Apollo back in 1934. Over the years some huge stars got their start on the stage including Ella Fitzgerald, James Brown, Michael Jackson and Lauryn Hill. Before making a visit, it's definitely worth reading a bit more about the theater. For instance, you'll want to know about the tree trunk on the stage which contestants touch before their performance. It's called the Tree of Hope and it used to be planted outside on 7th Avenue. Now its tradition to rub it before a performance for good luck. For more stories like that check out the
Apollo's website
. Amateur Night at the Apollo takes place on Wednesday night at 7:30 to roughly 9pm. Tickets are $17, $22, and $27. Tickets are available at the door, or to get the best seats and avoid the Wednesday night line, you can buy them in advance at the Box Office or with an extra charge via Ticketmaster. Apollo Box Office (212) 531-5305, 253 West 125th Street between Adam Clayton Powell Jr. Blvd. and Frederick Douglass Blvd. (also known as 7th and 8th Avenues).