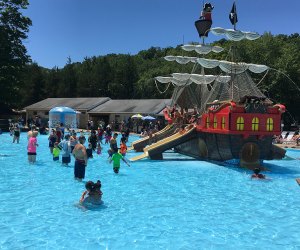 End-of-Summer Bucket List: 30 Things To Do With NJ Kids Before School Starts
August is here, and Target is fully stocked with school supplies... which only means one thing: Summer is almost over! If you haven't been to the beach, picked your own fruit, or ridden a roller coaster yet, there's still time to squeeze in more fun before saying so long to summer. Read on for 30 awesome adventures to have with your kids before school starts, and get ready to go out with a bang!
Find even more bucket list–worthy ideas in our Summer Fun Guide, August Go List, and Events Calendar.
1. Pick your own peaches. This sweet summer fruit is in peak season this month. Pick your own peaches at one of New Jersey's family-friendly farms.
2. Celebrate National Night Out. On Tuesday, August 6, rides, food, and games will be on tap at events in Bayonne, Morris Township, Piscataway, Summit, and other towns to foster police/community partnership.
3. Climb a lighthouse. On Wednesday, August 7, celebrate National Lighthouse Day by visiting one of the state's beautiful seaside landmarks, from Absecon to Cape May.

Zoom down the slides at The New Jersey State Fair. Photo courtesy of the fair
4. Go to the State Fair. When it comes to fairs and festivals, August in New Jersey is like one big party! You can't miss the NJ State Fair: Sussex County Farm & Horse Show. Open Friday, August 2 – Sunday, August 11, it's a 10-day extravaganza of carnival rides, live entertainment, and delicious food.
5. Catch a movie under the stars. Ditch that regularly scheduled bedtime, grab a blanket and some snacks, and make it a family movie night with a free outdoor flick.
RELATED: 30 Summer Day Trips for New Jersey Families

See fireworks all summer at Jenkinson's Beach. Photo courtesy of Jenkinson's
6. Peep some fireworks. It's like 4th of July all summer long with Thursday nights on Jenkinson's Beach in Point Pleasant.
7. Take a dip. These swimming pools let you and your fam splash and sun for just the day.
8. Soak up some Jersey Shore charm. Check out one of these cute New Jersey beach towns for family-friendly summer fun.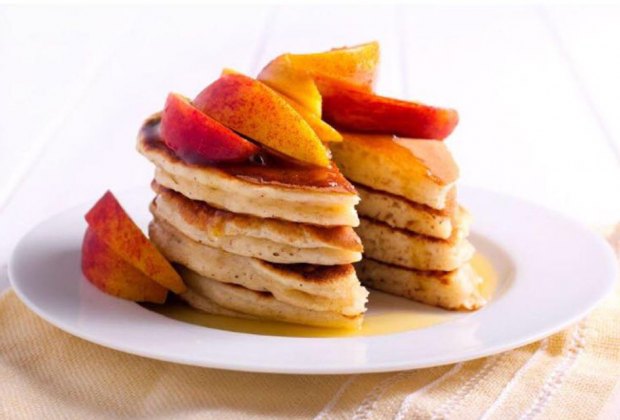 Devour delicious pancakes and other peachy treats at Alstede Farms' Peach Festival. Photo courtesy of the farm
9. Feast at a food festival. Alstede Farms' Peach Festival on weekends August 2-18 promises tons of tasty peach-filled treats, including pies, cakes, homemade ice cream, and more.
10. Take the bikes for a spin. Pick one of these favorite spots for a family-friendly ride.
RELATED: Great Amusement Parks for Preschoolers and Toddlers in NJ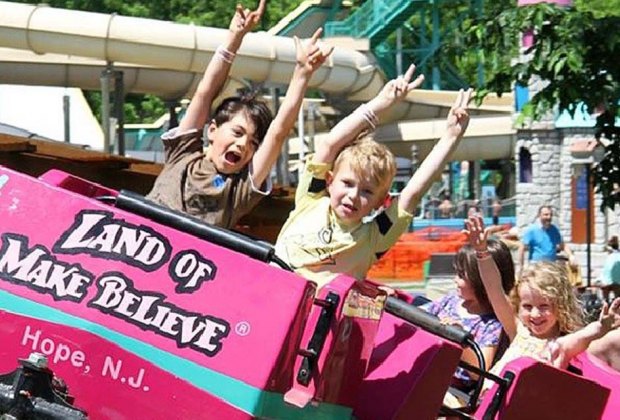 Younger kids can get a thrill on the small roller coaster at the Land of Make Believe.
11. Enjoy the thrill. Nothing says summer like a trip to an amusement park. But coasters aren't just for the big kids. Land of Make Believe and other amusement parks for preschoolers provide plenty of fun for little ones, too.
12. Make a splash. Visit your neighborhood water playground or splash pad before the sprinklers are turned off for the year.

Relax with your little ones as you float down the Lazy River at the Land of Make Believe. Photo by the author
13. Float down the lazy river. Or kick it up a notch and go for a tricked-out water slide at an awesome outdoor water park.
14. Gear up for an outdoor adventure. Climb through one of New Jersey's treetop obstacle courses, or buckle up for a soaring ride on a zip line.
15. Dine alfresco. Pack a picnic lunch or dinner and pick the perfect place to throw down your basket and blanket and spread out.
RELATED: Best NJ Zoos and Aquariums for Animal Encounters with Kids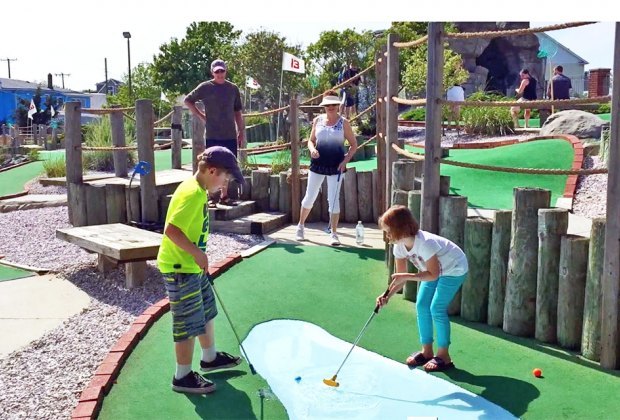 The whole family can putt at Cape May Miniature Golf. Photo courtesy of the course
16. Tee up. Find your way fore-ward to a mini-golf course sized just right for your minis.
17. Chocolate or vanilla? Sample a bit of both at Camden Children's Gardens' Chocolate & Vanilla Festival on Saturday and Sunday, August 24-25.
18. Camp out. Pitch a tent at a family-friendly campground—or even in your own backyard. Nothing beats s'mores around the fire and sleeping in a tent under the stars.
19. Venture to a new playground. If your kids have worn out the swings and slides at your neighborhood playground, find a new, drive-worthy playground for your kids to explore.
20. Sneak in one last trip down the Shore. From the beaches to the boardwalks, soak up the sun and fun along the state's gorgeous 130 miles of shoreline.
RELATED: 20+ August Fairs and Festivals for New Jersey Families

Buckle up for a sugar rush at Coney Waffles. Photo by thosemarlingirls via Instagram
21. Eat ice cream for dinner. Enjoy an over-the-top ice cream treat at Coney Waffle, or pick up a scoop or two at our favorite ice cream shops.
22. Get into the groove. Boogie on down to the sweet sounds of jazz and blues at a summer music festival in Montclair, Morristown, or Long Branch.
23. Stop and smell the roses. The fabulous green spaces at the state's arboretums and gardens offer a great opportunity for children to see nature up close.
24. Dig for fossils. Liberty Science Center's Dino Dig exhibit gives pint-sized paleontologists a chance to search for dinosaur fossils. But go soon—it's only open until September 3.
25. Row, row, row your boat. Rent a paddle boat, kayak, or rowboat to sail across a scenic lake and take in the breathtaking views.

Hang on tight! Lakeview Marina offers motorboat-towed tubing adventures. Photo courtesy of the Marina
26. Try tubing. Slip on a life jacket and enjoy a wet and wild ride down one of Jersey's thrilling waterways.
27. Take a day trip. You still have a few summer Fridays left to enjoy a quick getaway without even leaving the state.
28. Save money. From free festivals, comedy shows, and movies to fireworks, crafts, pony rides, and more, check out these totally free kid-friendly events.
29. Stay cool and beat boredom. Keep the kids entertained with these fun water games, or bring the fun inside with a beat-the-heat craft.
30. Sticking around for Labor Day? Take advantage of the long weekend to check something off our ultimate bucket list for New Jersey kids, or the 40 must-dos for kids under 5.