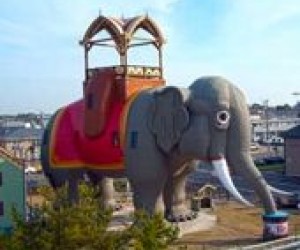 Unique NJ: Some Unusual Summer Activities and Day Trips for Families
School's out for summer! Now that the kids are home full-time, it can be somewhat challenging to find new ways to keep them busy every day. Yes, there's always the playground and the beach, but those looking for something different this summer will find that New Jersey is full of surprises. How about visiting the six-story tall elephant in Atlantic County? Or getting up close and personal with wolves in Warren County? Here's the scoop on seven of New Jersey's most unique destinations…there are plenty of fun ways to occupy everyone until September rolls around! And for even more summer awesomeness, check out our New Jersey Kids Summer Activities Guide.
Battleship New Jersey (Camden)
Did you know NJ is home to the longest battleship ever built? Measuring nearly three football fields long and towering over 11 stories high, Battleship New Jersey is an impressive sight. If the kids in your family love ships, this is the perfect summer outing. Tour with a guide or browse the ship at leisure—sit in the Admiral's chair, visit the Crew's Mess or climb into the 16" gun turret—and experience hands on what life was like for the battleship crew. For an extra memorable adventure, book an Overnight Encampment aboard the ship and sleep in a sailor's bunk! Tickets are $21.95 for adults, $17 for children 5-11, free for kids under 5. Tickets can be purchased online in advance to avoid lines. Please note that strollers are not permitted aboard the ship. Open daily from 9:30am-5pm all summer.
Delsea Drive-In Theatre (Vineland)
Sure, the kids have probably seen dozens of movies but have they ever experienced a drive-in theatre? Although these classics have largely vanished, NJ still has one around. Pack up the family and head over to the Delsea Drive-in for a truly unique adventure this summer. There's always a double feature (usually a kid-friendly film is shown first) so viewers get two movies for the price of one! And their menu includes tons of yummy snacks that go above and beyond typical theater fare...we're betting the local multiplex doesn't offer spring rolls and chocolate-covered strawberries. Tickets are $10 for adults, $5 for children 3-11, free for kids 2 and under. Open Wednesdays-Sundays during summer months. First feature starts at dusk; box office opens at 6pm.
Grounds for Sculpture (Hamilton)
Hoping to expose the kids to some culture but don't want to spend a beautiful summer day indoors? Grounds For Sculpture is the perfect solution. Take a relaxing stroll through the 42-acre sculpture park or join a guided tour (no additional charge) to get up close and personal with some magnificent art. The grounds are beautifully landscaped and there are surprises around every corner—the recreation of Monet's Garden is a delight. Many special events take place throughout the summer including Tots on Tour, a hands-on workshop for kids ages 3-5. No outside food is permitted on the premises but you can pick up a casual lunch at The Peacock Café or make a reservation for the excellent Rat's Restaurant. Admission is $15 for adults, $10 for children 6-17, free for kids 5 and under. Open Sunday, Tuesday & Wednesday from 10am-6pm and Thursday, Friday & Saturday from 10am-9pm during summer months.
Lakota Wolf Preserve (Columbia)
Visit the Lakota Wolf Preserve for the once-in-a-lifetime opportunity to observe wolves in their natural habitat. After entering at Camp Taylor, choose from a scenic 1/2 mile hike or take a shuttle bus to the Preserve. Wolf Watches are offered twice daily and last 90 minutes—view the wolves safely from the observation area and learn all about these magnificent animals during an informal talk with their caretakers. Visitors can watch the wolves play, take closeup photos and maybe even hear them howl! Tours cost $15 for adults, $7 for children up to 11 years old. Wolf Watches are offered at 10:30am and 4:00pm. Please arrive 30 minutes early to park and register. No appointment needed for Saturday and Sunday tours, reservations required for weekdays. Closed Mondays.
Lucy the Elephant (Margate)
If a Jersey Shore trip is on the calendar this summer, make sure to add a visit to Lucy to the schedule. This magnificent elephant looms six stories above Margate, two miles south of Atlantic City, and is the oldest example of zoomorphic architecture in the world. Built in 1881, she has previously served as a hotel, restaurant and tavern, but today is open to the public for touring. Climb the spiral staircase up inside Lucy and be treated to amazing views from the howdah on her back. After descending, visit their cute gift shop to pick up an elephant-themed souvenir and then enjoy a picnic lunch or hit the beach. There is no charge to visit the grounds. Admission for guided tours through Lucy the Elephant is $8 for adults, $4 for children 3-12, free for kids 2 and under. Open Monday-Saturday from 10am-8pm and Sunday from 10am-5pm, from mid-June through Labor Day.
Sterling Hill Mining Museum (Ogdensburg)
Take the kids to Sterling Hill for an unusual summer outing they'll love. Guided underground tours wind through the zinc mine—view mine galleries, the shaft station, various equipment and even the Rainbow Room, where fluorescent zinc ore is on display. For some interactive fun, children can stop by the Rock Discovery Center or Fossil Discovery Center...whatever specimens they collect can be brought home as souvenirs. Definitely keep this trip in mind for super-hot summer days: The mine is always a cool 56 degrees so it's a perfect outing for beating the brutal heat! Tours cost $11 for adults, $8 for children 4-12, free for kids 3 and under. Additional fees are charged for activities such as Rock Discovery Center and Fossil Discovery Center. Open daily from 10am-3pm; public tours offered at 1pm.
Wild West City (Netcong)
Calling all cowboys and cowgirls! Take a trip back to the Old West with a visit to this western heritage theme park. Stroll along Main Street and chat with the local townsfolk or stop to witness one of the 22 different live shows taking place throughout the day—kids will love the "Cowboy Competition" and "Big Bank Hold-Up." There are tons of activities too: enjoy a stagecoach ride, pan for gold, visit the barnyard zoo or play miniature golf. Bring along lunch to enjoy in the picnic grove or purchase refreshments at several venues. Admission is $16 for adults and $14 for children 2-11. Ride tickets cost $3.50 each. The park is open daily 10:30am-6pm during summer months.
Photo courtesy of Lucy the Elephant.