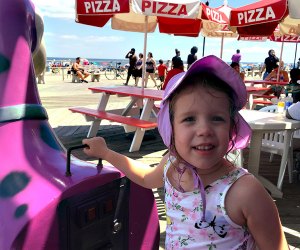 Cute New Jersey Beach Towns To Explore with Kids
Asbury Park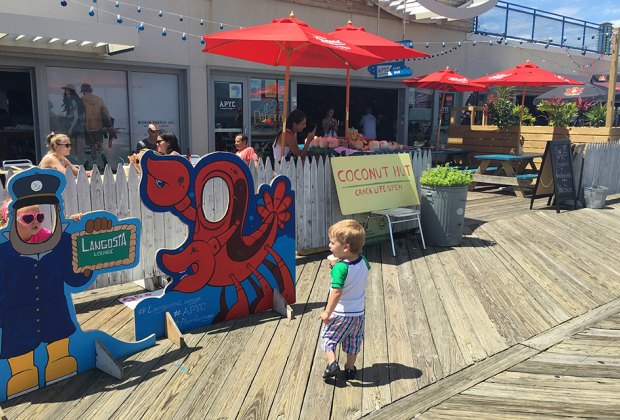 Grab a treat and snap a funny pic in Asbury Park. Photo by Rose Gordon Sala
Cookman Avenue in Asbury Park is dotted with sweet shops and family-friendly restaurants, from classic pubs and diners to of-the-moment spots to grab poke and acai bowls. The avenue is home to art galleries, an indie bookstore, and a glass-blowing studio. Check out all our favorite Asbury Park activities.
Bradley Beach
RELATED: 70 Things To Do with Kids at the Jersey Shore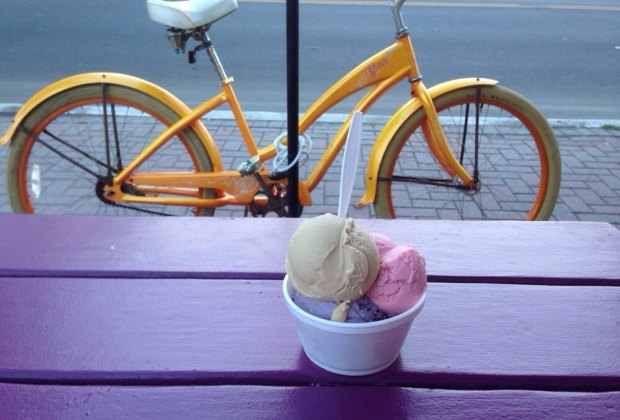 Beach Plum Ice Cream in Bradley Beach serves up a beautiful cup of cool deliciousness. Photo courtesy of the shop
This tiny beach town boasts a beachfront playground and mini-golf course on its mile-long brick beach walk. A few blocks away on on Main Street, you'll find coffee shops, ice cream places, and bakeries, in addition to great restaurants, like Vic's, which has been serving classic Italian for a generation. Check out the town's annual Lobsterfest, or take in a movie at the newly renovated Showroom Cinema.
Cape May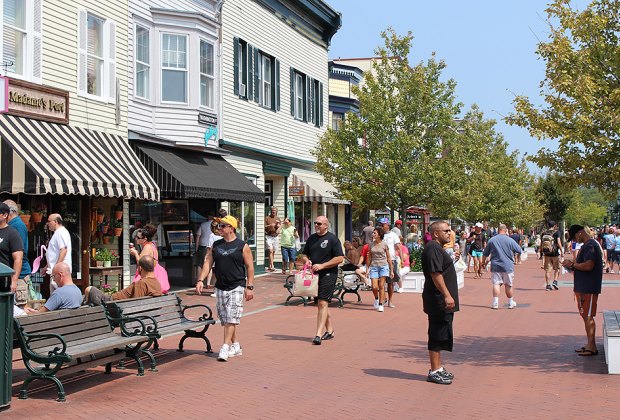 Cape May's lovely downtown area is made for strolling. Photo by Shinya Suzuki via Flickr
Victorian architecture and horse-drawn carriages beckon visitors off the beach in this town at the southern end of the Jersey Shore. A pedestrian mall on Washington Street is lined with shops, restaurants, and treats, including an indie toy store and bookshop, plus an old-fashioned 5 & 10 store with a soda fountain. Don't miss our best bets for family fun in Cape May.
Long Branch
RELATED: Family-Friendly Vineyards and Wineries in New Jersey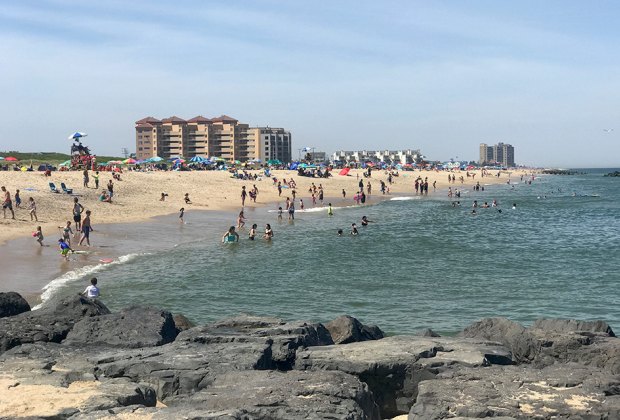 After playing on the beach, head to the family-friendly Pier Village in Long Branch. Photo by Rose Gordon Sala
With a beachfront playground and picture-perfect gazebo, Long Branch has plenty to offer. The 30 shops and restaurants of Pier Village attract crowds on summer weekends, with plenty of family-friendly dining options. Indulge in a massive milkshake at Coney Waffle or seasonal flavor at Hoffman's Ice Cream. Over on the west side of town, you'll find Max's famous hot dogs and the beloved Inkwell coffee house.
Manasquan
Head west from the beach along Main Street to find a walkable downtown filled with boutiques and restaurants, including Surf Taco and The Committed Pig. Take in a family-friendly show at the Algonquin Arts Theater, followed by ice cream at Norton's Main Scoop. Check out some of our other Monmouth County faves.
Ocean Grove
Nestled between Asbury Park and Bradley Beach, this tiny shorefront section of Neptune Township is known for its Great Auditorium—the soaring home of the Methodist Ocean Grove Camp Meeting Association—and the many colorful tent homes that surround it each summer. Victorian homes with gingerbread trim line the walkable streets, and family-friendly dining options abound on Main Avenue: seafood, pizza, and diner fare, plus bakeries and a coffee shop.
Sea Isle City
Reminiscent of an old-time fishing village, Fish Alley boasts dockside restaurants that offer casual, family-friendly dining on the bay. Seafood rules at three family favorites: Carmen's, Mike's, and Marie's, where crabs, scallops, shrimp, mussels, and lobster dominate the menus. Closer to the beach, along Landis Avenue, check out Pirate Island Golf, or cruise along the paved Promenade—perfect for bikes, scooters, and strollers.
Spring Lake
RELATED: 30 Super-Fun Summer Day Trips for NJ Families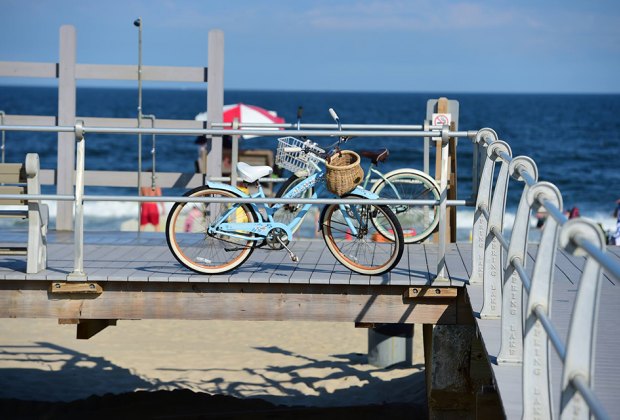 Rent bikes to cruise around Spring Lake. Photo courtesy of Spring Lake
Visit the quaint town of Spring Lake for a walk around the lake or a bit of fishing before you head to Third Avenue for dinner, followed by treats at the Scone Pony or Hoffman's Ice Cream. Kids will enjoy a production at the Community House Theater or perhaps renting an electric bike to explore the shady, seaside streets.
Stone Harbor
The retail heart along 96th Street features restaurants, shops, an arcade, and rooftop mini-golf, along with a recently restored movie theater with attached burger bar. Don't miss the decadent flavors at Springer's Homemade Ice Cream, or the blueberry pancakes at Uncle Bill's. Browse the shops for housewares, gifts, and clothing for the whole family.