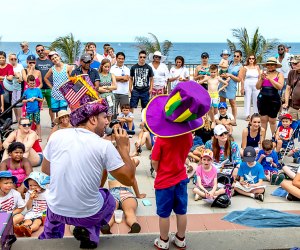 100+ Free Things To Do with New Jersey Kids this Summer
Summer is the season for FREE fun all across New Jersey. From fireworks and festivals to free outdoor movies, we've rounded up more than 100 family-friendly events to enjoy all summer long that won't break the bank. You can find even more cool seasonal activities and destinations in our Summer Fun Guide and Event Calendar. Have a fabulous (and free) summer!
Many events in this listing occur on multiple dates, so be sure to read through the entire description. We've also rounded up a number of anytime activities your family can try all season long.
Anytime Free Summer Activities:
Playgrounds offer free adventures year-round.
Take a stroll along one of the Jersey Shore's fabulous boardwalks.
Get everyone up and out on a family bike ride along one of these NJ bike trails.
Make a splash at one of NJ's many free water playgrounds or spraygrounds.
Kids bowl free at many participating bowling alleys across the state.
Soak up the last summer rays on Labor Day Weekend at one of NJ's fantastic free beaches.
Free camp? Yup. Kids can take part in hands-on technology at Apple Store's camp. Free camp shirts are a bonus.
Libraries are a great source of freebies; stop by your local branch for summer reading clubs, storytimes, Bingo, LEGO clubs, Museum passes, and much more.