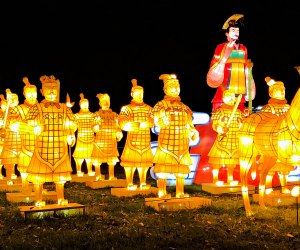 A Different Sort of Christmas Lights: Check Out the Magical Lanterns at the LA Arboretum
Still sad about the DWP shuttering their holiday lights? In the five years since that free public display closed, a number of shows have popped up around town. The LA County Arboretum and Botanical Gardens is the latest to join the LA Zoo and Descanso Gardens with its own event. Moonlight Forest features more than 60 Asian-created lantern displays. The festival isn't free, but you might find it blows the old DWP display (and a few others) away.
Walking into Moonlight Forest is breathtaking no matter which entrance you choose (there are convenient entrances anywhere you park, and best of all, parking is free). Instead of traditional twinkle lights, the displays are made of illuminated lanterns, which make for more detailed (and brighter) creations than most holiday displays. The lanterns were created by artisans in China's Sichuan province (the Arboretum partnered with Tianyu Arts & Culture Inc. for the festival) and reflect three themes: Nature, Children's Garden, and Chinese Culture.
OUR LATEST VIDEOS
Our kids were entranced by lifesized pandas (in lantern form) climbing a stand of bamboo (the elephants, giraffes, zebras, lions, peacocks, and the many other animals, even dinosaurs, were equally impressive), as well as comical cartoon animals representing each sign of the Chinese zodiac. Kids of all ages seemed to love the ocean tunnel and the candy tunnel, which allowed visitors to be encircled by jellyfish, whales, and other creatures walking through one, and every kind of candy wandering through the other.
Related: Grand Park's Free Holiday Lights Display Makes a Trip Downtown Worthwhile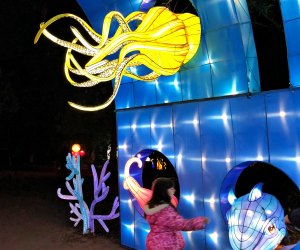 The Chinese Palace and Chinese Opera are especially impressive given their jaw-dropping size, and those who know their Chinese history and mythology will likely be wowed by the terracotta warriors (which, like every display, came with a description in Chinese and English) and four kylin, a mythical creature said to bring good luck.
If you or your little ones tire of the nonstop bright lights, it's also possible to peek into Queen Anne's Cottage to see some Victorian holiday decorations and Christmas trees. The cottage is also a must-visit, because the area behind it is the spot for the best viewing area for the enormous dragon that's one of the highlights of the event.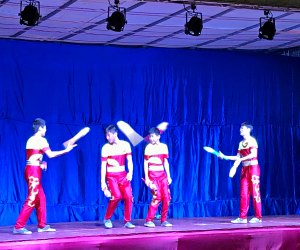 The Moonlight Forest also has another attraction worth seeing—a performance by acrobats and dancers. The half-hour outdoor performance, which includes juggling, a "bian lian" face changer, and a "peacock dance," is held three times during the evening: 6:15pm, 7:45pm, and 8:45pm. Head to the stage well in advance of showtime, as the seating area is limited. Some of the amazingly talented acrobats are kids, so expect yours to leave asking to take a stab at juggling or tumbling when they get home.
Don't feel you need to eat before you arrive, as up to 10 food trucks are parked on the event grounds serving everything from traditional Puerto Rican food to sushi burritos. Outside food is not permitted, but there's no reason for even picky eaters to go hungry. Kids may find it hard to resist the churro truck, so consider yourself warned.
There are only a few drawbacks to this magical event. Taking photos of people against the bright backdrop of the lanterns is almost impossible with a smartphone (expect lots of faces in shadow or blown-out backgrounds), but that didn't seem to stop most of the people I saw. While the grounds are wheelchair and stroller accessible, getting close to the lanterns in a few spots involves walking on the grass, which can be uneven. No pets are allowed, and all children under 18 must be accompanied by an adult, so don't let your teen talk you into a drop-off.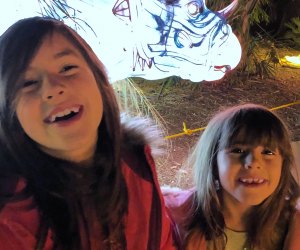 Tickets range from $20 to $28, but deals can be found on Groupon, so shop around before you buy. The Moonlight Forest runs until Jan. 6 and is open Wed.-Sun. plus Tues. Jan. 1.
Photos by Mommy Poppins