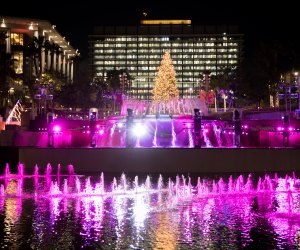 Grand Park's Free Holiday Lights Display Makes a Trip to DTLA Worthwhile
Enjoying things that go sparkle in the night is a great way to create a holiday outing without breaking the bank, and if you'd like something more interactive than the good ol' drive past the neighborhood lights, head over to Grand Park's free Winter Glow light display in Downtown LA.
Coordinating a trip to DTLA can be stressful (parking, walking, traffic!), but done the right way this trip couldn't be easier. Couple your outing with any number of bucket list DTLA venues, or events such as Olvera's Street's Las Posadas, and you're guaranteed a night to remember.
Although there is no shortage of giant, beautiful Christmas trees around the Southland, I have long been on the hunt for something that satisfies the East Coaster in me—not to mention a cheaper and less crowded alternative to some of the other popular light displays around town. Little did I know I would find my answer to these things at Grand Park.
Related: Must-See Holiday Light Shows Worth Paying or Driving for this Christmas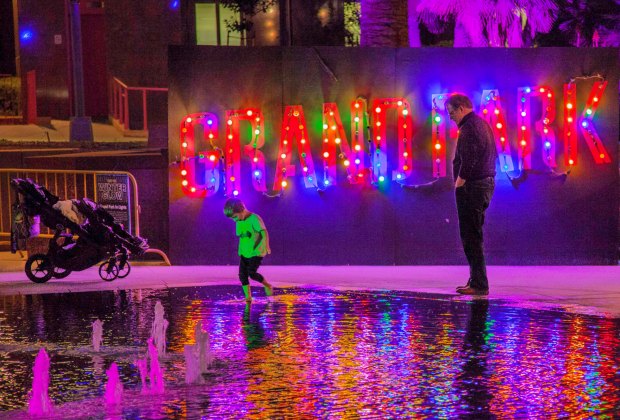 Photo by Brian Johnson
Located along the northeastern portion of DTLA, Grand Park spans several blocks. Parking is surprisingly easy at The Music Center lot ($9 even rate after 4:30pm) on Grand Ave., directly across from the main entrance to the park. You can save a bit by parking at Joe's Auto Park ($6 after 4pm) on Hill Street near 3rd and walking two blocks up Hill to the park. Traveling by Metro is equally easy: Take the Metro Red or Purple line to Civic Center/Grand Park a block and a half away on Hill St. Or, take the Metro Gold line to the Little Tokyo/Arts District Station about 6 blocks away on 1st Street and Alameda. Walking nearby felt incredibly safe (as did the park), and my car/bus/truck-obsessed toddler couldn't have loved it more.
Huge, decorated trees flank the park, so starting in either direction is a treat. It's best, however, to begin at the entrance on Grand for the best perspective and to be in sync with most visitors. There's a spectacular view of the tree, lights, and nighttime city skyline as you head down the main steps. Past the Rockefeller-esque Christmas tree, complete with giant, wrapped presents at the base, is the Arthur J. William Memorial Fountain decked out in an interactive light display. The large splash pad with tiny fountains reflecting the lights is an exciting stop for kiddos. Consider bringing water shoes, a towel, and a change of clothes if you choose to let them try it out. What's even cooler is the nearby computer where you can choose from a number of themed color displays projected across the fountain. It was the best part for the adults!
Head through the covered Neon Firefly Lounge set-up with serene overhead lights and classical music. I could have sat there for eternity with my hot chocolate from a Starbucks inside the park, but, you know...toddlers. Further down is where a few more interactive stops await the kiddos with a cool, fire-breathing dragon, strung-up bouncing balls, and our son's favorite: the color-changing porcupine. Well, that's what I call it anyway. It's a mesmerizing display where you touch plastic canisters on the inside, which then light up in a number of colors and light up its outside counterparts. It's awesome.
Equally awesome are the big, wide-open fields where my kid could run his little heart out. There's even a stage lit with a curtain of traveling light where we witnessed an impromptu dance battle. Across the street by the last section of Grand Park is a calmer area dedicated to multicultural holiday celebrations. It includes a glowing pathway, a menorah, and a beautiful lit-up fabric called "The Serape Sequence," which references the tapestry of Mexican blankets.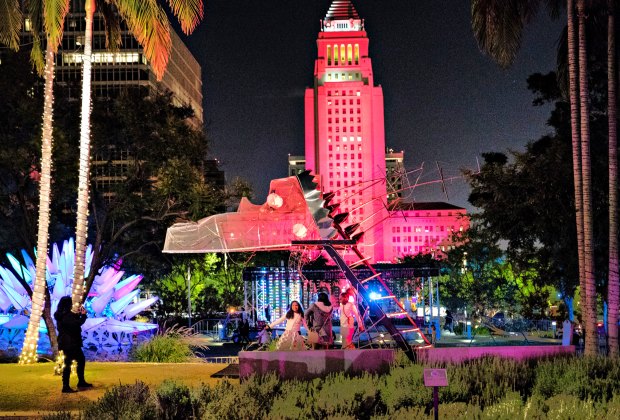 Our first time through the display lasted about an hour or so, but you may want to carve out some extra time for a bite to eat. After we were done, we walked three blocks down Spring Street to the Grand Central Market. There are a number of great places to eat within walking distance, but the Market is worth checking out. There are endless food options for adults and kids alike (pizza, bento boxes, fancy PB&J). I recommend the Thai, Filipino, falafel, and wood-fired pizza joints as well as McConnell's ice cream. Grown-ups, don't miss the Golden Road Brewery, because you deserve it for making your child's holiday amazing.
On our walk back to the car, we couldn't resist stopping through the light display once more. Even after 7pm, the crowds were minimal; everyone was having a great time, and we missed all the Friday night traffic. This would make an especially wonderful visit for families when coupled with a holiday show at the nearby Ahmanson, Mark Taper Forum, or Disney Concert Hall, or perhaps at the end of a day of last minute Christmas shopping downtown. Go ahead—brave the trek to DTLA and watch your little ones' faces glow with delight, while you bask in the knowledge that you've found a free, fun, and surprisingly stress-free way to enjoy holiday lights.
Grand Park's Winter Glow
FREE
Dec. 6th-25th, 6:30pm - 10pm
200 N Grand Ave.
Los Angeles, CA 90012
Photos by Javier Guillen courtesy of Grand Park / The Music Center unless otherwise noted.