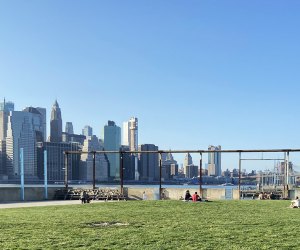 Reopening NY State: What the Four-Phase NY Forward Plan Means for Families
If coronavirus quarantine has got you down, help is on the way. New York on PAUSE is out; New York Forward is in. Governor Andrew Cuomo let the state-wide stay-at-home order expire last week, but what does that mean, particularly for downstate families who have been living at the center of the nation's coronavirus outbreak, enduring 2+ months of lockdown, only seeing each other in car parades and 8pm howls, giving our kids quarantine haircuts, and trying to find something to celebrate every day? Well, right now, it's more of the status quo, but the end is in sight, and once a region has met seven data-driven metrics, New Yorkers ranging from Manhattan to the Hamptons and Staten Island to Westchester can enter Phase 1 of the four-phase reopening plan.
Read on to find out what that means for families and when your favorite local businesses might fully reopen, plus info on outdoor fun at beaches, parks, and more.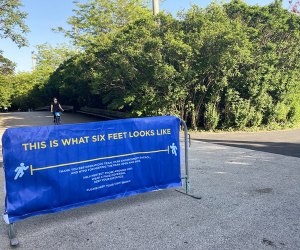 Social distancing will be kept in place, even as reopening starts to happen.
What is New York's Reopening Plan?
Governor Cuomo announced details of NY Forward last week. The plan divides New York state into 10 geographic regions, and each region must meet certain standards to begin reopening non-essential businesses. Each region must meet seven criteria proving coronavirus infections are under control, and local health care systems can deal with an influx of patients should an outbreak re-emerge. Diagnostic testing and contract tracing programs proportionate to a region's population are also required.
OUR LATEST VIDEOS
Almost immediately, five upstate regions were given the go-ahead to enter Phase 1; two more have since joined. That means the trio of downstate regions, including New York City, the Mid-Hudson region (home to Westchester), and Long Island are the only regions still facing stay-at-home orders. You can view each region's current metrics on the Regional Monitoring Dashboard.
The good news: Once all seven metrics are met, our regions can move to Phase 1. Here's a look at a phase-by-phase breakdown of when each industry can reopen:
Phase 1: Construction, agriculture, forestry, fishing, hunting, retail (for curbside or in-store pickup/drop-off), manufacturing, and wholesale trade
Phase 2: Professional services, retail, administrative support, and real estate (rental and leasing)
Phase 3: Restaurants and food services (dine-in)
Phase 4: Arts, entertainment, recreation, and education
Once a region moves into Phase 1, its metrics will be continually monitored for any changes. Expect your region to spend at least two weeks in each phase before moving to the next one to ensure there's no new spike in the virus from the relaxing of lockdown measures.

New Yorkers, who have been on lockdown for two months, are eager to know more about the reopening plan.
When Will NYC Reopen?
New York City has been floundering between meeting three and four of the necessary metrics for a week, and Mayor Bill de Blasio said on Monday, he expects the five boroughs will successfully meet all seven metrics by mid-June.
When Will Long Island Reopen?
Long Island has met five criteria to reopen. Its ICU bed capacity must increase, and its death rate must continue to decline. During his Friday briefing, Governor Cuomo announced he expected both Long Island and the Mid-Hudson region to be ready to reopen as early as next week.
When Will Westchester Reopen?
Westchester, which was the first region to face a lockdown, has met five of seven criteria, too. Like Long Island, the two metrics in which it fails are decline in death rate and the number of available contract tracers.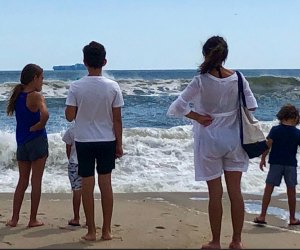 Residents of NYC beach communities are asked to enjoy solo recreation, and taking public transport to the beach is still a no-go.
Will Beaches Open for the Summer?
In a word: It's complicated. We told you weeks ago about the big-time budget cuts that will leave New York City's outdoor pools shuttered all summer long. The mayor wasn't optimistic about opening beaches for swimming and other typical summer recreation either, though he may be changing his tune. Lifeguards have been called in for training, and Friday brought news of a possible June reopening of the city's shoreline. For now, though, NYC beaches are closed to regular beach-going activities like swimming, but they are officially open for solo recreation—though traveling to the beach is discouraged.
The governor, however, announced that state park beaches would open, so that means city dwellers can trek out to Jones Beach or Robert Moses State Park to get their fix of shore time. Beaches along Long Island are opening as well, as are those on the Jersey Shore, and some Westchester beaches. Read our full post dedicated to the area beaches for more details. Be forewarned, though: The biggest takeaway is that even where beaches are open, crowd sizes will be limited, and the governor has said he expects capacity limits to be reached by 10am, so if you're planning a beach day, you better be up with the sun. In many cases, local municipalities are trying to keep outsiders away from their shorelines.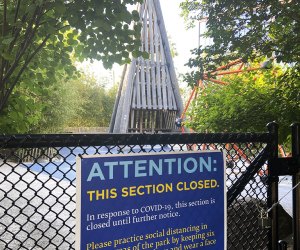 Playgrounds will remain closed for the foreseeable future.
When Will Playgrounds Reopen?
No reopening date has been set for playgrounds in the city or outside of it. While state beaches have reopened, spray parks and playgrounds at those facilities remain closed. It's likely a reopening of playgrounds is much farther down the line.
The good news, though, is parks are still open, and some popular locations are getting very creative with implementing social distancing tricks. In Brooklyn's Domino Park, circles have been drawn on its lawn to show people what six-feet of distance looks like. In Central Park, crowds are being limited on the popular Sheep's Lawn. Hudson River Park is also restricting entry. If you're looking for something less popular, you might enjoy a visit to one of these 10 under the radar parks. The city has also opened 45 miles of streets for recreation through its Open Streets program. Many of these are adjacent to parks, essentially expanding their footprint in the local community. Find a full list of Open Streets and their hours here.
What Is Open?
For some social-distancing-friendly outdoor time, consider hitting the trails and conquering one of these family-friendly Hudson Valley hikes. On Long Island, you can go hiking, biking, and even camping. There are also a ton of family-friendly parks to explore.
If you'd rather stay in, you can let the fun come to you. We've got roundups on how to support local businesses in each region, whether that means you hit up a farmers market in NYC, grab a DIY food kit in Westchester, or go craft crazy on Long Island. Each of these local businesses could use your support.
Another big reopening announced this week: Religious services with no more than 10 attendees will be allowed to resume.
Will Summer Camps Open in 2020?
This is another one that's hard to say. If we had to guess, we'd file summer camps under Phase 4 of the governor's plan, which means any reopening is at least eight weeks away. That would put us into mid-July at the earliest, and that's looking through an optimistic lens. The New York Times provided some insight into how area camps are responding, but it may be time to start considering virtual options. Where better to find them than Poppins@Home, which lists tons of affordable and free programs, both one-time events and multi-class sessions?
What About Schools? Will They Reopen in September?
All along, the goal has been a fall reopening, and on Thursday, the governor said a determination on fall reopening and guidelines to do so would be announced in June. Whether a reopening can happen likely depends on the spread of the mysterious inflammatory syndrome, MIS-C, as well as how far we are into the four-phase plan. In NYC, at least, Mayor de Blasio reiterated that he hopes a full reopening of schools will be possible by September. Of course, local parents would love to know when the first day of school is, and we're still working off the 2019-20 school year calendar.
All photos by Sara M.