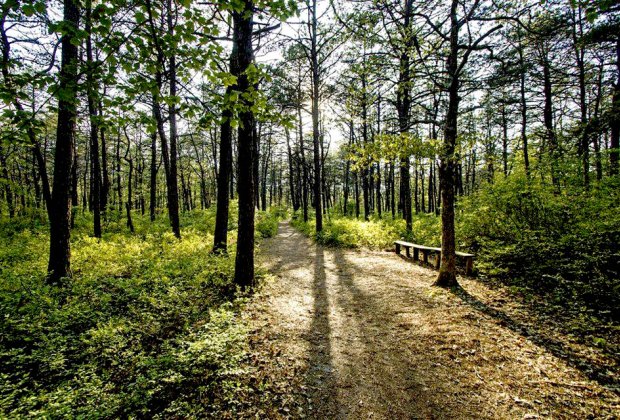 What's open in coronavirus shutdown: parks, beaches, hikes you can do while social distancing
Advised social distancing plus vast closures across Long Island has us getting creative here at Mommy Poppins. Whether it's an open trail hike or other outdoor experience, we've rounded up some activities if you're cooped up or heading to open space.
Visit our Coronavirus Guide for Parents, for tons of resources and Boredom Busters to keep the kids busy. We've got educational science experiments, fun exercise games, remote learning resources like these mostly free online learning resources, websites and apps for kids, and more.
For more information on Coronavirus updates from around New York State, click here to read what parents should know.
Subscribe to our newsletter to receive articles like this in your inbox every week.
1. Walk around the Block
The sun is shining, the weather is getting warmer, and it would be a shame to miss all of the splendor the season has to offer, so get out of the house! If you only have a few minutes between conference calls and virtual learning sessions, a walk around the block is a great way to get a little fresh air. Wave at your neighbors (from a safe distance, of course), keep track of budding foliage and blooming flowers or scope out a good route for Trick-or-Treating (hopefully we'll be Corona-free by then). For little ones, a walk around the block may even be enough to ensure a great afternoon nap.
2. Go to the Beach
Breathe in that crisp, clean beach air and spread your toes through the sand. It may not be summer, but Long Island's beaches are still open for walks and picnics. Wherever you are on Long Island, chances are you aren't far from a beach, so why not pack a lunch and go for a spring romp in the sand or stroll along a boardwalk.
3. Take a Hike
Lace-up your sneakers, pack some snacks and take the family on a hike. There are plenty to choose from. Even though all public programs and events are suspended at this point at New York State Parks, all-year-round state parks, trails, and grounds of historic sites are currently open for outdoor recreation and enjoyment.
The trails, animal cages, and outdoor bathroom facility at the Quogue Wildlife Refuge will remain open daily from sunrise to sunset. If you live or are visiting the East End, check out these beaches to hunt for sea glass. Think of the future crafting potential!
For more active ideas, check out our list of nine family-friendly hikes across Long Island.
4. Go on a Bike Ride
Whether your kids are ready to tackle one of Long Island's many great bike trails or are still riding in a tandem seat, now is a great time to enjoy a family bike ride. Face it, we could all use a little freedom, and there's no more freeing feeling than the cool air on your face while you peddle through along. Since time seems to be an abundant resource these days, why not help your little ones kick the training wheels?
5. Go Camping
Take the weekend off from all those screens you've been using to keep the kids busy while you tried to work from home and enjoy some campfires, hot dogs, and lots and lots of fresh air. Long Island has many great camping and RV sites that your family can escape to while you isolate.
6. Pick Up an Activity Kit
NOTE: Please call establishments ahead of time!
The Chocolate Duck in Farmingdale is offering free delivery for its take-home chocolate kits that include molds, paintbrushes, chocolate and other items. They also offer cupcake and cookie kits that include cookie cutters, colored icing and decorations. Free delivery within an 8-mile radius, curbside pick up is also available.
Chocolate Works in Bellmore offers DIY Chocolate Kits for free contact-less delivery within 5 miles or pick up curbside. Choose between make your own chocolate pizzas, bars and kabobs.
Mama's Custom Cookies in Wantagh has a Do It Yourself Cookie Set that includes 2 lbs. of Mama's secret dough, chocolate sprinkles, nonpareils and ready made icing.
Paint a Piece in Commack, The Crafter's Table in East Setauket, Bubble in Babylon, Mom's Ceramics in Massapequa, Pop Up Parties in Levittown, Cool Crafts in Wantagh and As You Wish in Merrick are all offering customers the options to pick up crafting kits. At Paint a Piece and The Crafter's Table, customers can choose any ceramic and take it home with them. Kits include a ceramic piece such as an ornament, plate, mug, figurine or vase, brushes and four paint colors. You can also bring the craft back to to be glazed. Bubble is selling their pre-packaged ceramic painting kits. Mom's Ceramics offers take-home creative family craft buckets that include ceramic pieces, decorating supplies, popcorn and a coupon for free pizza from Leonardo's Pizza in Massapequa. Cool Crafts has a take home plaster craft kit that includes a plaster piece, apron, paint, paintbrush and placemat. They also offer free delivery in Nassau or Western Suffolk. Pack It Up Parties offers delivery and pick ups (Wantagh and Oceanside) of their at home craft kits. Color a mermaid or drawstring unicorn bag. Bead your name in a charm necklace or design a heart squishy. Pop Up Parties has Lucky Lockets boxes that include materials to create a charm necklace. Delivery is available within 10 miles of Levittown. As You Wish sells art kits that can be delivered for free within a reasonable distance from Merrick. Choose from a variety of kits for different age groups and ability. Order DIY to-go kits from AR Workshop locations in Bellmore, Port Washington and Smithtown have a crafting sesh at home. Choose from a variety of projects, designs, personlizations and colors all ahead of time and head there for curbside pick up.
Of course, if you choose to stay inside, we have you covered too! Our calendar is chock full of virtual story hours, podcasts, art classes, fitness routines, and more.