NYC Coronavirus Updates: Outdoor Pools Won't Open, City Summer Camp Cuts, and More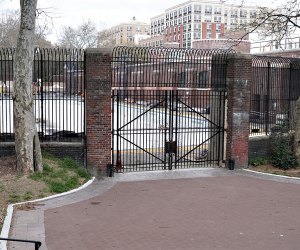 It's hard to believe it's been just one month since the coronavirus shut down schools and most non-essential businesses in NYC, but here we are, and the news, if anything, keeps getting worse for city families. Mayor Bill de Blasio unveiled his executive budget Thursday morning, bringing with it severe cuts to city mainstays, including the closure of city pools for the summer and the elimination of the Parks Department's affordable summer camp. Beaches are also unlikely to open. The City Council must approve the budget before it takes effect.
Read on for more details on these coronavirus cuts, the new mask mandate, and an extension of NY on PAUSE.
Coronavirus Forces Mayor to May Deep Budget Cuts
When de Blasio's executive budget was released to the public, it included more than $2 billion in cuts to help make up for a projected $7.4 billion loss in tax revenue due to the long-term closure of many city-based businesses. While the Mayor was quick to recognize the painful decisions that went into the budget, he did go to great lengths to explain what it won't compromise.
"Whatever it takes to keep New Yorkers healthy, we'll do it," de Blasio said. "To keep you safe, we'll do it. To make sure you have enough food to eat. To make sure you have a roof over your head. Whatever it takes, we will protect you ... Whatever we do is going to follow these four priorities."
City families will feel the heat from the elimination of the FREE outdoor pools this summer. Beaches are also unlikely to open for swimming and sunbathing, though that decision will be made further down the line. The Parks Department's affordable, lottery-based summer camp program was also cut.
The Department of Education is putting its 3K program expansion on hold for the upcoming school year. There will also be cuts to supplemental programs like the popular Summer in the City, which was soliciting applications up until last week but now seems to be on hold. Professional development for teachers, after-school programming, arts programming in middle and high schools, and more have been axed. Overall, the DOE's budget will shrink by 3% if the cuts are approved.
NY on PAUSE Extended
Thursday also brought an announcement from Governor Mario Cuomo that the NY on PAUSE order has been extended through May 15. The previous order was set to expire on April 29. The order mandates that schools and non-essential businesses remain closed through at least that date, and the decision on the extension was made in consultation with regional governors.
RELATED: Grocery Delivery Services in NYC to Help You Get Through the Pandemic

Even little ones aren't exempt from the new mask mandate. Kids as young as 2 must cover up when social distancing rules can't be followed.
Masks Now Mandatory
The Governor has also issued an executive order mandating all New Yorkers to wear masks when social-distancing protocols can't be followed. The law goes into effect at 8pm on Friday, April 17. Its rules apply to everyone over the age of 2 who is medically able to tolerate a face covering. Masks must be worn on public transportation, by passengers and drivers of for-hire vehicles, and inside essential businesses by employees and customers alike.
All photos by the author.