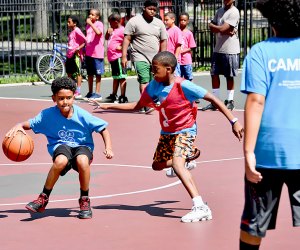 Low-Cost Summer Camp Lottery From NYC Parks Opens March 6
Summer is on the horizon, and that means parents are scurrying to finalize summer camp placements. While we've got plenty of options in our Summer Camp Guide and Directory, you'd be hard-pressed to find a better full-summer deal than the one offered by the New York City Parks Department, which opens its low-cost summer camp lottery on Friday, March 6.
Read on for more details on this summer camp option that's budget-friendly but full of over-the-top-fun for kids.
The New York City Parks Department Camp runs from Monday, July 6 through Friday, August 21, 2020. Last summer, 19 locations citywide hosted the programs. All applications are done via a citywide online lottery system, which runs from Friday, March 6 to Sunday, March 15. To be considered, children must be between the ages of 6 and 13 on the first day of camp. The Parks Department tells us it receives an average of 2,000 applicants for the 965 slots available annually.
Sessions run Monday through Friday from 9am-5pm, though some sites offer an extended day option, which runs from 8am–6pm. If your child is selected, the cost for the summer-long program is $500 for the regular day, $575 for the extended day.
Camps are housed at select recreation centers, but campers spend plenty of time exploring the city all summer long. When they're not hanging at the centers doing arts and crafts or picking up computer skills, there's plenty of field trips, tons of time in the summer sun playing organized sports and field day games, hanging with Urban Park Rangers, and more.
Lottery winners will be notified of their status following the March 15 deadline. To secure a spot, a $100 deposit, application form, and copy of your child's birth certificate are due by March 28. The second payment of $250 and a completed medical form are due on April 18. The final payment of $150 ($225 for extended day) is due by May 2. All fees are non-refundable and must be paid by credit card, debit card, postal money order, or certified check; personal checks are not accepted.
To enter the lottery, visit the registration page during the above period. Don't forget that another session of FREE swim lessons is coming up from NYC Parks, too (That lottery opens March 2.)