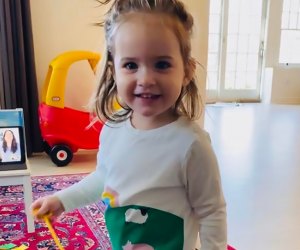 Ways to Support Local Businesses in Westchester During the Pandemic
While local businesses have raced to pivot in response to the coronavirus pandemic, and there are many ways to support Westchester businesses while optimizing time at home. We've already shared our roundup of toy stores and bookstores offering curbside pickup or local delivery, as well as where to buy groceries, and some of the local restaurants and bakeries preparing special-occasion meals. Still, many other small businesses can use help now, too.
Buying local is a win-win: Beyond being an act of compassion toward business owners and workers, keeping your green in town translates to a more robust local economy, benefiting municipal services, property taxes, and property values. Local businesses are also who we all turn to for donations to support our PTA and other local organizations.
Below we've compiled multiple ways to support local businesses. It's by no means a comprehensive county-wide list. Other ways to help include purchasing gift cards, initiating memberships with nonprofit organizations, and avoiding third-party delivery services when possible to ensure your dollars stay with the local business you're supporting. So, consider these ways to shop small and keep businesses where they belong: in your neighborhood.
And while you're showing your support for the businesses you love, we hope you'll count Mommy Poppins and our small business partners among them. You can support Mommy Poppins by sharing articles you find useful with friends or on your social media channels, checking out our directory of virtual classes, camps, and birthday parties and telling businesses you found them through Mommy Poppins. Also, as part of our effort to keep our local parent writers and this website afloat and support some of our favorite family businesses, we've created Poppins@Home, a platform for small businesses to share free and low-cost online classes and birthday parties with kids all over the country. Please consider trying a few of these fun, affordable, and creative classes—and spreading the word among your friends—as yet another way to support, uplift, and get through these challenging times together!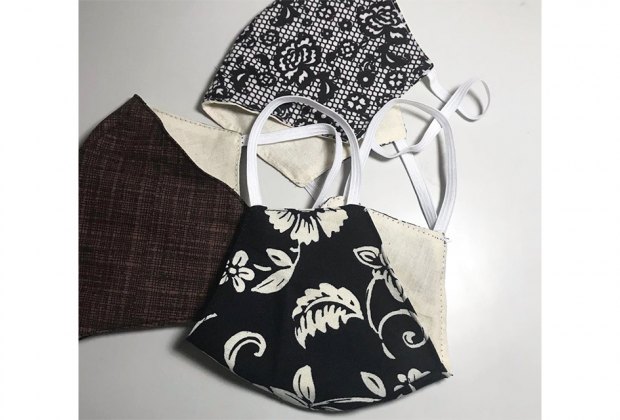 Get a comfortable, washable mask from local business Amina's Alterations. Photo courtesy of the shop
Local Businesses Selling Face Masks in Westchester
Amina's Alterations – White Plains
This tailor reports having contributed more than 1,000 masks to health care workers through the Masks for New York initiative. Choose from a selection of washable cotton masks that can be ordered online. Shipping is available.
Geraldina's Couture – Hartsdale
Though the primary business here is custom gowns, this shop's sewing skills have been leveraged to create adult and children's face masks for $10. Masks are made of 100% cotton and are washable. Choose from a selection of fabrics.
Fabric Mart – Yorktown Heights
Washable fabric masks are available for children through adults, sized proportionately. Order online for curbside pickup Monday-Saturday from noon-5pm.
RELATED: Best Virtual Events to Enjoy Online This Week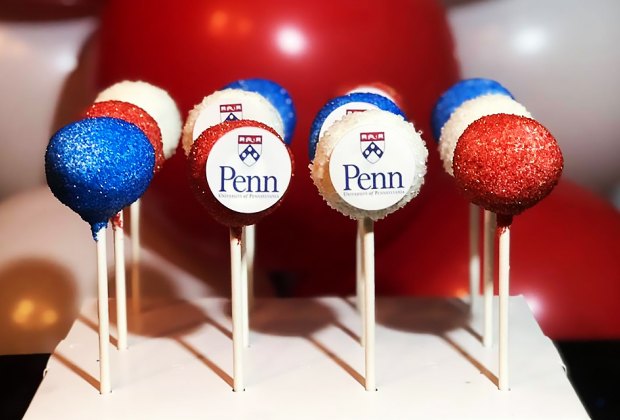 Treat Me Sweet customizes cake pops and more to celebrate your grad. Photo courtesy of the shop
Local Businesses Helping You Celebrate Graduations in Westchester
Value Drugs – Eastchester
DIY hullaballoo with confetti cannons and window markers to get the party started. Curbside pickup is available.
Sweets by Cari – Ossining
Serve your grad a festive box of celebratory cookies decorated in graduation themes. A box of seven cookies, approximately 3-4 inches each, runs $35. Each cookie is individually wrapped within a giftable box. Specify school colors when ordering.
Treat Me Sweet – Tuckahoe
Treat your grad to a cake, set of cake pops, and a balloon tower in their school colors for an over-the-top celebration. Orders must be placed by May 20.
RELATED: Crafts for Kid: 100 Awesome Art Projects for Creative At-Home Fun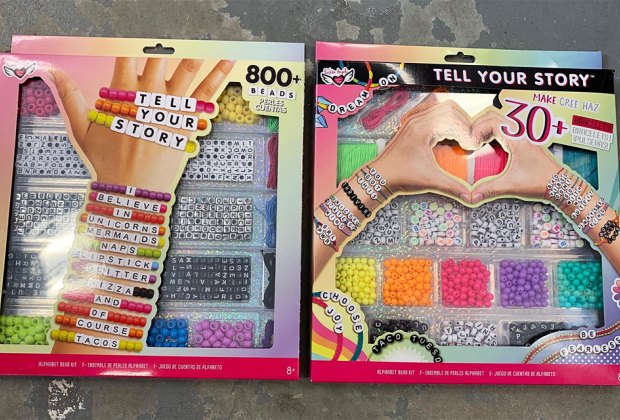 Get beading with kits from Stephanie's Kloset. Photo courtesy of the shop
Local Westchester Businesses Selling Children's Clothing and Accessories
Stephanie's Kloset – Larchmont
This under-the-radar shop offers clothes for tweens and juniors in styles parents and caregivers approve of. Merchandise includes tie-dyed hoodies, hair scrunchies, rompers, shorts, tank tops, T-shirts, fuzzy pajamas, pillowcases, and more. Some items can be personalized. Toys, activity kits, gift cards, and more are also available. Opt for a FaceTime shopping session or request merchandise photos to be emailed. Curbside pickup, local delivery, and shipping are all available.
SilverSpoon – Bronxville
In business for 20 years, this quaint boutique offers a curated selection of clothing for babies and young children, as well as toys, accessories, summer gear, and gift items. Monogramming is available. Curbside pickup and local delivery are offered.
Local Businesses in Westchester to Help You Celebrate a Virtual Birthday
Chocolations – Mamaroneck
Here's a sweet treat: Order Chocolations chocolate kits for each attendee at your virtual party. If you order 10 kits at $22 each, you'll get one free. The kits are all-ages appropriate, but some adult assistance may be necessary. Each kit includes enough goodies to decorate a cupcake and create a candy bar.
Clay Art Center – Port Chester
You can host a sculpting party via Zoom with the Clay Art Center, which offers a variety of clay project classes. For kids ages 7-12, options include cupcake jars, volcano landscapes, dogs, cats, pizzas, donuts, and more. For ages 13 and up, try a jar, a trinket box, vehicles, a vase, or other options. Parties last 60-90 minutes. The per-child cost (not including materials) runs $13-$18, depending on the number of attendees. Materials may be purchased for an additional fee for curbside pickup.
Fun Craft – Scarsdale
Balloons, pinatas, plaster items, paint, goodie bags, paper goods, and other crafts are all available to give your child's birthday some festive touches. Free delivery is available within a 5-mile radius with a $30 minimum purchase.
Groove – Larchmont
Groove offers its Birthday Jams via Zoom. All party guests log on for a 30-minute celebration that includes your child's favorite Groove songs, a virtual background designed for your child, a song written for the birthday girl or boy, and a video of the event that can be shared with guests following the party.
RELATED: From Disney's Dole Whip to Ikea's Meatballs: 6 Secret Recipes Revealed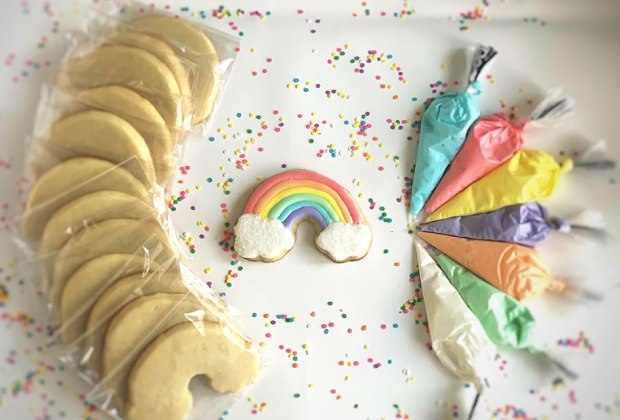 Flowerbake by Angela is offering three different cookie kits for hours of decorating fun. Photo courtesy of the shop
Local Businesses Selling DIY Food Kits in Westchester
Chocolations – Mamaroneck
Tasty DIY kits are available for making chocolate bark or s'mores. Curbside pickup or shipping is available.
Wood & Fire – Pleasantville and Scarsdale
Instead of ordering a pie, order a kit and let your kids have some messy, hands-on fun. Pizza kits include dough, sauce, cheese, and your choice of one topping for $12 (additional toppings available for $1 each). Pizza kits are available for takeout or delivery from either location.
Harvest on Hudson – Hastings-on-Hudson
This restaurant is offering assorted food-prep kits to feed your family and keep the kids occupied with a culinary education. You can make pizza, stir-fry, or even fill your own cannoli.
Flowerbake by Angela – Pelham
Three different options are available for Flowerbake's cookie kits so that you can DIY to the extent of your baking comfort level. Choose whether you want pre-baked cookies and decorating supplies like filled piping bags, cookie dough, and decorations, or a baking mix and decorating supplies. While contents vary by box, each kit results in 12 cookies and is priced at $35. Local delivery and shipping are available, though note: cookie dough can't be shipped.
RELATED: Stay-at-Home Guide: 100s of Activities for Families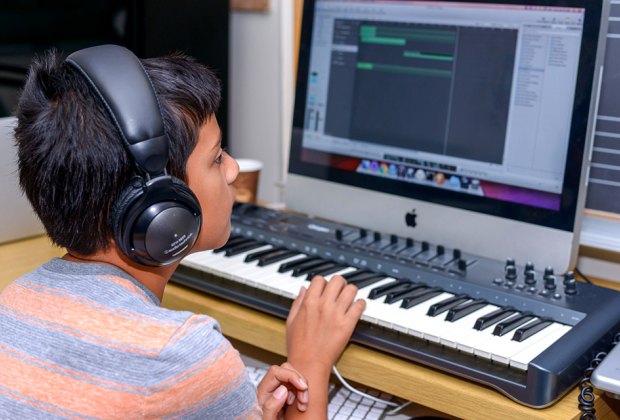 In addition to continuing to provide private lessons online, Hoff-Barthelson Music School has added group classes and ensembles. Photo courtesy of the school
Westchester Local Businesses Offering Virtual Children's Classes
Groove – Larchmont
Groove is offering 30-minute Family JAMs as a livestreamed experience. As always, selections draw from the Music for Aardvarks song collection and cater to ages 6 months through 6 years. Classes take place Mondays through Thursdays at 10:30am. Purchase single classes, week-long packs, or sign up for an entire month.
Peekskill Clay Studios – Peekskill
Working with your hands is said to be therapeutic, so now could be a great time to start working with clay. The virtual children's classes offered by Peekskill Clay Studios use air-dry clay. Classes last 1 to 1 1/2 hours and are intended for ages 7 and up, but students will need to stock up on supplies.
Hoff-Barthelson Music School – Scarsdale
In anticipation of social-distancing requirements, Hoff-Barthelson has designed its summer program with flexible options for June through August. Prices are lower than during the academic year based on the assumption that the curriculum will be online.
Sheldrake Environmental Center – Larchmont
Sheldrake has adapted its weekly nature-study classes for preschoolers and toddlers to an online format via Zoom. Currently, its class for ages 3-6—Nature Bugs & Young Explorers—is registering for a three-week session running through the end of May. New sessions are being added for different age groups.
More Ways to Support Local Businesses and the Westchester Community
Home Fair Camera – Larchmont
Whether you're behind on those to-dos or ready to get a jump start on this year's projects, turn to Home Fair Camera for help with your photo collection. Services include photo restoration, digital printing, video conversion, customized gifts, and photo books. You can even get a head start on holiday cards. The staff at Home Fair Camera has extra time on its hands and is offering services at a discount.
On the Line – County Wide
This grassroots organization has worked tirelessly to feed those in financial need during this crisis by collecting donations and purchasing meals from local restaurants, thereby stimulating local businesses and doing good in hard-hit communities throughout Westchester County.
Stream Movies From Home
While we can't watch movies on the big screen in theaters, we can help support Westchester's art-house theaters by streaming movies they're offering. An arrangement with film distributors allows a portion of the fee to go back to the theater. Participating theaters include the Jacob Burns Film Center, in Pleasantville, the Bedford Playhouse, and The Picture House in Pelham.