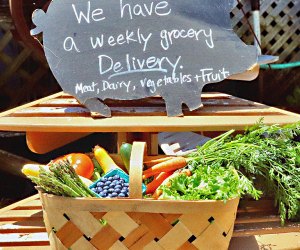 Ways to Support Local Businesses on Long Island During the Pandemic
With the shift to contactless pickup and delivery options for shopping, supplies, and activities, local businesses across Long Island have had to get creative to stay afloat. Many small businesses have maintained social-distancing rules to keep serving their communities, and we've rounded up a bunch of ways to support their efforts to keep their doors open until the world reopens again.
From supporting local toy stores and bookstores to patronizing local restaurants, like those we profiled for their Mother's Day brunch menus, there are lots of ways to shop small. We recommend ordering directly from local businesses instead of third-party services whenever possible, and even if you don't need goods or services at the moment, consider pitching in by purchasing a gift card for future use. Every little bit helps a struggling small business right now.
And while you're showing your support for the businesses you love, we hope you'll count Mommy Poppins and our small business partners among them. You can support Mommy Poppins by sharing articles you find useful with friends or on your social media channels, checking out our directory of virtual classes, camps, and birthday parties and telling businesses you found them through Mommy Poppins. Also, as part of our effort to keep our local parent writers and this website afloat and support some of our favorite family businesses, we've created Poppins@Home, a platform for small businesses to share free and low-cost online classes and birthday parties with kids all over the country. Please consider trying a few of these fun, affordable, and creative classes—and spreading the word among your friends—as yet another way to support, uplift, and get through these challenging times together!
Groceries, Produce, and DIY Pizza Kits From Local Businesses on Long Island
Restaurants and Grocery Delivery
Many of the local businesses in our roundup of restaurants offering delivery or takeout on Mother's Day are serving regular meals as well. You can also stock up on groceries and help folks earning extra cash as delivery drivers from these alternative shopping services.
Farm Fresh Goodies and Local CSA Memberships
Pick up a weekly box of regionally sourced foods from Sylvester Manor Educational Farm on Shelter Island. The Regionally Sourced Food Box pilot program runs weekly through June 6. You can also pick up a pre-ordered picnic basket full of goodies from Garden of Eve Farm in Riverhead, or sign up for its CSA program, which begins in June. Sign up for weekly home delivery of meats and dairy products or pick them up directly from Goodale Farms in Riverhead. Other farm stands are starting to open gradually as the season's change.
OUR LATEST VIDEOS
DIY Pizza-Making Kits
Toss some dough with DIY pizza-making kits from Phil's Pizzeria in North Massapequa, Locale Gastro Bar and Pizzette, in Patchogue; Tomato & Basil Pizzeria, in Merrick; Tavolo Kitchen + Pizza, in Wantagh; Gino's, of Seaford; Francesco's, in Babylon; or Main Street Pizza Company, in Farmingdale.
RELATED: Stay-at-Home Guide: 100s of Activities for Families

Delight your little chef with a baking kit from Celebrations in the Kitchen. Photo courtesy of the shop
Sweet Treats From Local Businesses on Long Island
Of course, we have your sweet tooth covered, too!
The Chocolate Duck, in Farmingdale, offers free delivery of its take-home chocolate kits, which include molds, paintbrushes, chocolate, and other items. It also provides cupcake and cookie kits that include cookie cutters, colored icing, and decorations. Free delivery is offered within an 8-mile radius, and curbside pick up is also available.
Celebrations in the Kitchen, in Hicksville, has various baking and cooking kits that contain all or most of the ingredients your little chef-in-the-making needs to craft a spectacular dessert.
Chocolate Works has multiple Long Island locations, and offers DIY-chocolate kits for free contactless delivery within 5 miles; curbside pickup is also available. Choose between make-your-own chocolate pizzas, bars, and kabobs.
New York Cupcakery, in Bellmore, offers DIY cupcake-decorating kits that include ready-made chocolate and vanilla cupcakes, frosting, and toppings.
RELATED: 5 One-Pot Meals to Make With Kids

Cookie decorating is always a big hit with kids. Photo by the author
Mama's Custom Cookies, in Wantagh, has a DIY cookie set that includes 2 pounds of Mama's secret dough, chocolate sprinkles, nonpareils, and ready-made icing.
Bake Me a Cake, in Lindenhurst, sells patrons a 7-inch unfrosted vanilla cake to decorate at home with pre-cut fondant shapes.
East Main & Main, in Port Jefferson, sells mini donuts with icing and toppings to DIY a little dunkin' on your own. Bonus: It carries gluten-free donuts, too.
RELATED: Crafts for Kid: 100 Awesome Art Projects for Creative At-Home Fun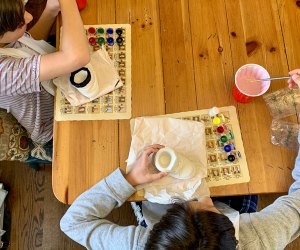 Kids can engage in ceramic painting with a kit from Cook Crafts. Photo by the author
Local Businesses Offering Craft Lessons or Kits on Long Island
At Paint a Piece, in Commack, and The Crafter's Table in East Setauket, customers can choose any ceramic to take home. Kits include a ceramic piece such as an ornament, plate, mug, figurine, or vase, plus brushes and four paint colors. You can also bring the craft back for glazing Babylon's Bubble is selling its pre-packaged ceramic painting kits.
Mom's Ceramics, in Massapequa, offers take-home creative family craft buckets filled with ceramic pieces, decorating supplies, and popcorn. Cool Crafts, in Wantagh, has a take-home plaster craft kit that includes a plaster piece, apron, paint, paintbrush, and a placemat. It also offers free delivery in Nassau or western Suffolk counties.
Pack It Up Parties offers delivery and pickup (Wantagh and Oceanside) of its at-home craft kits. Color a mermaid or a unicorn drawstring bag. Bead your name with a charm necklace, or design a heart squishy. Pop Up Parties, in Levittown, has Lucky Lockets boxes that include materials to create a charm necklace. Delivery is available within 10 miles. Merrick's As You Wish sells art kits that can be delivered for free within a reasonable distance. Choose from a variety of kits for different age groups and abilities. Krafty Hands, in Syosset, offers crafting kits for delivery, too.
You can also order DIY to-go kits from AR Workshop, which has locations in Bellmore, Port Washington, and Smithtown. It offers a variety of projects, designs, personalization options, and colors for its crafting kits. Call ahead to schedule your curbside pick up.
Just Bead It By Rachel and You Name It by Yonit sell various glow-in-the-dark, color-changing, and other jewelry-making kits with beads, letters, charms, and more.
Twirly Girls Parties has everything you need to host a royal quaran-tea party in your dining room! It also has mommy-daughter spa kits for an afternoon of pampering fun.
RELATED: Best Virtual Events to Enjoy Online This Week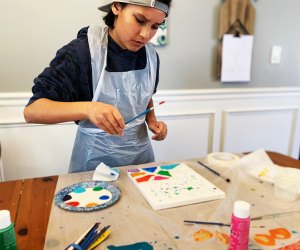 Order paints and other art supplies plus much more from Fun Stuff Toys. Photo by the author
Toy and Book Stores Offering Curbside Pickup and Delivery on Long Island
You won't find any big-box stores or chains on this list of local toy and book stores delivering the fun, so you can treat your kids to a new toy or page-turner while knowing you're supporting a local business in the process. These 10 stores have all the games, puzzles, chalk, outdoor sports equipment, books, and more to take your homeschooling classroom to the next level.
Shop Small: Ways to Support Local Businesses on Long Island Shop Small and Support Local Businesses on Long Island - Mommy Poppins - Things to Do with Kids We've rounded up a bunch of creative local businesses on Long Island who are following social-distancing rules and serving customers during the pandemic.