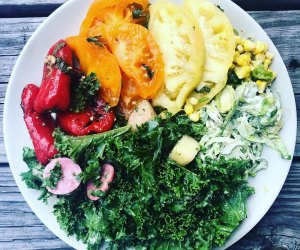 Long Island Food Delivery Services When There Are No Peapod Slots Available
As the Coronavirus pandemic heads into its umpteenth week, we realize the cupboards might be getting bare. With the advised #StayAtHome health initiative aimed at curtailing new cases of the virus, now more than ever folks are trying to limit trips to the grocery store. Even if you do venture out, Long Islanders are reporting a lack of social distancing in aisles, bare dairy shelves, scarce meat options and don't get me started on the toilet paper situation. My mother-in-law ordered hers online from Australia! I traded produce for a roll.
Peapod and Amazon Fresh have been go-to's for many Long Islanders, but trying to get a delivery slot seems to be a full-time job. We found several services and/or companies offering stoop delivery or contact-less curbside pick up. If your favorite neighborhood shop isn't on the list try giving them a call, many shops are more than willing to accommodate patrons during these uncertain times.
Online Grocers
Instacart services several local grocers such as Fairway, Shop Rite, Adli and bulk stores like BJs and Costco. There's a monthly subscription for unlimited deliveries or you can pay a per order fee as well.
OUR LATEST VIDEOS
Online vendors such as Shipt offers delivery from Best Market, CVS, Fairway, Petco, and Target for an annual membership, whereas Boxed carries bulk pantry items for home delivery with no service fees.
Mercato offers delivery at varied fees from Long Island food vendors such as Iavarone Bro. in Wantagh and New Hyde Park, Jandi's Natural Market in Oceanside, Ceriello Fine Foods in Williston Park and many more across Long Island.
Uncle Giuseppe's Marketplace has locations in Port Washington, East Meadow, Massapequa, Melville, Smithtown, Port Jefferson Station offers delivery via Instacart, as well as curbside pick up. However, please note that the stores have to "temporarily turn the website off at times due to an increase in demand so they can fulfill each order that comes in."
Salpino's Italian Food Market & Catering
This Italian market has locations in Bellmore, Wantagh and North Babylon. Each location offers produce, prepared foods, a butcher and bakery, as well as deli meats and imported cheeses. The Wantagh and North Babylon locations offer free same-day delivery or curbside pick up with orders tallying more than $50.
This restaurant distributor is offering free grocery delivery to Long Island residents Monday through Saturday for orders tallying more than $250. They offer fruits, vegetables, meat, poultry, dairy, cheese, baked goods and more. They also have organic options.
This West Babylon butcher shop offers delivery of $100 or more. However, due to an overwhelming number of orders, they have to periodically turn the site off to catch up.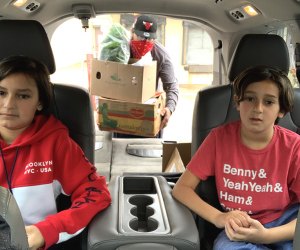 Load up your own car with contactless curbside pick-up at Agouri Food Service. Photo by the author
A wholesaler normally closed to the public, Agouri has recently opened its West Babylon location for contact-less curbside pick up and twice-weekly residential deliveries. They have vegetables, fruits, herbs, yogurt, olive oil, imported cheeses and more. You email your order and pay via Venmo or credit card. Be sure to check their Facebook page for new offerings.
This local produce vendor offers free home delivery of vegetables, fruits, herbs, dairy products, eggs, water and more. They also have organic options.
Daily Fresh Grocery offers same day delivery for orders placed before 10am. Delivery charges apply and fresh groceries are delivered right to your doorstep.
Both grocery and laundry pick up and drop off is available from Tu Casas Delivery Service, with a minimum of $35 per order. While they service both Nassau and Suffolk Counties, delivery charges vary based on the last drop off zone, so call for an estimate.
And remember, Uber Eats, Grubhub, Seamless, Postmates and DoorDash are all still fully operational to deliver any cuisine you wish, anytime of day. Which also helps support your local restaurants. Download the app, see which local merchants are still cooking up a storm and order. Just note the added service fees and/or subscriptions. Drizly is a speedy to-your-door- delivery service of your favorite beer, wine and liquor in under 60 minutes. Minibar Delivery typically takes 30-60 minutes and is good for East Enders (plus Hicksville). They have a shipping option as well. Local beverage distributors such as Classic Beverage in Bellmore are even offering delivery of beer, water, seltzer - did we mention beer - via these apps as well. Some of us homeschooling parents might classify these services as 'essential.'