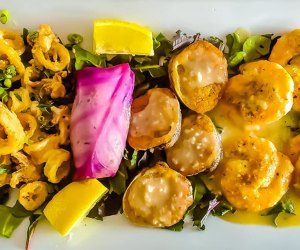 Long Island Restaurants Offering Take Out or Delivery for Mother's Day
If there's one day a year that Chef Mom deserves to take off, it's Mother's Day. During a quarantine, even more so! These Long Island eateries are gearing up for Mother's Day specials that offer contactless curbside take out or delivery.
For other family dining options when we're back up and running, see our list of Long Island restaurants where kids can eat free; dining destinations that offer entertainment for kids; and with warmer weather coming, great places to dine outdoors with children.
At publication time, these restaurants are offering take-out service for Mother's Day. Since the COVID-19 situation is constantly evolving, please confirm with the restaurant directly to be sure.

Morton's Steakhouse is offering an Easter dinner for two or a steak dinner kit.
Nassau County
Ayhan's is offering family meal that includes a whole roast chicken, soup/salad, sides and bread, as well as other family packs and thin crusts pizzas. Beer/wine are available as well.
OUR LATEST VIDEOS
Ben's Deli — Carle Place, Greenvale, Woodbury
Ben's Deli offers family style dinners and a la carte options as well. Of course their usual overstuffed sammies, platters, noshes, soups, sides, salads, etc. are also on the menu.
This family-style brunch feeds a family of four and includes a choice of pancakes, french toast and a bunch of yummy sides. Orders must be placed by May 8.
Elisa's Ristorante will be making Mother's Day dinner and their famous pasta dishes is on the menu! Pick up will be Sunday 12-6pm.
Offering deals for two, four, or eight people. Choose between salad/soup, pasta, the main course. Must order by May 9.
Serving up brunch and dinners platters for delivery or pick up, meals include appetizer platters, salads, wraps, and much more.
Morton's offers patrons two options; a to-go dinner of lamb chop lollipops, top-notch steak, garlic whipped potatoes, or a dinner kit that includes ready-to-cook meat, fish sides, salad, and dessert. Treat mom to a dinner cooked by her surprise chefs!
Treat mom to a special night in with offerings from Palmer's American Grille's a la carte menu. Curbside take out is available from 2-7:15 pm.
This family-style menu serves up to four people and includes choices of salads, entrees, sides, and dessert. An a la carte menu is also available as well as a kids' menu!
Catering is offered at both locations, with call-ahead orders.
Their regular take out menu is available for pick up or delivery available to Westbury, Carle Place, Garden City, and Mineola
Serving up Mother's Day dinner choices available a la cart, individual full dinners, or full three-course trays that can serve four or more people. Curbside pick-up.
La Famiglia — Plainview, Babylon, Smithtown
Offering curbside pick up and delivery, appetizer options include burratta with proscuitto, stuffed scallops, mains include homemade lasagna, chicken portofino, grilled lamb chops and more.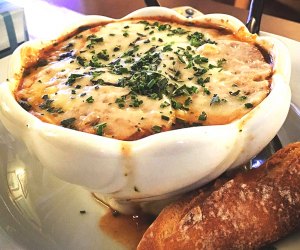 The French Onion Soup at First & South has been a big hit for take-out
Suffolk County
Bella Vie is offering a Mother's Day prix fixe menu with a choice of appetizer, main course, and dessert. Some upcharges apply. Available for contact-less pick-up. Bonus: $5 from each order will be donated to Breast Cancer Awareness organizations.
Pick up a curbside Mother's Day dinner that includes salad, garlic knots, choice of entree tray, and a bottle of house wine. This deal feeds up to 10 people — leftovers score!
Their family Mother's Day meal options can feed 4 or 6 people and include salad, appetizers, choice of two entrees, and dessert. Additional cocktails by the quart are available add ons!
In addition to its regular take out menu, First & South has weekend breakfast specials of amped-up egg dishes and more. Be sure to try the famous foot-wide pretzel with insane fixins.
Mascali — East Northport
Mascali's market will be open on Mother's Day from 9am-6pm, with curbside delivery available for its Sunday Dinner package; pasta, meatballs, sausage, braciole and more. Of course, they also have fresh-made pasta, meats, shrimp, and more.
This restaurant/butcher has a special holiday platter for a family of four, including leg of lamb or ham with veggies and sides. Or, order off of the regular takeout menu which will also be available.
A pre-fixe menu boasts choices of appetizers, soups, entrees, and desserts, while their a la carte menu is also available.
Chef Matthew Alexander is preparing a buffet style menu that feets four to six people and includes choices of saldas, starches, mains and veggies. Dessert is extra! Orders must be placed by May 7.
Buffet-style packages include choices of appetizers, entrees and two kids options. Every order includes a Mother's Day bouquet in a vase. Add wine by the bottle! Orders must be placed by May 7.

Photos courtesy of the restaurants