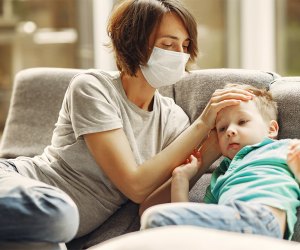 Kids and Coronavirus: Facts and Symptoms of Mysterious Inflammatory Syndrome
Thankfully, kids seem to be spared from the worst of coronavirus, mostly showing mild (if any) symptoms. But that thin silver lining of the COVID-19 pandemic became fuzzier this week, as health officials report an uptick in deaths of children from a mysterious inflammatory disease similar to Kawasaki disease, with a constellation of symptoms like high fever, terrible belly pain, and even heart issues related to coronavirus. In an emergency advisory posted Thursday, the Centers for Disease Control (CDC) are calling it multisystem inflammatory syndrome in children, or MIS-C. (Other doctors are referring to it as pediatric multi-system inflammatory syndrome, or PMIS). As of Friday, more than 200 cases of suspected MIS-C or PMIS had been reported in at least 20 states, including California, Massachusetts, and New York, where up to five children have died from it in past month.
How worried should parents be about MIS-C? We reached out to doctors at two of the nation's top pediatric hospitals, and came away with some reassuring guidance about what's still (phew) a rare occurrence in kids. Still, docs say there are five things all parents should know about COVID-19 and MIS-C. For more expert tips about keeping families safe and healthy, check out our posts about social distancing with kids, getting through pregnancy and childbirth during coronavirus, and how and where to get a coronavirus or COVID-19 antibodies test.
1. Can kids get coronavirus?
Yes, but fortunately children's symptoms are usually mild or even non-existent. There's no evidence that a fetus can get coronavirus, but there are reports of young babies testing positive, including a 7-week-old who died in Connecticut in March. Still, kids account for only 2% of COVID-19 cases, which suggests that either kids don't contract the virus as easily as adults or their symptoms aren't bothersome enough to warrant testing or treatment.
2. Coronavirus symptoms in kids
Coronavirus symptoms vary from kid to kid. "Children can have cough, fever, shortness of breath, and muscle pain, like adults," says Naline Lai, M.D., a pediatrician affiliated with Children's Hospital of Philadelphia (CHOP) and co-founder of Two Peds in a Pod. "But kids can also have nasal congestion, belly pain, diarrhea, sore throat, and lose their sense of smell and taste." Some children even have "COVID toes," tender red or purple lesions on the feet.
Most typically, kids with coronavirus have mild symptoms, like a low or moderate fever, dry cough, and fatigue, or no symptoms at all, according to recent studies in the Journal of the American Medical Association (JAMA) and Pediatrics. Kids are usually fully recovered two weeks after their first symptoms appear. "In most cases, if a child is not short of breath, doesn't have a fever for more than a couple of days, and is still drinking and appearing in a normal mental state, they are almost surely going to recover on their own from COVID-19 like they would from any other viral illness," says Julie Kardos, M.D., another CHOP pediatrician and co-founder of Two Peds in a Pod.
3. What is PMIS or MIS-C?
Pediatric multi-system inflammatory syndrome (PMIS), now officially called multisystem inflammatory syndrome in children (MIS-C), has taken everyone by surprise.
Coronavirus in kids is generally so benign that when children in Europe and the US started coming into doctor's offices and emergency rooms with the COVID-related inflammation (swelling) throughout the body now known as MIS-C, many doctors suspected they had Kawasaki disease, a dangerous illness in kids that also causes inflammation. Both Kawasaki and MIS-C produce high fevers, rashes, and red eyes in kids. "But we soon discovered there are many more differences between Kawasaki and MIS-C than similarities," says Stan Shulman, MD, a pediatric infectious disease doctor at Chicago's Lurie Children's Hospital who's studied Kawasaki for decades. MIS-C resembles Kawasaki Disease, but kids are older and symptoms are slightly different.
Children of Asian descent of a higher risk for Kawasaki disease, whereas "there's a hint of a predisposition for African American children for MIS-C," says Dr. Shulman. "Also, the average age of kids with Kawasaki is 2 years, and the average age for kids with COVID-related inflammation seems to 10 or 11." Two other common signs of MIS-C that aren't prominent in Kawasaki are belly pain, sometimes with diarrhea and nausea, and inflamation of the heart muscle, which can lead to cardiac arrest. "All this suggests we're dealing with a new syndrome related to this new virus," says Dr. Shulman.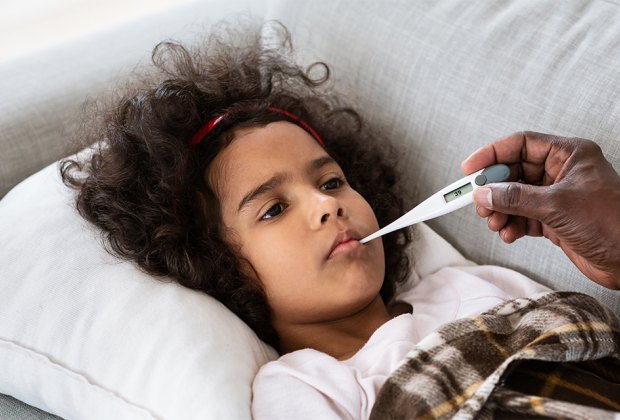 4. What are symptoms of PMIS or MIS-C?
MIS-C often comes on after a child has recovered from coronavirus. One reason it took a while for doctors to identify MIS-C is that many kids with these inflammatory symptoms were testing negative for coronavirus. Others were testing positive for COVID-19 antibodies, meaning that they had gone through a bout of the virus previously (often not knowing it). "That tells us these inflammatory symptoms are often a delayed reaction to the virus," says Dr. Shulman.
What this means is that parents should be on the lookout for inflammatory symptoms in kids even if no other coronavirus symptoms are present and a coronavirus test is negative. "Parents should call their kid's pediatrician if a child has a fever for more than 3 or 4 days, a rash or red eyes with fever, or belly pain that causes difficulty moving or eating," says Dr. Lai. "Also seek help if a child is not drinking enough to urinate every 6 to 8 hours or seems confused or is unable to console easily."
5. Have kids died from coronavirus?
The vast majority of kids with coronavirus, even with MIS-C, recover. Parents can rest assured that MIS-C remains a rare side effect of coronavirus that most kids bounce back from with supportive medical care, like anti-inflammatory medications and fluids. Deaths in kids remain steadily low: Just 1 out of every 10,000 COVID-19 deaths are in children ages 14 and under, according to the CDC.
Still, awareness is key. Just as parents should be vigilant that kids are washing their hands and keeping physical distance from others, they should be on the lookout for signs a child is feeling unwell. Though mild coronavirus symptoms can often be as subtle as a stuffy nose, "inflammatory symptoms are uncomfortable enough for kids that parents will know something is truly wrong," Dr. Shulman says. In general, if your child just looks "too sick," it's best to call the doctor right away. "Being alert to symptoms is what will keep parents and doctors ahead of this thing," says Dr. Kardos.
Editor's note: Health statistics and guidance for keeping kids healthy through the coronavirus pandemic are constantly evolving. Go to CDC.gov for the latest information.