Pregnancy and Childbirth in Coronavirus: New Mom, Doctor, Doula Answer FAQs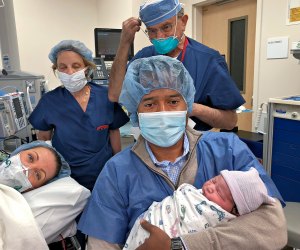 No woman deserves to deal with a pandemic on top of morning sickness and swollen ankles. But expectant moms in 2020 have more to manage during pregnancy and childbirth than the rest of us, as they don masks, schedule virtual doctor's visits, and swap grandma cuddles for FaceTime to protect themselves and family members from coronavirus during quarantine.
That doesn't mean having a baby now need be any less joyous. We recently chatted with an ob-gyn doctor, a doula, and a mom who gave birth (to a healthy baby girl!) in April, and all provided helpful and hopeful answers to our most pressing questions about staying healthy and connected during pregnancy and childbirth. If you're one of the special moms who can put a face mask in baby's scrapbook, take a deep Lamaze breath and read on. You got this! 
Have older babies or kids? Read an infectious disease doctor's advice on keeping your family healthy during coronavirus.
1. What if I'm pregnant and get COVID-19?
At this point, pregnant women don't appear to be at higher risk of getting very sick from the virus. "Most pregnant women without underlying health conditions do very well, with only mild to moderate symptoms, just like women who aren't pregnant," says Megan Woodman, M.D., an ob-gyn in Parker Adventist Hospital outside of Denver, Colorado. What's more, according to the Centers for Disease Control (CDC), there's no evidence that having coronavirus increases risk for miscarriage or birth defects, and transmission of the virus from mother to fetus appears unlikely.
However, since coronavirus is a novel (new) virus and data is limited, doctors advise extra precautions until more is known. It's smart for pregnant women to take special care to follow the CDC's recommendations to avoid people who have been sick or exposed to the virus, clean their hands often using soap or an alcohol-based sanitizer, and disinfect high-touch surfaces like doorknobs, faucets, and phones daily.
Emma Smith, who was 35 weeks pregnant when coronavirus started to spread widely throughout the U.S. in early March, opted to have groceries delivered to her Santa Monica, CA home and leave all other necessary outings to her husband for the final month of her pregnancy. She also made sure her twin boys, now 21 months old, steered clear of playgrounds and other public places, to reduce any chance coronavirus would come into their home. "My goal was to have zero exposure," she says.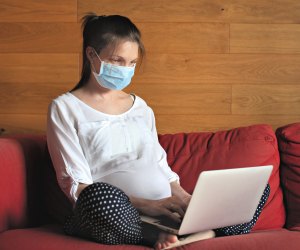 2. Can babies catch coronavirus?
Unfortunately, newborns can catch COVID-19 just like anyone else. "Children typically have mild symptoms, but early studies suggest up to 10% of infants could have critical illness—a higher percentage than in older kids," says Dr. Woodman. That's why it's extra important that moms follow their state or locality's social distancing guidelines for their babies, and contact the pediatrician if the baby shows any COVID-19 symptoms, including fever, difficulty breathing, poor feeding, or vomiting.
So far, the virus has not been found in breastmilk. For COVID-positive moms who choose to breastfeed, the CDC advises wearing a cloth face covering and washing hands before each feeding. Dr. Woodman suggests that women with coronavirus consider expressing milk and having another healthy family member feed the baby.
3. How can I meet with my doctor for prenatal visits if we're under stay-at-home orders?
"Visits with your doctor or midwife during pregnancy are still very important and should not be skipped just to limit your exposure to COVID-19," says Dr. Woodman. The American College of Obstetricians and Gynecologists (ACOG) has advised caregivers to space out prenatal visits or hold virtual visits whenever possible, especially during the stages of a healthy pregnancy when monitoring or hands-on procedures may be less crucial. Some doctors send at-home care kits, including blood pressure cuffs and fetal heart rate monitors that can interact with apps on your phone.
Many women echo the findings of a 2019 study of virtual prenatal care by George Washington University: That a mix of in-person visits and online care can be just as satisfying as in-person visits only. Bonus: New federal policy inspired by coronavirus is expanding insurance coverage for telemedicine (though policies vary).
4. Is a home birth or birthing center safer than the hospital for delivery right now?
Dr. Woodman echoes ACOG guidance, which says that the safest place to give birth is in a hospital, even during coronavirus. "While your birth may look different than you had envisioned prior to this pandemic, you can still have a beautiful, and most importantly, safe childbirth with support from your partner and the birth unit staff," Dr. Woodman says.
It is important that pregnant women have an early and candid chat with their doc or midwife about how their chosen hospital's labor and delivery unit has been affected. Emma Smith's doctors recommended that she switch her plan from giving birth at one hopsital to another that had a lower volume of COVID-19 patients. "I was a little nervous because I had never toured the new hospital before I arrived for my scheduled C-section, but everything turned out fine—I felt safe and cared for," says Smith. She says that hospital workers wore masks at all times, and she wore a mask during her C-section procedure and when occasionally strolling the hospital halls during recovery. (Masks aren't typically mandated for healthy women during vaginal deliveries, but most hospitals are requiring them of COVID-positive women.)
Doula educator Laura Nance supports a woman's preference for choosing a low-intervention birthing center or home birth, but also urges moms to do their homework well in advance of making this decision. "These are safe options for most low-risk pregnancies. But as with any provider, I recommend asking a lot of questions, and talking to more than one provider if possible to find the best fit for you and your family," says Nance, who is a senior advisor of postpartum doulas and new parent educators for CAPPA (Childbirth and Postpartum Professional Association). "Ask around to find out what the provider's reputation is in the community."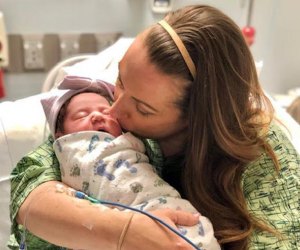 Mom and baby bond in the postpartum suite; visitors were not allowed. Photo courtesy of Emma Reinhardt Smith
5. What if my spouse, partner, or doula can't be in the delivery room or visit me in the hospital?
Most hospitals allow for a partner or doula to be present during delivery, even in coronavirus hotspots like New York City. (A short-lived policy there banning all but mom and hospital staff during birth was reversed after public outcry.) But just one extra person is allowed in the delivery room in many places, including hospitals in New York, Boston, Los Angeles, and New Jersey.
Emma Smith had to say goodbye to her husband just two hours after giving birth to baby Camila, per her hospital's policy. She admits it was lonely and a little hard, especially the first day after her C-section, when it was tricky to get Camila in and out of the hospital bassinet easily, and nurses seemed more overwhelmed than she remembered after delivering her twins. "Postpartum is not set up to be a one-person show," she says. But she and her family FaceTimed multiple times a day, and her husband and twin sons once stood under her hospital window so everyone could wave and blow kisses.
For moms who have to forego having their doula in the delivery room, Nance advises laboring a little longer at home, and connecting over FaceTime for support once they're in the hospital or birthing center. She suggests moms collect supportive notes from doulas, family, and friends before heading to the hospital, and read them throughout the laboring process to stay motivated and connected. "It helps to feel you have people cheering you from the outside," she says.
6. What if we need to see a pediatrician or lactation consultant when I get home?
Fire up the stroller and grab your mask (for yourself, not baby; infants under 2 should not wear face coverings, according to the AAP). Your baby's doctor will expect and prefer that you bring your baby in, for both check-ups and concerns. Even as many practices are postponing well visits for older children, the AAP advises that pediatricians prioritize in-person newborn care and vaccines, and many offer special hours and rooms for new babies and parents. Smith's family pediatrician has parents of newborns call when they arrive and go to the back of the building, where staff will open doors and see them through to create a low-touch entry.
Luckily, a lactation consultant doesn't need to come into your home to be helpful, says Nance. Many are conducting "visits" over FaceTime and Zoom, since nursing troubles are not uncommon right now. "Stress can affect milk production and milk let-down," says Nance. "If a parent is feeling stressed, she can also give herself some reminders to stop and do some breathing or relaxation techniques that can help alleviate the affect the anxiety can have." There are also many mom-to-mom Zoom support groups cropping up to allow new mothers to connect, commiserate, and get advice. Ask your pediatrician, lactation consultant, or local moms group for ideas and contact info.
7. When can Grandma, Grandpa, and my BFF meet the baby?
It's the million dollar (or kisses) question, with no easy answers. To keep both babies and adults (especially vulnerable seniors) safe, "we recommend continuing to practice social distancing after delivery—this may mean that grandparents and other friends and family will not get to meet the baby right away," says Dr. Woodman. "That said, you can consider specific risks depending on number of cases where you live and how serious your friends and family have been about social distancing." Smith has mostly been FaceTiming friends and family to introduce the baby, though her healthy mother-in-law visited once, after Smith and Camila had been out of the hospital for two weeks (a common window for quarantining after possible exposure to coronavirus). Grandma delivered groceries and briefly held Camila wearing a mask and gloves, which was meaningful to everyone.
All these steps are hard, no doubt, though experts and moms say there are some upsides to pregnancy and childbirth amid coronavirus. "I hear many new moms express that it is a blessing in disguise to have a quiet time in the hospital and early days at home, to bond with baby without visitors," says Dr. Woodman. Emma Smith agrees. "It's definitely a scary time," she says. "But my husband and I have seen some silver linings. He's home more than he would be to help. We're spending more time with the twins than ever. We're healthy and we're together, and we're discovering how that alone is a blessing."