Online Robotics Camp
Young Gates - Kids Online Personalized Classes

Artificial Intelligence with Scratch Online Camp
Young Gates - Kids Online Personalized Classes

Spark Math: Free Trial Class
Virtual
Sign up for our free newsletters.
How Many Calories in a NYC Kid's Halloween Haul?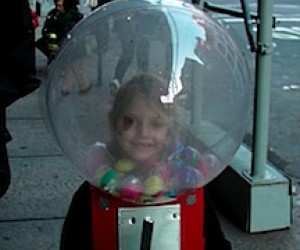 11/3/08
- By
Anna Fader
The trick or treating was more fun than ever this year. It seemed like everyone really went all out to make it great for the kids. By the next morning, however, I sat with a Halloween Hangover staring at those piles of candy with disgust and wondering what the net impact of that much sugar could be. That's when I decided to count all the calories contained in my children's Halloween hauls, piece by piece, prompting my ever-so-helpful husband to tell our children, "See, kids, math can ruin the fun in anything."
So, here's my obsessive compulsive tally of a NYC kids' Halloween Trick or Treat bag, the good, the bad and the gooey.
What's in the bag:
8 Hershey's Kisses (Peanut butter, regular, almond and caramel)
3 Hershey's Bars
1 Starburst
1Jolly Rancher, 1 Jolly Rancher Stix
12 Peanut Butter Cups
1 Reese's Fast Break Bar
3 Fun Size Snickers
1 M & Ms
3 Caramels
6 Jawbreakers
3 Skittles
2 Baby Ruths Fun Size
3 Butter Fingers Fun Size
5 Kit Kat Fun Size
2 Peppermints
2 3 Musketeers
1 Hot Tamales
8 Hard Candies
2 SweetTarts
1 Cookie
1 Mini Dove Chocolate
14 Lollipops
2 Now and Laters
2 Super Bubbles
1 Milky Way Mini
2 Mary Janes
Total Calorie Count: 6653

This is what my daughter estimated she ate the day of Halloween (I'm guessing this is a very conservative estimate):
1 Nestle Crunch
4 SweetTarts
1 Peppermint
2 Hard Candies
1 Ring Pop
2 Mini Boxes of Nerds
1 Snickers Fun Size
1 Caramel
2 Twizzlers
Total Calorie Count: 585
Grand Total Halloween Candy Calorie Count: 7238
Yikes! The scariest art of Halloween turned out to be the candy! So what do you do with all this candy? Here are 6 organizations that accept Halloween candy donations.