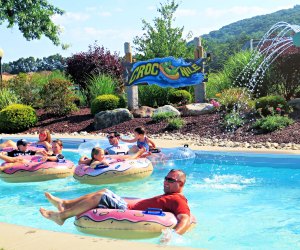 End of Summer Checklist: 30Things To Do in Connecticut with Kids Before School Starts
Before beach towels get stored away for another season and late summer nights are replaced by bedtime curfews, there's still plenty of time to embrace late-summer fun with Connecticut kids. Here are our favorite things to close out the summer vacation season as a family. Don't forget to check our list of must-do August activities, free August fun, and events calendar for even more ideas for making the most of summer's end.
1. Go on a picnic. Whether it's in your backyard, at a playground, or a scenic location such as Elizabeth Park or Wickham Park, sit back and bite into a sandwich while watching clouds glide by. Weir Farm, the only national park dedicated to American painting, is such an incredibly tranquil place, it is featured in our list of perfect picnic places in Fairfield County.
2. Visit a museum before school crowds descend. Though small in square footage, Connecticut houses a big art collection. Visit the Wadsworth Atheneum, the New Britain Museum of American Art, or the Lyman Allyn Art Museum; find a masterpiece to discuss, and maybe even to replicate. If you're in the New Haven area, the Yale Peabody Museum is not to be missed.
3. Spend a day or two in Mystic. This is one of the most magical destinations in Connecticut. See the aquarium, the seaport, or have tea in the village. You can spend a few hours here, or enjoy a weekend getaway, and still run out of time to explore the area.
4. Take a cruise or sailboat ride. These Connecticut boat rides are perfect for kids and families.
5. Enjoy a scenic railroad adventure. Choose from numerous train rides and see the state from a different perspective.
6. Take a hike. Connecticut has some of the most beautiful state parks and forests in the country. Hike up to Castle Craig, Talcott Mountain, or Gillette Castle; it's worth sweating on a summer day (take precautions, of course) and return later in the fall, watching the landscape change through the seasons.
7. Check out a petting zoo. Goats, sheep, horses, and donkeys, oh my! Most children enjoy getting up close to farm animals, so head to Flamig Farm, Westmoor Park, Action Wildlife, or find your favorite farm animals in Fairfield County.
8. Go ahead and get a double scoop. Our favorite summertime treat spots are farms with homemade ice cream and other activities. We also have suggestions for a few extra-delicious ice cream parlors in the New Haven area, in New London, and in the Farmington Valley.
9. Spend a day on the water. Take a swim in Lake McDonough, or go canoeing down the Farmington River. Salmon Brook Park in Granby is a fun place to play and relax for the day.
10. Enjoy one more teacup or roller coast ride. New England is home to some great theme and adventure parks.
11. Enjoy a Sculpture Walk. The Simsbury Art Trail is a free, easy to access experience that offers wonderful opportunities to discuss history, art, and just have fun.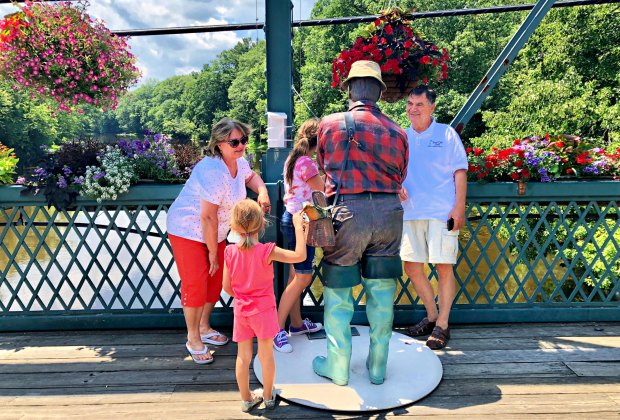 Touch and feel dozens of life-size sculptures along the Simsbury Art Trail.
12. Pick a bouquet of sunflowers. These flower farms allow you to pick-your-own sunflowers and other blooms.
13. Get lost in history. Discover the Noah Webster House, walk in the footsteps of Mark Twain, explore the Stanley-Whitman House, or venture north for a day in Old Sturbridge Village.
14. Make hand prints. Each year, their tiny hands get a little bit bigger; find a way to incorporate hand prints into a work of art or imprint them on a lasting heirloom at one of the many Paint Your Own Pottery Places in the area.
15. Host a kid-friendly barbecue. Make watermelon rice crispy slices and bring out the water balloons. If you have a pool, great. If not, put on the sprinkler.
16. Shop a farmers' market. Buy everything you need for dinner that night; cooking from scratch will not only create great memories, but perhaps start a new tradition of cooking and eating healthy together.
17. Zoom down a water slide. Connecticut is home to some ultra-family-friendly water parks.
18. Spend time (and not money) at a sprayground. A visit to a free splash pad in the Hartford area or Fairfield area is an easy way to cool off.
19. Watch a free movie. Maybe even under the stars? For a nostalgic experience, check out drive-in movie theaters in Southington, Winsted, and Mansfield.
20. Shop unique vendors and eat delicious food at a summer festival.
21. Play some backyard water games.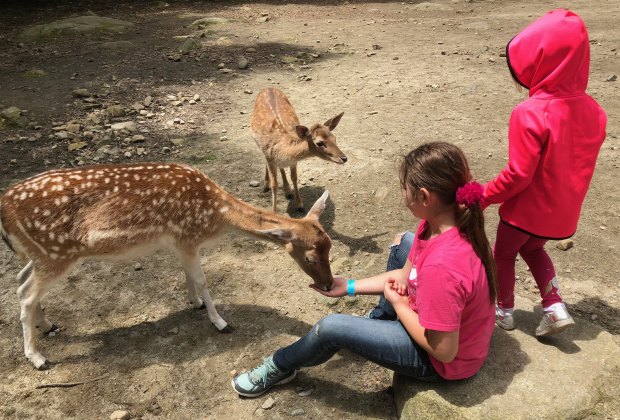 Close animal encounters await at Southwick's Zoo.
22. Greet the new Amur tiger cubs at Beardsley, our state's only zoo. If your children are fans of wildlife, you can cross state lines (we won't tell) and admire the elephants at Rogers Williams Zoo, have a rhino encounter at Southwick's Zoo, or explore Tiger Mountain at the Bronx Zoo. 23. Spend a day in the backyard playing board games. A picnic table will do or just a blanket. Don't forget snacks and prizes.
24. Visit a nature center. Learn about a new flower or insect at Roaring Brook Nature Center, Ansonia Nature Center, or Meigs Point Nature Center.
25. Escape the heat and challenge your muscles. Kids will love the indoor adventure courses at IT Adventure Indoor Ropes Course in New Haven or Soarin' Indoors in Manchester.
26. Pick late-summer fruit at an orchard. Apple season is just getting started by August's end, but peaches, nectarines, and other fruits await. A crowd-favorite is Lyman Orchards, but there are many others across the state. Our Farm and Pick-Your-Own listings provide a lot of suggestions, no matter what county you reside in.
27. Take a road trip. Of course, sometimes a staycation just won't do and when that's the case, a getaway does not have to be expensive, extravagant, or very far. Buckle up in the car for a couple of hours and sing along to silly music. We're close to many fun destinations, including Boston, New York City, New Jersey, and Philadelphia.
28. Make time for one last beach day. Especially now that state residents enjoy free admission to Connecticut beaches, make one more sand castle and splash in the waves, but do bring cash for the ice cream truck. Some beaches are on the quiet side and great for toddlers, while others, such as Ocean Beach Park make for great day trips because they pack more entertainment.
29. Go camping. Gather around the fire at night and ponder the day's adventures. Campgrounds that are extra fun for kids include amenities like playgrounds and on-site mini golf, or even fun-themed weekends.
30. Make a difference. Pick trash off the playground or a favorite trail, donate clothing or toys to a local charity, or seek a local volunteer opportunity.

If you run out of things to do or want more ideas, you can check our list of 100 Things To Do With Kids in Connecticut Before They Grow Up. Enjoy!
Photo Credit: All Photos Courtesy of the Author
Originally published 8/4/17