Southwick's Zoo: A Zoo Like No Other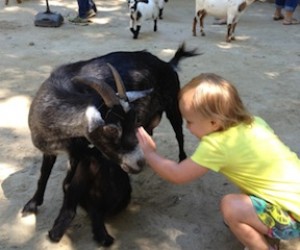 Southwick's Zoo is unlike any other zoo my family has ever visited, and let me tell you, we have been to a lot of zoos. My kids say Southwick's is like a zoo-themed theme park, and I think that's an excellent way to characterize it. Here are 10 reasons to make the trek out to Southwick's, plus 10 tips for getting the most from your visit.
10 Reasons to Visit Southwick's Zoo
1. It's family-owned and has an interesting history. The zoo actually started as a dairy and vegetable farm in the early 1900's, with the distinction of having a growing collection of unique and rare birds. As visitors from all over descended on the farm to see the birds, the farm's owner, Justin Southwick, was encouraged to place a donation box at the entrance. Southwick's Zoo officially opened in 1963. Today, the zoo is still run by relatives of Justin Southwick (the Brewers).
2. Trees = shade. There are lots and lots of trees that create a canopy for a lovely and shady walk through the zoo. All the the greenery made us feel like we were in the animals' natural habitats.
3. Cozying up to the zoo's inhabitants. The deer forest, where you can feed deer, is amazing. Even if your kids aren't keen on feeding the deer, the walk through the forest (complete with a pond) is a delight. Southwick's also has a large petting zoo, and (for an additional cost) you can experience a Giraffe Encounter.
4. The owners have a sense of humor. Outside the porcupine's enclosure, there is a sign that says something like: "Please don't feed your fingers to the porcupine. Eating you could make the porcupine sick." There are other similar signs throughout the zoo, which are funnier and much more effective than the standard "Do not put fingers in cage". And then there's the bat exhibit. You'll have to experience that yourself, and then make sure your kids see it too.
5. The Incredible variety and number of animals. Lions, and tigers and capybaras, oh my! We were surprised to see sloths, rhinos, wallabies, and kangaroos. And there's an alligator! Our favorites were the monkeys – not just one family of monkeys, but multiple enclosures containing several different types of monkeys. Look here for a full list of Southwick's animals. Impressive.
6. Shows. At a zoo. The bird shows made me think for a while that we were at Busch Gardens instead of a zoo in New England.
7. Baby animals. OMG, the baby animals are ridiculously cute. Baby birds no bigger than a quarter, a chimp carrying around a blanket, a baby yak, a goat nursing her baby, and itty bitty monkeys. We were absolutely fascinated by a gibbon family whose sibling dynamics were freakishly similar to my kids' interactions with each other.
8. It's actually a zoo and an amusement park. Something about the place reminded me of StoryLand. There are kiddie rides, a Skyfari Sky Ride (which is like being on a ski lift, but with animals below rather than snow), and rides on camels, trains, and ponies. Plus, you can mine for gems at the Elkhorn Sluice. (All extra $) There's also a nice playground for when your kids need to get a little wild themselves. Southwick's provides an amusement park experience without the scary rides, the big price tag, and the long drive.
9. The Earth Discovery Center. EARTH (Environmental Awareness of Resources and Threatened Habitats), a non-profit educational organization located at Southwick's Zoo, offers live animal presentations and hands-on activities at the Earth Discovery Center inside the zoo. Even if you miss one of the presentations, it's worth a pop in to the Center to see snakes, hissing cockroaches, and a moody iguana.
10. The community festival atmosphere. Everyone was so friendly. Our encounters with other people had a very "we're all in this together" vibe, and we didn't feel like we were among strangers.
10 Tips for Getting the Most From Your Visit:
1. The price of General Admission does not include the animal feed, giraffe encounters, mining, or rides. If you don't want to spend the additional money, you'll need to figure out a way to break it to your kids, preferably in advance (I had a chat with my kids in the parking lot before we went into the zoo). It's hard to miss the rides, so steering clear of them may not work very well. Though to be honest, we only spent an additional fifty cents to feed the deer, and we had a great time. There was more than enough to see and do without the extras. However, if you are planning to go on rides, spring for the combo ticket, which gives you unlimited riding for the day.
2. If you're interested in seeing the shows, check the schedule on the board when you enter and map your path to be near the show venues shortly before show times.
3. Bring quarters and maybe a small bag for the deer food, and go to the deer forest in the morning. By the afternoon, the deer have had their fill and are no longer all that interested in being fed.
4. Keep your receipts after you enter. If you're rained out and you've been there for less than three hours, they will stamp your receipt for a return visit during the season.
5. If it is at all cool or windy outside, bring jackets or sweatshirts. Because it's shady it can feel much cooler than it did at home. (I speak from experience.)
6. Pack a lunch. There are picnic tables all over the zoo. We sat directly in front of a monkey exhibit and were treated to quite a show while we ate.
7. Be aware that the place in the back of the zoo marked as a restroom on the map is really just a step up from a port-a-potty. In general, the bathrooms we used were not great – in fact, they were by far my least favorite thing about Southwick's. The good news is that the Brewer family is building a new entrance area, complete with a restaurant and gift shop, and the plans include a brand new bathroom.
8. Don't buy food for the animals in the petting zoo. The goats tend to be a bit aggressive when you have food, and you can still pet the animals without feeding them.
9. The zoo runs entirely on revenue from admission. The owners get no outside funding, which means that the price of admission is higher than at most zoos. But there are ways to reduce your cost: Show your AAA card or print a web coupon before you go. Active military get in free, and their dependents and veterans get in for half price. If you have a big group or you're planning to come back again, the Family Fun Pak is an economical choice.
10. Wear good, sturdy shoes for walking. The paths are not paved, and there is quite a bit of walking involved if you want to see everything. And they won't let you wear flip flops on the Skyfari ride (they'd rather not have your shoes drop into the animal enclosures – could be very bad for the animals' digestion).
---
Southwick's Zoo
Location: 2 Southwick St, Mendon, MA 01756
Hours: 10am – 5pm daily, April through October; Skyfari Sky Ride open weekends in November; Purple Peacock Gift Shop open until Christmas
Zoo information line: 1-800-258-9182