90 Museums Waive Admission for Connecticut Kids This Summer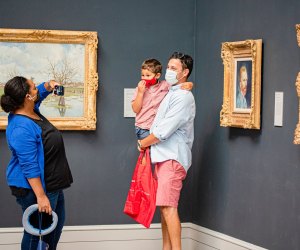 Connecticut kids just gained a new summer freebie. More than 90 of the state's museums will open their doors for free to kids and an accompanying adult this summer, the office of Governor Ned Lamont said. The state's aquariums and zoo make the list, too.
Acknowledging the possible learning loss of the pandemic school year, the governor said he pushed for the summer perk to further kids' education in a hands-on way.
"Museums are centers of exploration, recreation, and learning, and will play an important role in helping provide social-emotional, mental health, and educational growth opportunities that were limited during the pandemic," he said in a statement. "It is my hope that families take advantage of this unique opportunity happening in Connecticut this summer."
The free admission options begin July 1 and run through September 6. It applies to all Connecticut children ages 18 and under as well as one adult. Reservations may still be required, so check the museums' websites before heading out the door.
See the full list of museums waiving admission all summer. It includes some of our favorites, such as the Mystic Aquarium, New England Air Museum, the Beardsley Zoo, Connecticut Science Center, and many more children's museums and historical sites around the state.
The program will be funded through a federal COVID-19 relief fund, the American Rescue Plan Act.