History Comes Alive at Stanley-Whitman House in Farmington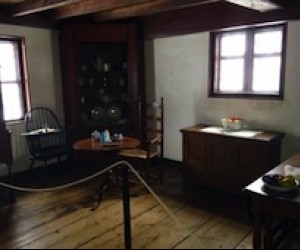 Whether snowflakes are falling or flowers are blooming, the Stanley-Whitman House in Farmington is a great Hartford County destination that will incite a child's imagination and historical interest, without being overwhelming or expensive.
Confession one: I am passionate about all things literature, history, and art. Confession two: My daughters have inherited this exploration gene. Sometimes we travel far, but often we explore our home state and Stanley-Whitman House has become a favorite museum not only for convenience, but because of its non-pretentious presence in a quiet, residential neighborhood.
After just a couple of visits, my 8-year-old could give a house tour on her own, thanks to the curators' interactive and child-friendly teaching. She still gets excited to sit in an antique kitchen chair or try out the tools used for preparing and spinning wool.
So what else can you expect? Your visit can be as long or as short as you wish, and a self-guided tour is an option. We've enjoyed both. The home features six rooms that portray Colonial life, including sleeping arrangements, the allocation of chores, and toys from the past.
Children also are introduced to archeology while perusing a small exhibit of household items found buried in the home's backyard. Once the tour is complete, you may spend time in a large living room equipped with toys, board games, and stuffed animals.
On the day we visited, the fireplace glowed while we played a lively game of Scrabble and sipped on hot chocolate. In celebration of the people who dwelled here almost 300 years ago, we enjoyed the art of conversation, uninterrupted by technology.
If children want some time to play alone, adults can browse the display of jewelry, scarves, soaps, and other reasonably-priced items crafted by local artisans and sold in the home's foyer.
Stanley-Whitman prides itself on being a living history center, so in the warmer months, families can also explore its gardens and Memento Mori, an early burial ground. The house offers informational and entertaining programs year-round and welcomes school groups.
Free parking is conveniently located outside the front door, and admission rates are reasonable ($7 per adult, $4 per child, free for those under 6).
So, regardless of the season, put the Stanley-Whiman House on your "Must See" list. Gather the family, and, while learning about the past, go make a little bit of history of your own.
Afterward, if learning about Colonial America inspires a craving for Italian culture, go enjoy a panini at Naples Pizza. It's less than half a mile away, and it's delizioso.