Snakes, Owls, and a Really Awesome Playground: The Ansonia Nature Center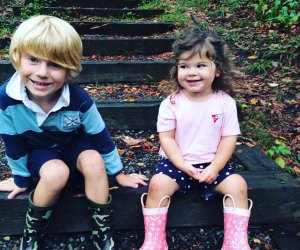 Spanning nearly 150 acres of wooded hills and grassy fields, the Ansonia Nature Center was once home to a small family-owned dairy farm tucked in New Haven County. Today, the hidden treasure off Milan Road in Ansonia is laced with two and a half miles of nature trails zig-zagging through streams, meadowlands, and a two acre pond serving as a haven for turtles, water fowl, and fish.
You would never know you were in Ansonia. At least that's how I felt when I first discovered this place five years ago following a recommendation from a friend who gushed over the nature center's wooden playground.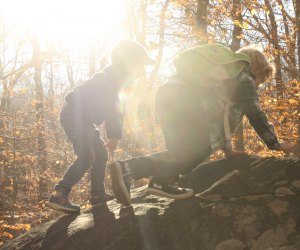 The former playground complete with a maze of splintery wooden towers, giant rubber tires, and slick metal slides stood for 25 years. In 2016, the playground was demolished and rebuilt entirely by Basement Systems. And let me tell you, the new playground is AWESOME.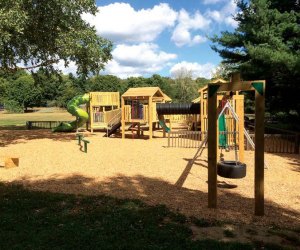 Image courtesy of Ansonia Nature Center
The playground is certainly the cornerstone attraction for the Ansonia Nature Center outfitted with 8-foot tube slides, climbing walls, tire swings, wall towers, a sandbox, and a separate section just for tots. It's so incredibly different than most playgrounds that we often make the 25 minute trek each way and spend the afternoon there.
After we're spent at the playground, there is a lovely loop that circles around the pond, over a wooden footbridge, and through a grassy meadow before enjoying a picnic lunch.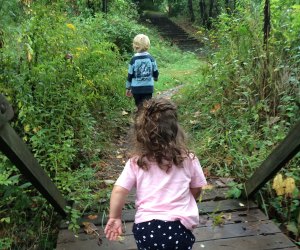 At the top of the hill is a wonderfully unique visitor center, also know as the Schumacher Pavilion, constructed in 1977 from Connecticut stone and glass. The center serves as an educational hub of the park complete with classrooms, rotating exhibits, and a nature store. Admission is always free.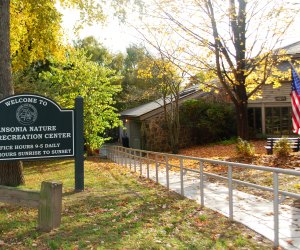 The Ansonia Nature & Recreation Visitor Center offers a home for its animal ambassadors—a ring-neck dove named "Chuckles," a Grey-phased Screech Owl called "Sassafras," and a bearded dragon from the Beardsley Zoo named "Blaze."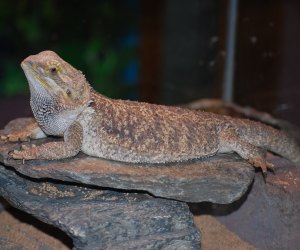 Image courtesy of the Ansonia Nature Center
A Ball Python named "E.T." was discovered slithering down the halls of the Ansonia Middle School—eek!!—and was given to the center. E.T. now serves as a featured creature in weekend programming.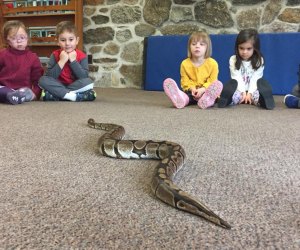 Image courtesy of Jackie Lema
There's also a red eared slider turtle, a water snake, several hundred honey bees, salt water tide pool creatures, a couple dozen crayfish, at least a half dozen walking sticks, three box turtles, a gecko, and a tarantula.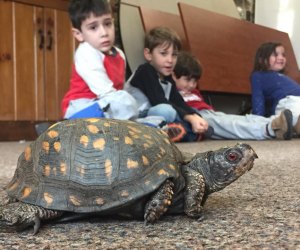 Most of the animals exhibited at the Nature Center are there because they are unable to survive in the wild due to an injury or are domestic animals given to the center by their previous owners, like "Cutie" the guinea pig" or "Pepper" the bunny.
The nature center offers programming ranging from standup "Creature Feature" at noon on Saturdays and their guided hike at 1pm on Sundays to specialized programs including snowshoeing, animal tracking, and nature crafts. The center also offers drop-off programs on school vacation days, afterschool nature programs, and wonderful summer camps.