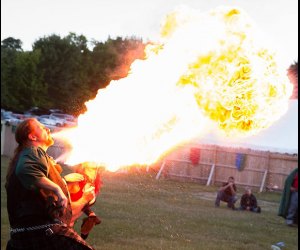 Fun Things to Do in Ansonia With Kids
This year, take a fresh look at your hometown and the surrounding areas and take your kids to one (or a few) of these great events. Packed with history, Ansonia, also known as the "Copper City," has some great annual traditions and tasty destinations to check out. A true small-town in New Haven County, Ansonia loves football and claims the very first American bicycle, patented by Pierre Lallemont.
1. Visit Ansonia's annual Harvest Festival in September. Enjoy a bounce house, batting cages, delicious food and music to commemorate the changing seasons.

Harvest Festival, 253 Main Street, Ansonia, CT 06401 203-305-9255
2. Go shopping at the Connecticut Kids Closet consignment and vendor fair in November. Buy gently used items for your kids, "tummy to teen" at this huge event.

Connecticut Kids Closet Holiday "Twist" Fair, Warsaw Park, 119 Pulaski Highway, Ansonia, CT 06401 203-417-9268
3. Tidmarsh Home Bake Shop is the place to go if you are in the mood for homemade candy during the holidays. They offer unique items like chocolate gingerbread-style houses (made out of real chocolate!), chocolate covered pretzels, jelly beans and cookies. A complete selection of food colorings and chocolate chips in all colors and many flavors for the baker.
Tidmarsh Home Bake Shop, 66 Westfield Avenue, Ansonia, CT 06401 203-734-5861 06401
4. Do your holiday shopping at the Ansonia Armory Holiday Marketplace. December 3, from 11:00 a.m. to 5:30 p.m. Browse from hundreds of homemade and one-of-a-kind goodies.

Ansonia Armory Holiday Marketplace, 5 State Street, Ansonia, CT 06401 203-906-4343
5. Welcome a cat or dog into your home and adopt from the Ansonia Animal Shelter. Like many shelters, Ansonia's shelter receives animals who are stray or wandering as well as animals whose owners can no longer care for them.

Ansonia Animal Shelter, North Division Street, Ansonia, CT 06401 203-735-9915
6. Get involved at the Valley YMCA. Tons of things for kids to do such as: swimming, martial arts, tumble and dance classes and use of the wellness center for ages 10 and up.

Valley YMCA, 12 State Street, Ansonia, CT 06401 203-736-9622
7. Dig into a slice of cheesy heaven at Zani's Pizza. Voted #1 in the Valley Pizza Competition.

184 Wakelee Avenue, Ansonia, CT 06401 203-732-5859
8. Enjoy the Ansonia Nature and Recreation Center. The nature center offers regular programming and classes on a variety of topics including soap making, mushroom identification, yoga and a hikes. They also have a brand new playground. Animals in residence at the nature center include Blaze, the bearded dragon, E.T., a ball python, and Mary, a great horned owl.

Ansonia Nature Center, 10 Deerfield Road, Ansonia, CT 06404 203-736-1053
9. Stop by Traci's on Main and see what she has cooking for you. Take the kids to indulge with you in a pastry, cupcake or cookie while you run errands. It will make everyone happier!

Traci's on Main, 94 Main Street, Ansonia, CT 06401 203-516-5603
10. Attend the Midsummer Fantasy Renaissance Fair held at Warsaw Park. This annual fantasy faire is held in June and July. Enjoy comedy, games, action, live combat, delicious food and kids games.

Midsummer Fantasy Renaissance Fair, Warsaw Park, 119 Pulaski Highway, Ansonia, CT 06401

11. During the month of August, make it an annual tradition for you and your family to attend the Holy Rosary Italian Festival. This culturally-infused fair includes food, fund events, games of skill and rides. Admission is FREE.

Holy Rosary Italian Festa, Holy Rosary Church Grounds, Fr. Salemi Drive, Ansonia, CT 06401
And just a short drive will take you to:
12. The Sports Center of Connecticut is a great place for your kids to burn off energy (instead of your living room.) Features golf, bowling, a video arcade, lazer tag and batting cages.

The Sports Center of Connecticut, 784 River Road, Shelton, CT 06484 203-929-6500
13. Pick your own apples from Beardsley's Cider Mill. Indulge in apple/cinnamon scones and cider donuts seasonally. Fresh peaches off the tree.

Beardsley's Cider Mill, 278 Leavenworth Road, Shelton, CT 06484 203-926-1098
14. Have a family bowling night at Amity Bowl. Even little ones can use the bowling bowl rollers to make a game fun and exciting.

Amity Bowl, 30 Selden Street, Woodbridge, CT 06525 203-389-2186
15. Get your 2 to 12 year olds to get some exercise without even knowing it at Andies Bounce Barn. Daily open play. At least six different bounce houses to bounce around in.
Andies Bounce Barn, 32C Progress Avenue, Seymour, CT 06483 203-881-3500

Photo Credit: Midsummer Fantasy Renaissance Faire
-